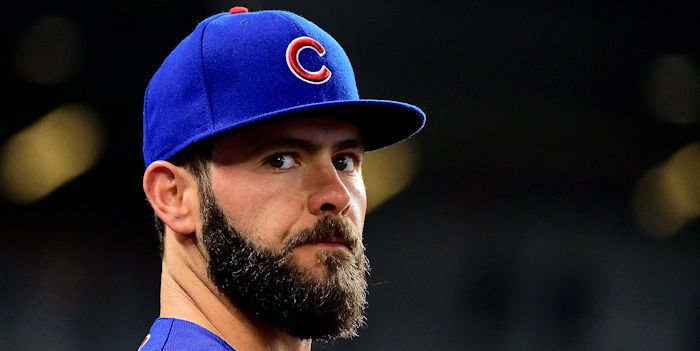 | | |
| --- | --- |
| Cubs News: Arrieta mocked reporter during press conference: "I'd love you to take your mask off" | |
---
| | | |
| --- | --- | --- |
| Thursday, August 12, 2021, 2:03 PM | | |
The Jake Arrieta era is officially over in Chicago.
The Cubs announced on Thursday that they had seen enough and gave him his unconditional release.
Arrieta had a dismal 5-11 record with a 6.88 ERA, and 1.76 WHIP in 20 starts this season. In his last 14 starts, he was even worse with an 8.35 ERA.
After he was blasted for 8 runs in four innings during the Cubs 10-0' loss, he chose to mock reporter Bruce Levine of 670 The Score during the post-game presser on Wednesday night.
"It's not hard, Bruce," he said. "And I'd love you to take your mask off. I don't think anybody's around you."
Obviously, that is a bizarre comment when someone asks you a question about mentoring young pitchers on the Cubs staff and you talk about their mask-wearing.
With everything going on as the COVID-19 variant is trending upwards in the states, it certainly was a bad take on behalf of Arrieta.
The unprofessional comments and his horrid play this season didn't help Arrieta's position with the team, and this afternoon, his unconditional release was official.
"After the game last night, Rossy and I sat down and talked to him," president Jed Hoyer said. "Obviously, he was struggling. Not getting deep into starts and we'd sort of been patient and tried to get through it and hopefully he'd come out on the other side and pitch better, but we weren't there."
The Cubs decided to part ways with Arrieta.
"Thought it was the right thing to do for him. If he can catch on somewhere, maybe a change of scenery would help him. For us, it just seemed like the right time."
Jake Arrieta was a "surly, selfish, science-denying tool" in requesting a reporter should take his mask off.

Listen to full segment with @mullyhaugh @DavidHaugh: https://t.co/dMUeDS3btg pic.twitter.com/9CL7lMhIcY

— 670 The Score (@670TheScore) August 12, 2021