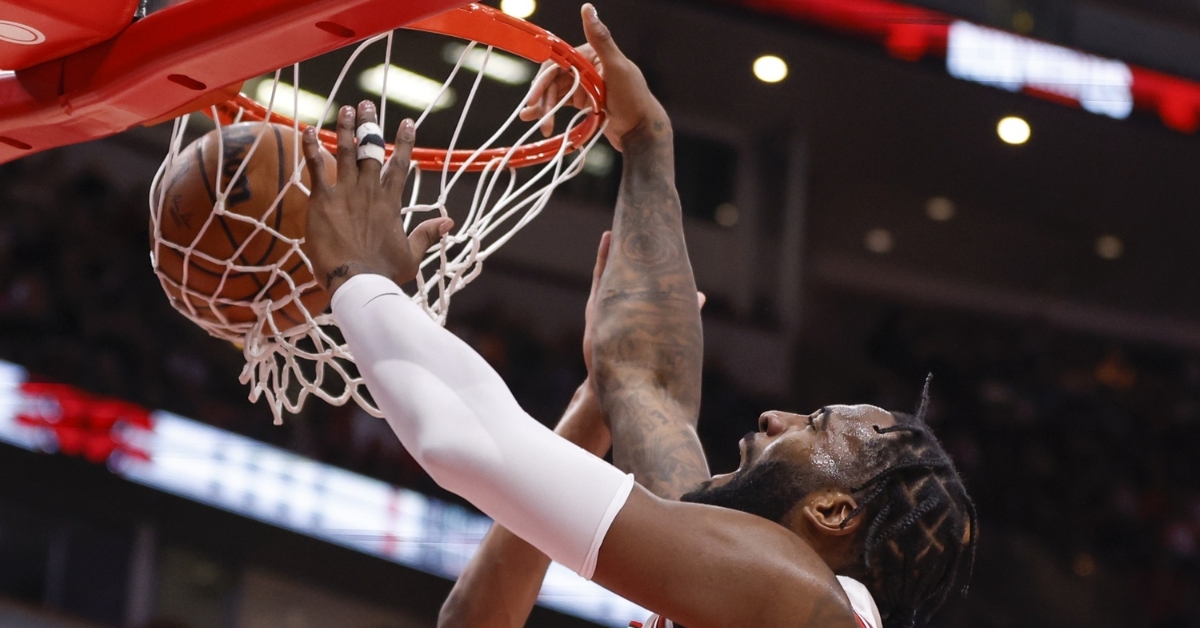 | | |
| --- | --- |
| Balanced attack leads Bulls to win over Nuggets | |
---
| | | |
| --- | --- | --- |
| Saturday, October 8, 2022, 11:00 AM | | |
CHICAGO - It took just two preseason games for the Bulls to pick up their first win, as they took on the Denver Nuggets Friday night at the United Center. Coming off a loss on Tuesday where their defense was subpar at best, the Bulls knew they needed to come out with a different mental mindset this time around if they wanted a victory.
All it took was a small yet large lineup change from Billy Donovan as Patrick Williams went from the starting lineup to the bench in favor of Javonte Green. Whether this is a permanent move remains to be seen, but fans should be happy if that is what it will take to make this a better team.
Led by a balanced scoring attack that saw three starters and six players in double figures, the Bulls overcame a slow offensive start before pouring it on 131-113 for the win. Dropping 78 points in two quarters, including 45 in the second, really helped that scoring binge as the Bulls caught fire and looked much better.
You can't harp on this enough, but this team has plenty of talent, and as long as their big three play the way they are capable of, they will win games. For the second straight game, Demar DeRozan led the way for the Bulls offense as he shot 60% from the field and dropped a team-high 22 points. Granted, that is not the level he was at last season, but it doesn't have to be as long as other players are stepping up.
Green is one of those players, as he returned to the Bulls after a career-best season last year. Coming off his 18-point performance on Tuesday, Green was at it again as he dropped 15 points on a perfect 3-3 night from distance. Should he be able to do that consistently, you are looking at an X-factor this season and someone other teams will have to account for.
His performance helped pick up the slack from Zach Lavine, who finished the night with just seven points. Speaking of someone stepping up, Nikola Vucevic started to show signs of life in the playoffs last year and is hoping that leads to better shooting this season. The big man chipped in with 14 points to finish third on the team in scoring while adding seven rebounds.
When it comes to the Bulls and their overall depth, the second unit is going to be critical this season as they need to pick up the slack when Derozan, Lavine, and Vucevic sit. Having guys like Williams and Alex Caruso on the second unit should help, as both finished with 11 points. However, the most significant component of that second unit hinges on Coby White.
Known as a good, but very streaky shooter, White is the only guy on the Bulls bench capable of getting hot and dropping 20 points. While Chicago is not going to ask that from him, they would like to see more consistency, and after picking up 15 points on 5-7 shooting, you have to like what you saw from him on the court. Chicago also received eight points from Goran Dragic and six points from Andre Drummond, as they had plenty of production from all angles.
As far as Denver goes, their season hinges on the better health and the play of their MVP Nikola Jokic. By far the best big man in the game today, Jokic is a walking triple-double candidate but didn't suit up for this one. That was great news for the Bulls, but bad news for the Nuggets, who needed to get that production from someone else.
While not one person can make up for the lack of Jokic, it will take a collaborative effort, and the Nuggets had two players who did more than adequate. Bones Hyland came off the bench to score 24 points as he could be the backup to Jamal Murray this season. Another player who stepped up was the often-injured Michael Porter Jr, who needs to stay on the court this season.
His 20 points and 10 rebounds are just a glimpse of what he can do if he can stay healthy, and he will give the Nuggets some added punch next to Jokic. Aaron Gordon added 14 points as his steady play with the Nuggets continued.
Apart from those three, Denver's scoring didn't come easy, as no one else landed in double figures. Guys like Ish Smith, Deandre Jordan, Jeff Green, and Zeke Nnaji came close, but they all finished with seven or eight points in the loss. This is a team that needs Jokic on the floor to be at their best, and without him, this is a disjointed team with no leader and no direction.
Chicago returns to action on Sunday when they travel north of the border to take on Toronto. Tip-off is at 5 PM, and the game will be televised on NBA TV.