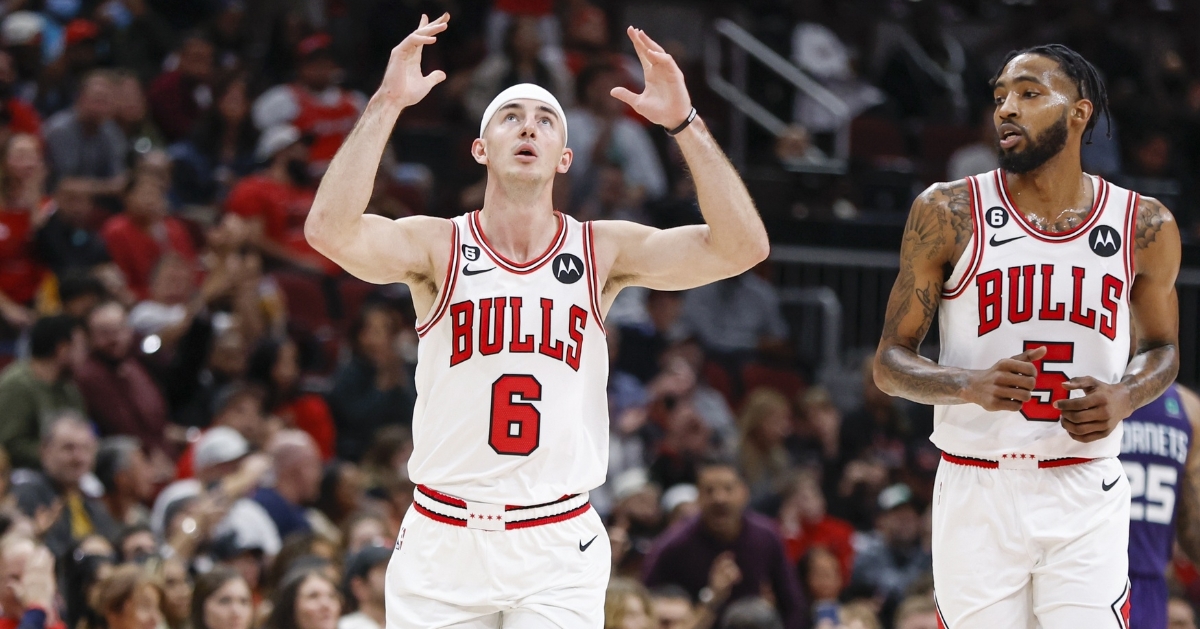 | | |
| --- | --- |
| Bench Mob leads the Bulls past Hornets | |
---
| | | |
| --- | --- | --- |
| Thursday, November 3, 2022, 9:32 AM | | |
CHICAGO - It pays to have a great bench in the NBA.
With the Chicago Bulls (5-4) starters struggling to take things over against the Charlotte Hornets (3-5) Tuesday night, it was up to the bench to shoulder the load. Thankfully, they were more than up for the task as the Bulls bench dropped 47 points against the Hornets compared to just 28 for Charlotte. That was the difference in what was a 106-88 victory.
Take the bench scoring out of the equation for a moment, and the Hornets starters outscored the Bulls starters by one point. That shows you how vital an excellent second unit can be when you can get consistent scoring. Throughout the preseason, one of the biggest question marks surrounded Javonte Green and whether or not he should start.
Based on his performances during the preseason, Green did more than enough to earn a starting spot, but unless Patrick Williams was going to go to the bench, there was nowhere to put him. Green is one of the X-factors for Chicago this season, as his athletic ability will make him a matchup nightmare for teams. He put together one of those games that the Bulls have grown to love, as he led the team with 17 points off the bench while also adding eight rebounds.
Speaking of Williams, after a slow start to the season, he is starting to come into his own and is looking like the player the Bulls have been waiting for. His 16 points led all of the Bulls starters, while his tough defense slowed down some of the Hornets offensive attacks. The Play of Williams was crucial when you look at Zach Lavine (10) and DeMar DeRozan (9) combining for just 19 points in the win.
Nikola Vucevic continued to provide the Bulls with an excellent third option, although his scoring has been down in recent games. 14 points may not seem like a lot, but when you add 13 rebounds to go with it, you can see the post presence he has brought to the table for Chicago. With the starters not doing much all game long, the bench had to pick up the slack for the first time this season.
Not only did they do that, but they did it with flying colors as Goran Dragic added 16 points to go with the 17 of Green. Derrick Jones Jr added 10, with Alex Caruso chipping in with six to lead the Bulls to another victory.
This game would have had more intrigue had the Ball brothers been playing. Lonzo and LaMelo Ball are currently injured, and their teams have sometimes suffered because of it. However, Charlotte does have other options on the offensive end, and one of those showed up in a big way. Kelly Oubre Jr put the team on his back offensively, scoring a game-high 24 points to go with five rebounds. Oubre has continued to show his ability to be a big-time scorer in this league, and that is now starting to come full circle.
Apart from Oubre, the Hornets had plenty of double-digit scorers, but none of them provided the Hornets with a ton of firepower. Big man Mason Plumlee had a nice night in the paint, adding 11 points to go with his 13 rebounds. Plumlee joined Jalen McDaniels and his 11 points off the bench to lead the second unit while also putting on an impressive display of athletism.
Rounding out the double-digit scorers for Charlotte was Dennis Smith Jr and his 10 points as the Bulls defense allowed a season-low 88 points in the win. With the season 10% of the way complete, yes, 10% of the way complete, this team has been playing .500 ball from start to finish.
It is hard to figure out how good this team is as they have yet to play at the level they are capable of. One thing you can take away from their first nine games is that when their defense steps up and allows fewer than 110 points, they will win the game. When they allow more than 110, they will struggle to put teams away, as their offense sometimes goes quiet.
As long as Ball is out of the lineup, the Bulls will have to clamp down defensively and make do with what they have. Offensively, that shouldn't be an issue, but it is the defensive side where the Bulls will have to step up. Chicago is in a long stretch of games against playoff teams from last year or potential playoff teams this year, as fans should get a great look at how good this Bulls team is and can be.