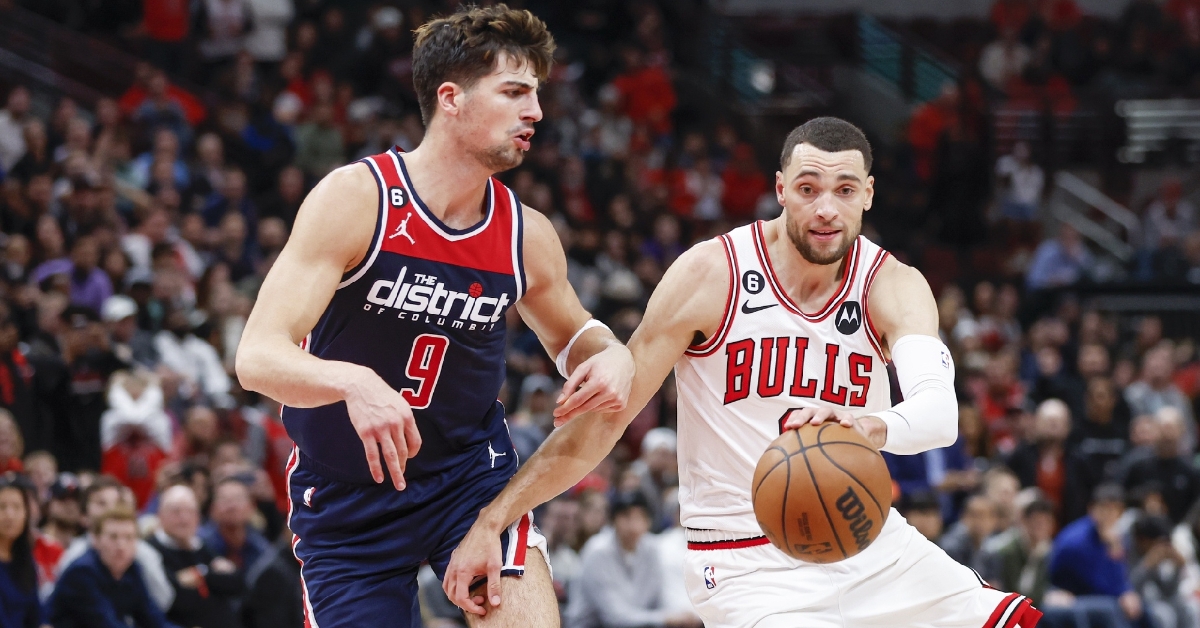 | | |
| --- | --- |
| Big 3 pave the way for Bulls win over Wizards | |
---
| | | |
| --- | --- | --- |
| Thursday, December 8, 2022, 7:41 AM | | |
CHICAGO - The next 10 games could ultimately make or break the Chicago Bulls (10-14) season. With a stretch of winnable games over the next three weeks, the Bulls can climb back to .500 as they look to get on a roll.
Up first was the Washington Wizards (11-14), as they have cooled off significantly after their fast start. This was their second meeting of the season, as the Wizards took the first meeting by two points. Looking to avenge that loss from earlier in the season, it was the Bulls big three of Nikola Vucevic, Zach Lavine, and Demar DeRozan going to work as Chicago held on for the 115-111 win.
77 of those 115 points came from those three mentioned above, as that is the type of production the Bulls are hoping for the rest of the way. DeRozan led the way for Chicago as that continues to be a trend. Compton's finest went to work by shooting better than 50% from the field and leading the way for Chicago with 27 points.
Part of the reason for the Bulls struggles this season is that LaVine and DeRozan haven't been at their best simultaneously. Fans have seen the best from each, but it tends to happen when the other is having an off night. This was the rare occasion this season where both men had a great night, with Lavine coming away with 25 points. Vucevic got in on the action himself, as he capped off the strong showings by the big three with 25 points while also adding 11 rebounds in the win.
Getting 77 points from three players makes it hard to lose, but you would like better than 38 points from the rest of your team. Apart from them, only Patrick Williams managed to crack double figures as he came away with 11 points. Ayo Dosunmu and Coby White added eight points and six points off the bench, with Alex Caruso finishing with five.
Speaking of Caruso, Billy Donovan continues to leave him in the starting lineup despite his lack of scoring. A big reason is that he does all the little things right, and the team plays better when he is on the floor. Hopefully, that trend will continue until Lonzo Ball is ready to come back.
While the Bulls Big 3 had a phenomenal night, Washington had a big three of their own as they tried to match the Bulls point for point. Kristaps Porzingis did his part as he led all scorers with 28 points to go with nine rebounds. Kyle Kuzma is another part of that trio, as he came away with 21 points in the loss.
One name missing from that list was Bradley Beal, as he was sidelined with a hamstring injury. Had he played, this would have been an entirely different game as he brings another element to the floor to defend. In his place was Deni Avdija, as the second-year man came away with 10 points. He also added six assists, four steals, and five rebounds for an outstanding all-around effort.
The Wizards also saw Corey Kispert (10) and Monte Morris (17) land in double figures as all five starters cracked the double-digit threshold. Despite none of them being able to match what the Bulls Big 3 did, having that many double-digit scorers make it hard to defend, as you have no idea where the next bucket will come from.
Not only were all five starters in double figures for Washington, but so was another player off the bench giving the Wizards another added scorer. This was a familiar face getting the job done as former Chicago Bull Daniel Gafford went to work off the bench to finish with 10 points, three rebounds, and two blocks.
Ever since his trade to Washington in exchange for Troy Brown Jr a few seasons ago, Gafford has started to come into his own, as consistent playing time will do that for you. Gafford was not the only former Bull on the floor, as Taj Gibson also came off the Bench for Washington. Gibson didn't take many shots and finished with five points in the losing effort.