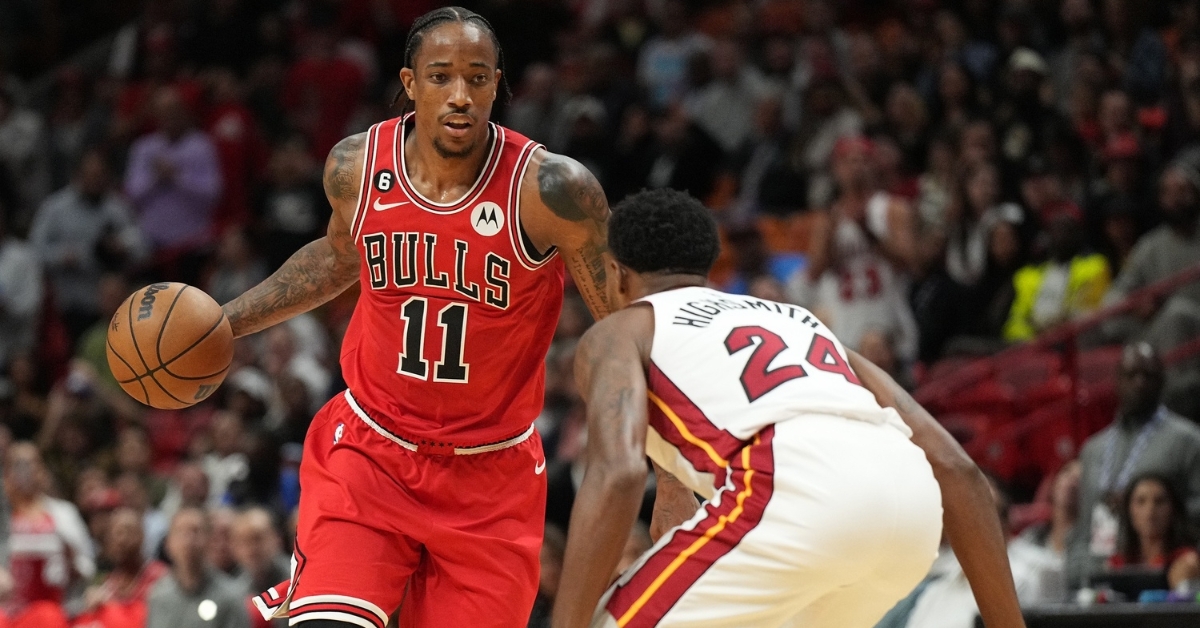 | | |
| --- | --- |
| Bulls put on impressive showing in season-opening win | |
---
| | | |
| --- | --- | --- |
| Friday, October 21, 2022, 11:52 AM | | |
MIAMI - The NBA season officially kicked off on Tuesday, but for the Chicago Bulls (1-0), they had to wait until Wednesday to hit the court. First on the docket was a matchup with the Miami Heat (0-1) at American Airlines Arena, which would be a massive test for this Bulls squad.
Keep this in mind. This is the same Miami team that earned the top seed in the Eastern Conference last season and swept the Bulls during the regular season, with all their wins coming by double digits. Throw in the injuries to Lonzo Ball and the surprising Zach Lavine, and things didn't look good for the Bulls out of the gate.
Instead, Chicago put up one of their best performances in a while that saw them overcome an early first-quarter deficit before tying things up at halftime. They then went out to outscore Miami by 10 points in the third quarter, which was the beginning of the end for the Heat as Chicago picked up a huge win 116-108.
With or without Lavine on the court, this is a team that now runs through Demar DeRozan as he will be looking to build on his career-best season a year ago. While many people are expecting him to come back to earth this season, DeRozan showed for at least one game those days are far away as he led all scorers with 37 points while adding nine assists and six rebounds. Should he keep playing like that, he will have his name in the MVP conversation all season.
Along with DeRozan, the Bulls showed outstanding balance as they got plenty of production across the board. Billy Donovan recently announced that second-year man Ayo Dosunmu would be the starting PG until Ball returns. That move could be huge, especially if you can get 17 points, six rebounds, and four assists from him every night.
Nikola Vucevic also had a massive game after his future was in question this offseason. Known as an offensive-minded center first, Vucevic has always been a defensive liability, which was prevalent last season. Wednesday saw a much more physical play style from the big man as he finished with 15 points while adding 17 rebounds.
Looking at the rest of the lineup, the Bulls had two players come off the bench with massive double-digit outputs. Goran Dragic got off to a hot start with 12 points off of four triples, while Coby White struggled to find the hoop, but still finished with 10. Those two made up for the combined 10 points from Alex Caruso (6) and Patrick Williams (4), as Chicago will need more production from them moving forward.
When it comes to the Miami Heat, you have to give Erik Spoelstra a ton of credit for what he has done with this roster. Sure, he has plenty of talent, but he doesn't have the superstars some of these other teams do, which shows you the culture he has created. Former Bull Jimmy Butler may be the biggest name on this roster as he continued to go about his business with 24 points and eight rebounds.
Another player that has quietly turned himself into a start has been Tyler Herro. Primarily a bench player most of his career, Herro was given a massive four-year extension before this year with starter implications written all over it. Spoelstra wanted him to earn the starting spot, and not only did he do that, but with 23 points, including four triples, his days on the bench may be over.
Speaking of the bench, that is something the Heat have done much better than most in recent seasons, as their second unit is capable of outscoring their starters. Having a guy like Max Strus does help, as he chipped in with 22 points off the bench and could take over that role that Herro was filling.
Those were the big three for the Heat on Wednesday, as the Bulls defense settled in after a slow start to put the clamps on. Offensively, this team is not going to have trouble scoring, but it will be the defense that ultimately determines their fate. If this is the kind of defense to expect from them this season, that over/under at 43.5 is looking good, as they should be a 50-win team at worst.