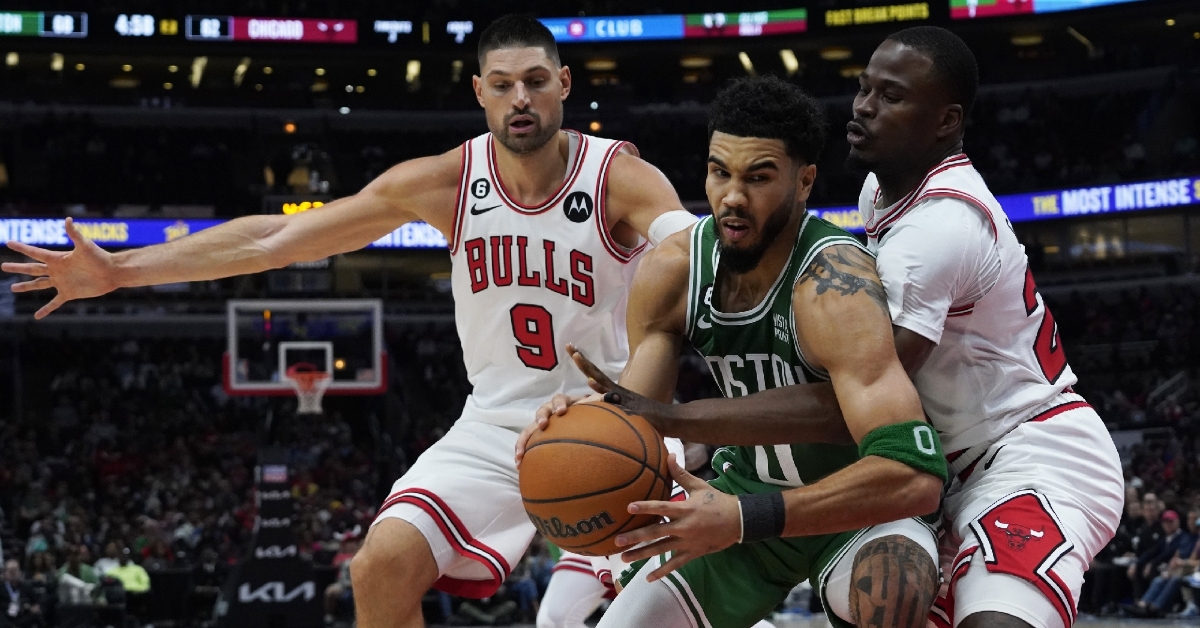 | | |
| --- | --- |
| Bulls take down Celtics on Vucevic's birthday | |
---
| | | |
| --- | --- | --- |
| Tuesday, October 25, 2022, 1:04 PM | | |
CHICAGO - Sometimes, all it takes is a kick in the pants to be the wake-up call a team needs. For the Chicago Bulls (2-2), that wake-up call may have come Saturday when they lost their home opener by nearly 30. Knowing a lot of season left on the schedule and a tough matchup against the defending Eastern Conference Champion Boston Celtics (3-1) on the way, Chicago needed to flush that loss down the toilet and move on.
Entering the game unbeaten, the Celtics appeared to be on their way to another blowout victory over the Bulls as they opened up the game on a 9-0 and led by as many as 12 in the early going. At one point, that lead grew to 17 points as the Bulls continued to look lackluster at best on the floor. Then, with the flip of a switch and strong play from Ayo Dosunmu, the Bulls turned it on as they not only erased that deficit but also took the lead by halftime. Chicago then continued to build off that lead in the second half and outscored the Celtics by 35 points the rest of the way to pick up a massive 120-102 win.
It was a win this team desperately needed and one that they might be able to look back on as a season-defining moment should they fall behind big again. A big reason for the Bulls success on Monday was a balanced scoring attack that saw four starters and five players land in double figures. Once again, DeMar DeRozan led the way for the Bulls with 25 points, but the birthday boy Nikola Vucevic put on a show.
No one will argue the ability Vucevic has, as he has arguably been one of the most consistent big men over the past seven seasons. However, for as good as he can be offensively, his lack of physicality in the paint makes him a defensive liability and often leaves him out of games late. Vucevic aims to change that this season and is well on his way. Not only did he record his second double-double of the season with 18 points, but he was a madman on the boards as he brought in 23 rebounds to set the tone, which was a career-high for him.
Another player who picked a great time to step up was second-year man Dosunmu, who continues to anchor down the PG spot. Yes, Dosunmu has been very good this season, but he still needs to be more consistent. You saw his potential in game one when the Bulls knocked off the Heat, but after going 4-4 from deep and dropping 22 points with six assists, you have to wonder where the ceiling is for him at this point. Throw in the 19 points from Zach Lavine and 10 from Derrick Jones Jr, and the Bulls had plenty of options to lean on, as the Celtics didn't know what hit them.
If there is a negative to take away from this game, it has the be the Gorilla in the room in Patrick Williams. The No. 4 overall pick in the 2020 NBA is not playing anywhere close to that level, and at some point, you have to wonder if Billy Donovan will consider sitting him. Following another lackluster four-point and three-rebound performance, time is ticking on whether or not Williams can figure things out as a starter.
The Celtics will only go as far as their lethal duo will take them, and early on, that duo came out swinging. Jason Tatum has emerged as a legitimate MVP candidate in the league and started to take the game over in the first quarter. Give Chicago credit for how they defended him in the second half, but he still finished with a game-high 26 points while adding eight rebounds.
The other half of the Celtics potent duo is Jaylen Brown, who is coming off a massive year himself. The fifth-year man had his moments in this one, but once again, the Bulls defense toughened up as the game continued and limited him to 21 points. If you manage to keep those two contained, you give your team a chance to win, as Boston needs to get more consistent scoring around them.
You had Marcus Smart drop in 11 points, with Malcolm Brogden coming off the bench with 12, but that was it in terms of offensive threats. Ultimately, that was the most significant difference over the final three quarters, as the Bulls could get more players involved while Boston depended too much on their usual threats. When you look at what is to come for the Bulls, this was a big win, as they now have an opportunity to gain some traction to close out October.