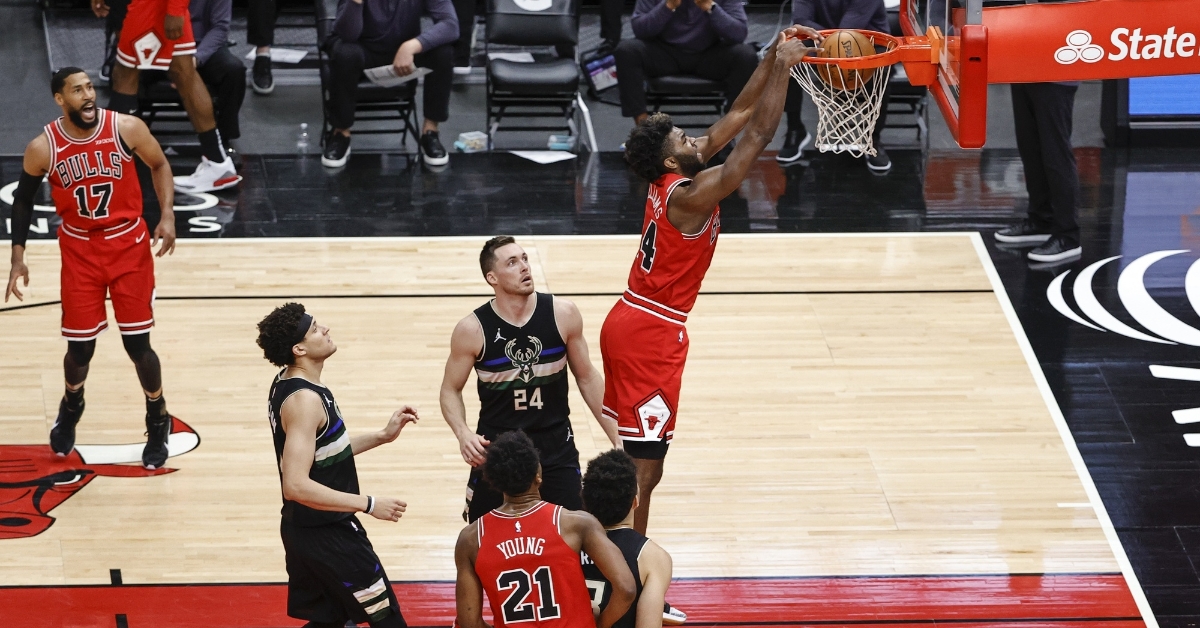 | | |
| --- | --- |
| Bulls win season finale against Bucks | |
---
The Bulls entered their season finale with Bucks on Sunday eliminated from the postseason but looking to end the season on a positive note. Standing in their way was the Milwaukee Bucks, who clinched at worst the No. 3 seed in the Eastern Conference and were prepping for the NBA postseason.
Even with the Bucks having plenty to play for, it was a weird-looking lineup on both sides as several key stars were not suited up. For the Bulls, Zach LaVine, Nikola Vucevic, and Daniel Theis were not in uniform, allowing guys like Lauri Markkanen, Garrett Temple, and Thaddeus Young to get the start. Additionally, Milwaukee elected to sit Kris Middleton, Jrue Holiday, Brooke Lopez, and Giannis as they were content with settling with the three seed instead of playing for the two.
With so many stars out of the lineup, it was anyone's game as both teams needed to have other players step up and pick up the slack in scoring. For Milwaukee, Jordan Nwora ended the season on a high note as he finished with a career-high 34 points to lead all scorers. Jeff Teague added 23 points for a solid performance for him as those two shouldered the load for Milwaukee.
Fortunately for Chicago, they were up to the task and had plenty of balance across the board. Young led the way with 20 points, while Markkanen added 17 in his first start in nearly two months. The Bulls also received 19 points from Coby White, a season-high 14 points from Ryan Arcidiacono off the bench, and 11 more from rookie Patrick Williams. Even Devon Dotson showed up in a big with a career-high 11 off the bench as the Bulls end their season on a high note, 118-112 over Milwaukee.
Bucks miss out on NBA history
There have been a lot of good teams in the NBA across the years who have never achieved what the Bucks had the opportunity of doing. The 72-10 Bulls, 73-9 Warriors, 68-14 Utah Jazz, and even the 64 Bucks team a few years ago, to name a few, have had phenomenal records but still lacked one thing that is hard to believe.
None of those teams have ever finished a season undefeated in division play, and the Bucks had an opportunity to do that last night. Had that happened, they would have made NBA history as the first and only team to ever go through a season unbeaten in division play. However, with so many key players out of the lineup, it seemed like the Bucks didn't care to make history last night and instead were more worried about resting up for the postseason.
Even with that, the Bucks still only lost by six, so they had a chance to get it done. Had Giannis, Lopez, Holiday, and Middleton even played just a half in this game, I think we can all agree that they would have made history last night to go unbeaten in division play. The Bulls were having none of that, and they remained on the right side of history for that stat.
Unsung heroes end the skid
With LaVine and Vucevic out of the lineup, the Bulls needed to rely on players they typically don't count on to pick up the slack. Seeing White and Young have solid performances wasn't a surprise, and neither was Markkanen when you look at what he has done as a starter.
However, the bench provided the spark, especially Arcidiacono and Dotson, who combined for 25 points. Both delivered season highs in points off the bench, and they were a huge reason why the Bulls came out on top 118-112.
The win ended a 12-game losing streak against this Milwaukee team, as it has been nearly four years since the Bulls last beat the Bucks. Although this win will feel slightly different given the Bucks stars didn't play, a win is still a win in this league, and it is a huge confidence booster for this team. Now they can look at this game and realize they have more talent than some may have realized at the start of the season.
Turn the page to what will be an exciting offseason
Despite missing out on the postseason once again, there was a lot to like about this Bulls team. In his first season as head coach, Billy Donovan guided this team to a 31-41 record and had them in playoff contention until the final weekend of the season.
Chicago also did this using tons of different lineup changes and a cast of budding young stars who are still trying to win games together. LaVine and White will be the primary building blocks for this team as they will now be joined by Vucevic, who was acquired at the trade deadline. That gives Chicago three great pieces to build around, and expect that to be the focus this offseason.
This showed tons of promise once he was inserted into the starting lineup so expect the Bulls to make a run at him this offseason to retain his services. Markkanen will be a free agent and will have plenty of suitors, but I still think the Bulls will look at bringing him back in some way, especially if they lose Theis to someone else.
Along with that, Chicago will have a decision to make on both Satoransky and Young, who will be in the final years of their deals next season. Both have proven to be valuable both off the bench and as a starter, and the Bulls could receive a decent package for either one of those guys.
For the Bulls to truly pursue a PG like they say they will, one, if not both guys need to be moved to free up space. Should that happen, look for the Bulls to make a run at Lonzo Ball as they will try and build up this roster. With LaVine facing a Max Deal in the coming years, he has informed the Bulls that he may not ask for that Max Deal should Chicago bring in talent around him. This will be a telling offseason for what the front office thinks about LaVine and how their relationship could go.
Click here if video does not load https://www.youtube.com/watch?v=WiF58gMaxyM