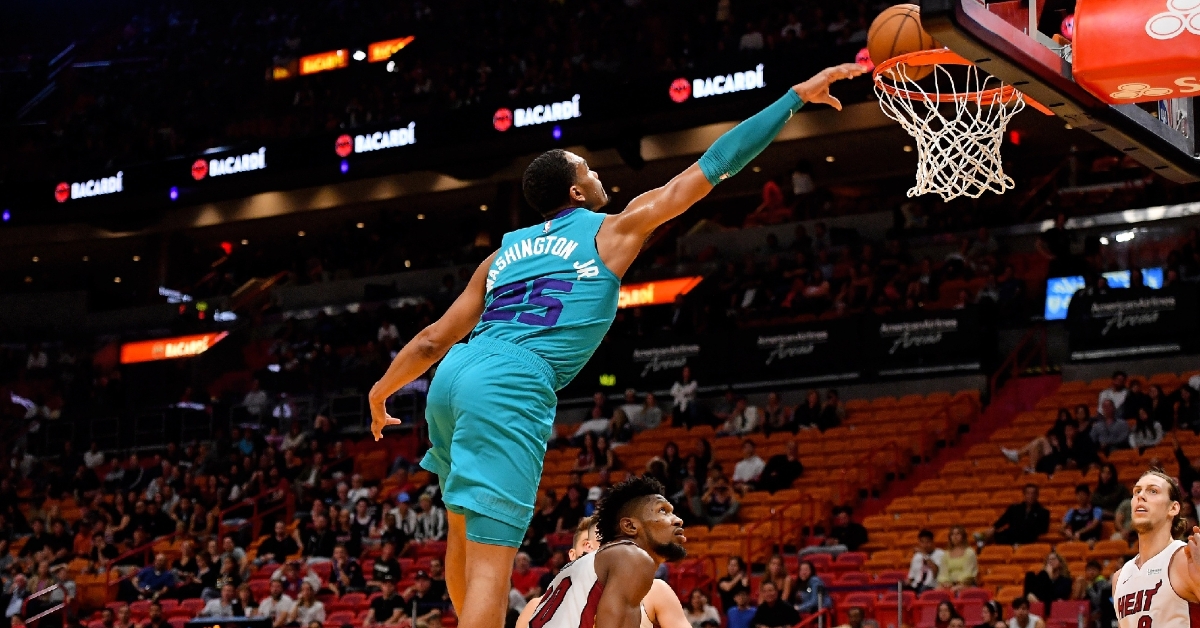 | | |
| --- | --- |
| Five trade options for Bulls for front court help | |
---
Now, past the NBA season's halfway point, the Chicago Bulls (28-15) continue to lead the Eastern Conference. Keep in mind they have accomplished this without being healthy all season and missing several vital pieces for extended periods of time. The most recent was seeing Lonzo Ball and Zach Lavine added to the list as both are out with knee injuries.
While Lavine appears ready to return in a week or so, Ball will be out 1-to 2 months as he will undergo surgery to repair a partially torn meniscus. That not only affects the way the Bulls lineup will look, but may affect how they conduct their trade deadline plans if they plan to make a move. It is no secret that the Bulls' biggest flaw this season is a lack of front-court depth.
Since Patrick Williams went down with a wrist injury, the Bulls have been using a four-guard lineup with Nikola Vucevic in the middle. That has worked for them so far, but if they want to be considered a Conference final contender, they need to add more depth and interior size to make that happen. In a perfect world, the Bulls had Coby White as their primary trade chip, considering the number of guards Chicago has.
Not only is he playing the best basketball of his career, but he would be able to bring in an excellent piece as several teams would love to have him. Given the injury to Ball, it changes things for the Bulls a bit as they are now forced to hold onto White for the time being. If a trade is conducted, look for Ayo Dosunmu, or heaven forbid Williams to have their name in the mix as they will come with the most return.
As tough as it will be to lose either one, or anyone on this roster, the Bulls need to make a move for PF, and there are plenty of options for this team to have. Some make sense, and some don't, but the bottom line is look for Chicago to pursue all avenues to get better with what they have.
P.J. Washington
The least likely of the trade scenarios would be landing Washington in a trade. The former 12th overall pick by the Wizards in the 2019 NBA draft is making just over four million this season and isn't a free agent until 2023. He is just 23 years old and is a versatile front-court player who can play the four and five spots, although most of his minutes are at the center position.
There isn't a standout aspect of his game, but the Bulls wouldn't need him to be that standout player. Instead, they would need him to fit in well, which I think he could. He would come with the most significant return, which is something the Bulls need to consider.
Robert Covington
The most expensive player on this list would be Covington, as he is making a shade under 13 million this season. In my opinion, this is a match made in heaven for Chicago as Covington gives the Bulls precisely what they need. Not only is he a veteran forward, but a defensive-minded forward that would fit in nicely with this team.
Not known for his offense, Covington can stretch the floor with his three-point shot, which alone would make the Bulls harder to defend. We have seen the Bulls and Blazers work together already this season when they acquired Derrick Jones Jr, don't be surprised to see them discuss things again.
Nicolas Batum
The veteran Frenchman is on the hook for 3.3 million this season, which comes at a bargain when you look what he can do. Batum is the consonant pro willing to do anything for his team. He will start, come off the bench or do the dirty work to make his team better. Not to mention being in this league over a decade, which pays dividends to a young team.
Considering that Paul George is still out with an Elbow injury and Kawhi Leonard is out with his knee, the Clippers are sitting at 22-24 and may be willing to unload some pieces. Batum could be one of those pieces, and the Bulls should be in on that if that is the case.
Serge Ibaka
Serge Ibaka is another veteran piece the Clippers may look to unload. A bit more expensive than Batum, making just under 10 million, Ibaka comes with a higher offensive upside given his ability to stretch the floor. They would have to match his contract for the Bulls to take on a guy like Ibaka. They can easily do that by shipping Jones Jr to LA, but he is injured, so why would that make sense for LA.
The only way it works will be if the Clippers are content on packing things in this season and planning for the future. Get a guy like Jones Jr to come off your bench or go after someone like White or Williams to build for the future. Ibaka would be the perfect fit in Chicago and someone that comes with plenty of playoff experience.
Paul Millsap
My how the tables have turned. Once in on the veteran PF this summer, Millsap turned them down to sign with the Brooklyn Nets. Now halfway through the NBA season, Millsap seems frustrated with his role in Brooklyn and is seeking out potential trade options. This was the one player I felt the Bulls needed this offseason as he gives this team everything they need and more.
Millsap is a 13-year veteran who comes with leadership and plenty of playoff experience. He is also someone capable of starting until Williams comes back and also giving your team valuable minutes off the bench. Looking at his career stat line, you see someone who will provide you with 10-13 PPG. Millsap is a lot like Thaddeus Young in what he can do, so that alone would be a huge get for this team.
The Nets hold the keys to this situation, as they would have to grant him the release. However, if they are willing to make a trade, find out what it would take to get Millsap because this deal could have long- and short-term aspirations.
These are five players who the Bulls would love to have and each would cost a lot in return.
Other names Chicago fans should keep an eye on are Dorian Finney-Smith, Torrey Craig, Chris Boucher (prime candidate), Kenrich Williams, and Trey Lyles. All come with their strengths and weaknesses, but most importantly, they fit a position of need for the Bulls.