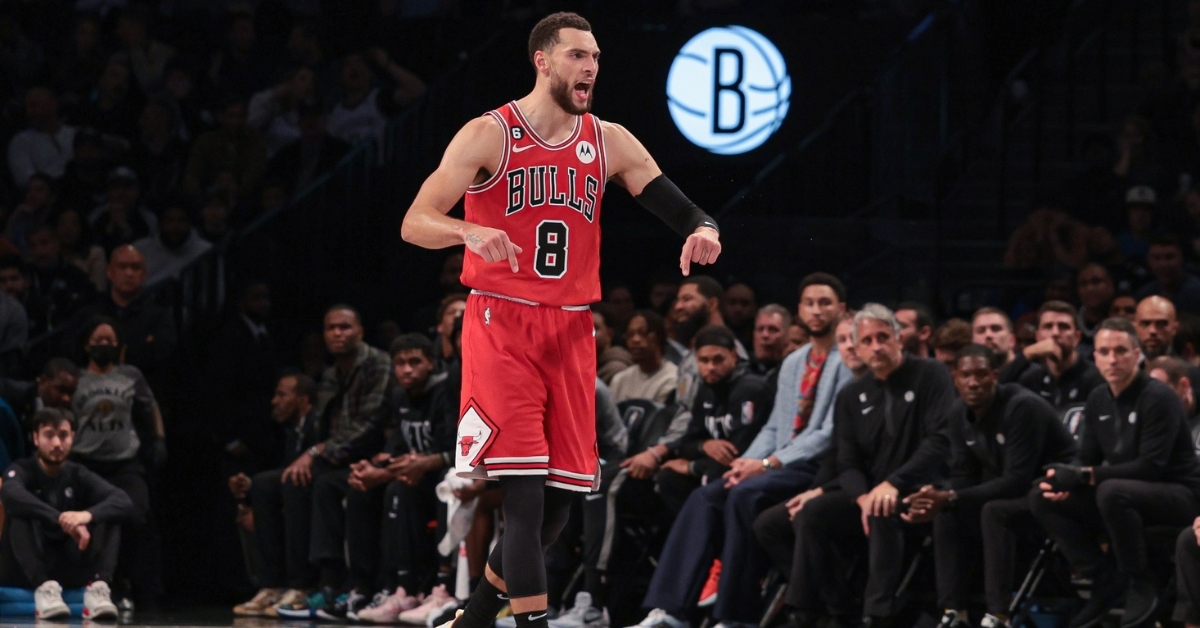 | | |
| --- | --- |
| LaVine drops 29 points in Bulls win over Nets | |
---
| | | |
| --- | --- | --- |
| Wednesday, November 2, 2022, 8:32 AM | | |
BROOKLYN - It has been a very topsy-turvy the last few days for the Brooklyn Nets (2-6) and their fans. Not only has this team continued to struggle since acquiring the talent they acquired, but now former head Coach Steve Nash has been fired, leaving assistant Jaque Vaughn to take over the coaching duties.
However, those duties are only temporary as the Nets announced they will hire former Boston Celtics head coach Ime Udoka just four months after leading the Celtics to the NBA Finals. Talk about a turn of events in Brooklyn. Even with all that going on, the Nets still had a game to play and were on the second night of a back-to-back as the Chicago Bulls (4-4) came to town.
Like Brooklyn, the Bulls have found it hard to put a consistent game together thus far, hence why they are a .500 team. However, when the defense does their job as they did on Tuesday, chances are you will win a lot of ball games, as Chicago scored the 108-99 road win.
Zach Lavine deserves a ton of credit for the win, even if he is not 100% back to his old self. Not only did he lead the Bulls with 29 points, but 20 came in the fourth quarter, including four triples. Add in that the Nets only scored 19 points as a team in that quarter, and LaVine single-handedly outscored the Nets in the fourth as the Bulls 31-19 advantage was the difference.
The more comfortable LaVine gets, the better this offense will be, which will come with time. In the meantime, Chicago still has plenty of options, including DeMar DeRozan, who continues to do his thing with 20 points and four rebounds. Apart from that, the Bulls had plenty of contributions throughout their roster, with Ayo Dosunmu putting together another solid game as he finished with 17 points in the win.
With Coby White and Andre Drummond out of action in this one, the Bulls bench suffered a pair of significant blows and would need others to step up. Only one person got that memo, with Goran Dragic going off for 15 points as he continues to be a godsend for the Bulls and their second unit.
While the lack of scoring from the Bulls bench was a downside, seeing Patrick Williams start to be more aggressive was a good sign, as the Bulls need him to step up. Williams notched his fourth straight double-figure game as he came away with 12 points and seven rebounds. That was crucial for the Bulls as Nikola Vucevic endured a season-low seven points, but once again hauled in 15 rebounds to control the paint.
As far as the Nets go, they will only go as far as Kevin Durant can take them, and he was on fire early. Durant came out of the gates strong with 14 first-quarter points and 20 first-half points as he finished the night with a game-high 32. Give Williams and DeRozan a lot of credit for how they defended him in the second half, as they made him earn all of his points.
Durant may be the leader of this team, but Brooklyn also has Ben Simmons and Kyrie Irving capable of going off. Simmons has not only gotten off to a rough start, but didn't suit up for this one putting more pressure on Irving to pick up the slack. Fortunately for the Bulls, Dosunmu was tasked with guarding and made his life miserable as he finished with just eight points, all of them coming in the second half.
With Irving having a terrible game, the Nets offense suffered as other players needed to, at the very least, put together a competent game. Royce O'Neale delivered a career-high 20 points as he made up for the loss of Irving and his offense. Add in Nic Claxton and Yuta Watanabe and their 10 points, and the Nets had support around Durant, just not enough to get the job done.
Next up for the Bulls will be the Charlotte Hornets as they come to the United Center for the second leg of a back-to-back on Wednesday. That game will be the first of a very challenging stretch for Chicago, as fans should have a better idea of where this team stacks up once November ends.