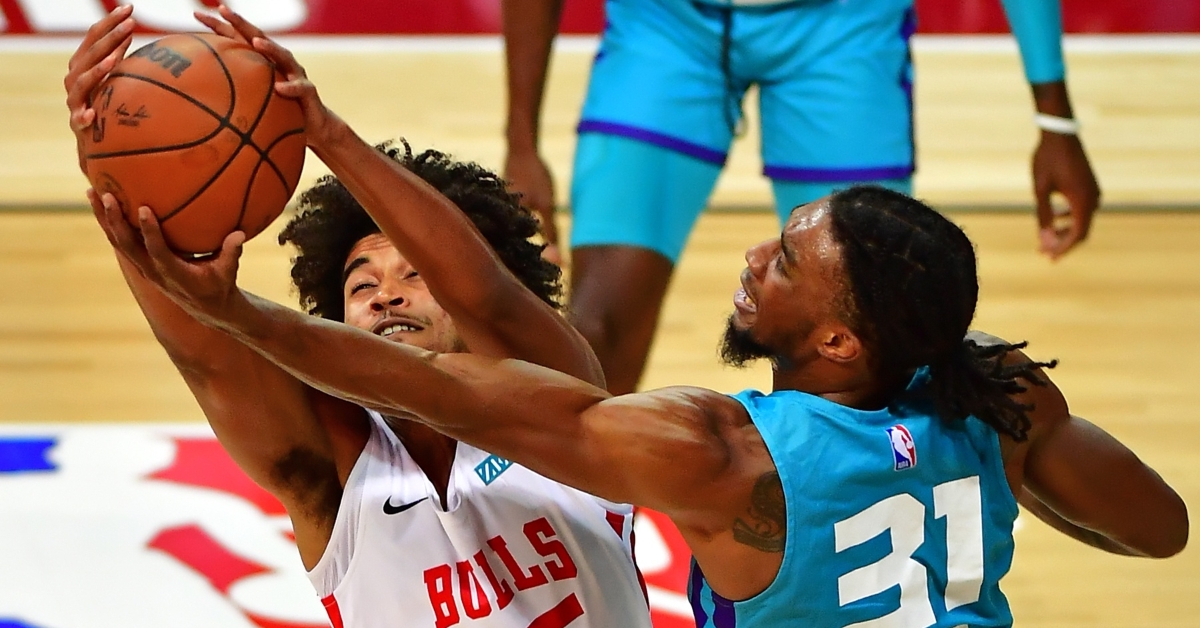 | | |
| --- | --- |
| Takeaways from Bulls win over Hornets | |
---
The Bulls certainly saved their best performance for last as they finished the Summer League season with a 2-3 record. Against the winless Charlotte Hornets, not only did the Bulls continue to play great defense, but they played the best offensive game of their summer season, topping the Hornets 99-74. For the second straight game, Patrick Williams did play while Devon Dotson was inactive with an ankle injury. That didn't stop the Bulls from having a balanced attack and putting together their best performance of the summer.
Even after an ugly first quarter that saw the Bulls lead 17-13, their offense kicked it into gear the rest of the way scoring at least 23 points in every quarter, including 31 in the third. Defensively, the Bulls only allowed 28 points after one half of play before the Hornets started to get into a late-game rhythm. Ayo Dosunmu continued to do his thing in the summer league-leading not only the Bulls but all scorers in the game with 19 points as he was one of five double-digit scorers for Chicago.
Marko Simonovic (10), Jaylen Adams (13), Jerome Robinson (13), and Tyler Bey (13) not only added double-digit outputs of their own, but all five of them were starters in what was an overall impressive game. Bey added 11 rebounds to pick up a double-double, while Simi Shittu added nine points with 10 boards off the bench. It was the kind of production the Bulls were waiting for, even though it took five games to get there.
Balanced scoring is key
Even though it is great to have a go-to scorer like Zach LaVine during the regular season and Williams in the Summer League, it can also be a curse. Teams that often have these elite scorers rely too much on them and sometimes forget to get others involved. Sometimes teams have no choice if players are struggling, but in this case, Chicago proved balanced scoring is the key.
Not only did the Bull put up 99 points for the largest output of the Summer League Season, but they did so with all five starters scoring in double figures and a bench that saw five of their six players score at least three points. That kind of balanced production makes it tough to defend a team, as you never know where the scoring will come from.
This is something Bulls fans should expect to see a lot of during the regular season. While LaVine and Nikola Vucevic will be your primary scorers, don't count out guys like DeMar DeRozan, Lonzo Ball, and Coby White when healthy to go with Williams. This is the first time since 2010-2011 where the Bulls will have five legitimate scoring options, which will go a long way to helping this team win this season.
Athletic abilities on full display
Unlike most of the Summer League games that have gone on, Monday's contest with the Hornets was one of the more exciting ones despite the score. Not only did you have a bunch of young and hungry players fighting for a future in this league, but they were putting incredible athleticism on display.
That led to a series of impressive dunks and incredible plays, all worth of Sports Centers top 10. Troy Baxter Jr. delivered perhaps the best play of the night when he went up for the alley-oop and threw it down one-handed for an incredible slam. Baxter may not be someone who will score you a ton of points, but he brings the physicality and energy you love to see from role players.
Not only that, he is extremely athletic for his size, which makes for some impressive plays. The Bulls will be one of the more athletic and exciting teams this season, and they will look to put that on display all season long.
There could be an end to the Markkanen saga
One of the Bulls' biggest questions left unanswered surrounds the Lauri Markkanen situation. Looking for a fresh start, Markkanen is still searching for work as most teams don't have the cap space to swing a deal for him. The only way that seems likely is by doing a sign-and-trade scenario, which seems highly unlikely for most teams.
There is still a possibility that he could accept the Bulls qualifying offer of nine million dollars, and then that leaves both him and the Bulls a unique opportunity. Should Markkanen take that offer, he can play out the season in Chicago and build his value before hitting the market again. On the flip side, Chicago could also let him build as much stock as possible and then flip him midseason for something later.
While that seems like the most likely scenario, there is one team still heavily interested in doing a sign and trade with him, and that team is the Dallas Mavericks. This shouldn't come as a surprise as the two sides discussed a sing and trade earlier in the season that would have landed the Bulls Jalen Brunson. However, with Ball and Alex Caruso added to the roster, Brunson doesn't fit this team anymore.
Dallas still wants Markkanen, according to reports, and they are trying to convince him to sign a deal under their 11 million cap number. The question now becomes can they make that happen? The Mavericks could make this happen by offering Markkanen a three-year contract of around 45 million dollars and sending the Bulls 10 million dollars back.
Along with that, Maxi Kleber and Trey Burke could be returned in the process to help sweeten the pot. Swapping Kleber for Markkanen is something the Bulls wouldn't hesitate to do as both players have a similar skill set. On the other hand, Burke is an intriguing piece as he would have to be ok with a backup role. Whatever happens from now until the start of the season, Dallas appears to be the team most in on the Markkanen situation.

Upgrade Your Account
Unlock premium boards and exclusive features (e.g. ad-free) by upgrading your account today.
Upgrade Now