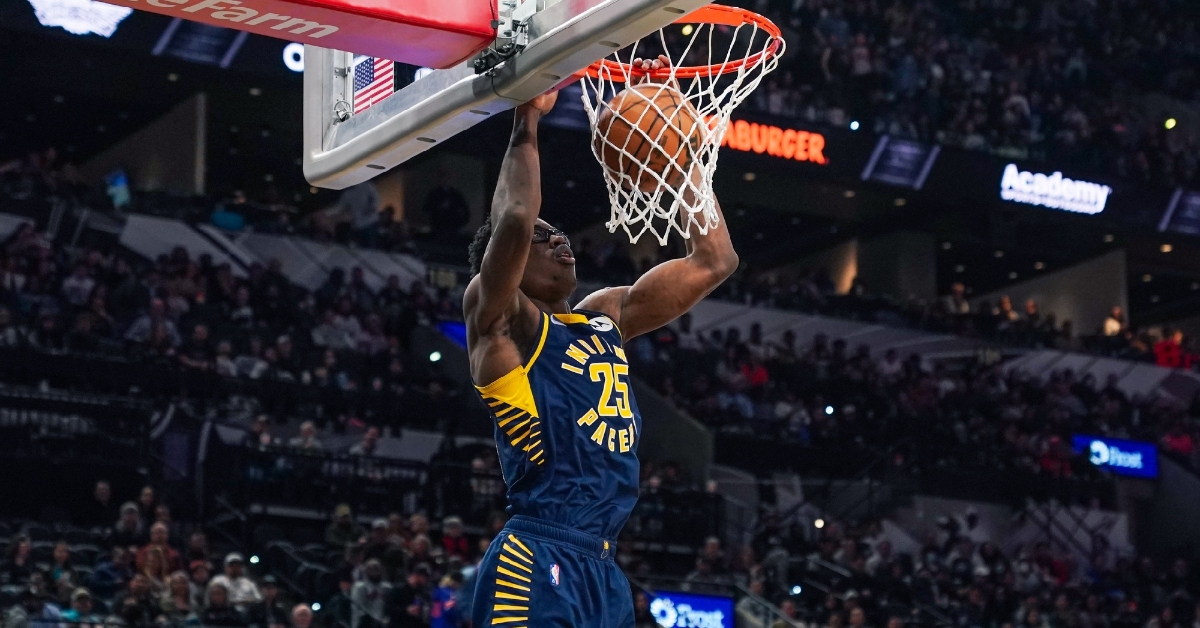 | | |
| --- | --- |
| Three intriguing free agents to pursue for Bulls | |
---
Now that the NBA draft is over, the meat of the NBA offseason is set to begin with free agency right around the corner. While this year's free-agent class will not blow you away apart from a few players, the NBA trade market has already gotten off to a fast start and could get more intense in the passing weeks.
The Bulls are in an intriguing position as they have a good roster looking to become great. Given their financial status entering the season, should they bring back Zach Lavine, there will not be much this team can do unless via the trade market. However, not all free agents will break the bank, and the Bulls know they will need to add more depth to compete better.
With that in mind, here are a few free agents the Bulls should target with the draft finally over.
Jalen Smith
Smith is a very intriguing name as he was a lottery pick not that long ago. Smith now finds himself in rare company as his third and fourth-year options declined, making him a free agent. At the time, it was assumed that move was being made to avoid a luxury tax hit for the Suns to retain Deandre Ayton. With Ayton now saying he wants out, letting Smith go might be foolish.
Not only did Smith has his last two options declined, but he was traded to the Indiana Pacers midseason. That may have been the best thing in terms of helping his free-agent status, as he averaged 13.4 PPG and 7.6 RPG after the trade. Smith also significantly improved his three-point shot, where he knocked down 37.3% of his attempts.
Considering shooting has been a weakness for the Bulls if that improvement is a sign of things to come, Smith makes an excellent addition to this roster. He also adds some size that Chicago needs, which could be around the five million dollar mark.
Mo Bamba
It is no secret that the Bulls most significant need right now is front-court help. After hearing constant rumors that the Bulls were looking to trade for Rudy Gobert, which left Nikola Vucevic and his future in question, nothing happened. So here they sit with that same front-court problem.
However, adding a guy like Mo Bamba would address that need, and this isn't the first time the Bulls have been linked to him. Originally linked to him when he entered the draft, Bamba has all the defensive intangibles a team like Chicago is looking for in a reserve big man and could become a real difference-maker should he come to the Windy City.
Not only is he a great rebounder, but he also averages better than two blocks per contest, giving the Bulls some much-needed defensive help on the interior. Foul trouble has always been an issue for him, and if he can cut down on that, you are looking at a steal of a player.
Mitchell Robinson
While everyone would agree that Gobert would be the best defensive center option for this team, why trade away a ton to get him when there are good free agents out there. Robinson is one of those free agents, and the Bulls have been linked to him for two years.
After trying to trade for the big man last season only to come up short, Chicago will now have a second chance at him in the free-agent market, and they better not miss. While many experts expect Vucevic to be traded at some point, his offensive abilities will be difficult to replace.
Adding a guy like Robinson not only brings some offensive ability with it, but would pair nicely with Vucevic when you look at his defensive ability. Eventually, you would like a guy like Robinson to start, especially when he averages nearly four blocks per 48 minutes. However, if need be, for one season, he would make a great combo with Vucevic and give the Bulls a front line that many teams would have difficulty facing.