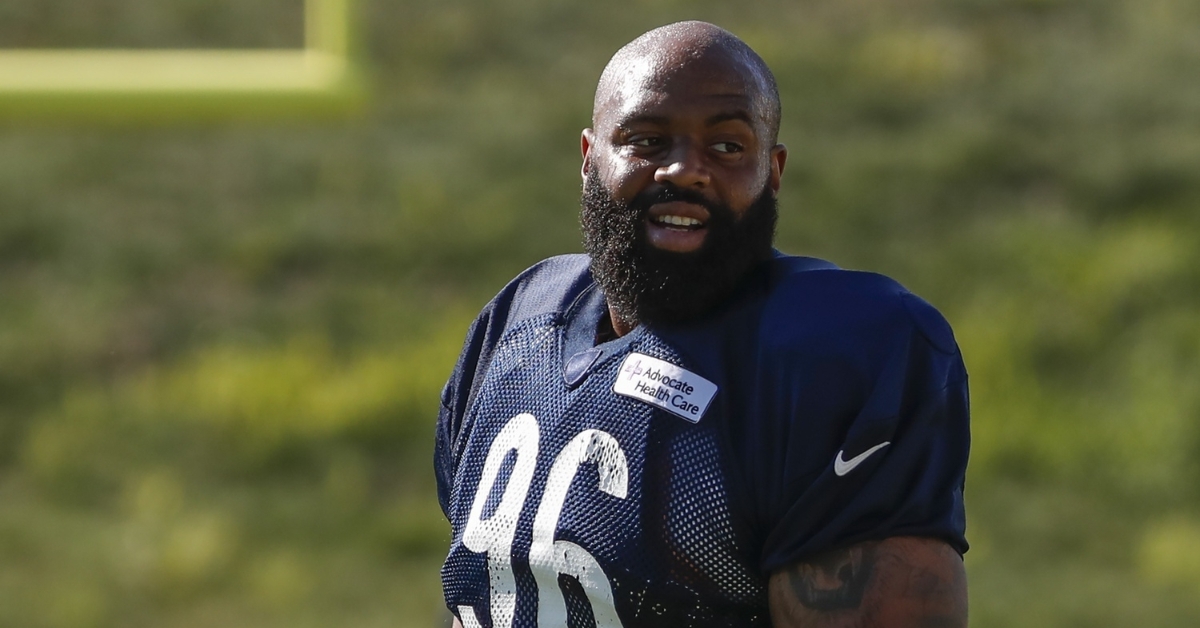 | | |
| --- | --- |
| 2021 Projections for Bears DLs: Hicks, Nichols, Goldman | |
---
| | | |
| --- | --- | --- |
| Wednesday, August 11, 2021, 12:51 PM | | |
Yesterday we focused on the Bears linebacking group, and rightfully so, as that may be the deepest unit in football. However, there is another deep unit on the defensive side of the ball, and they help set the tone for the rest of the defensive unit. That would be the defensive line that should not only be improved this season but will be getting a significant boost from someone returning after missing 2020.
AKIEM HICKS: We can't talk Bears defensive line without talking about Hicks first. If not for Khalil Mack, Hicks would be the MVP of this defense, and some would argue that even with Mack, he is. Known as a run-stuffer on the edge, Hicks can more than hold his own in the pass-rushing department, where he has become a nightmare for quarterbacks.
Take last season aside, where he only registered 3.5 sacks and ranked 61st among defensive ends, and you typically have someone not only ready to stop the run, but someone who will give you around 10 sacks. Hicks is more valuable than what many realize, and you can point to 2019 as a reason why. When he was not in this lineup, the defense was a shell of themselves as they allowed nearly 30 more rushing yards per game than with him.
Although that doesn't seem like a lot, that is a drastic difference as the running game opens things up for the passing game. His absence puts pressure on everyone else, and eventually, that is going to bite them. The Bears need Hicks to stay healthy this season.
Prediction: 13 games, 42 tackles, 15 tackles for a loss, nine sacks
I expect Hicks to have a bounce-back season this year even if he doesn't play all 16 games. With improved depth across the board, Hicks will once again be allowed to get after the quarterback while he will be given help stuffing the run. The more pressure he can generate in the backfield, the better, and fans are anxious to see him bounce back this season.
BILAL NICHOLS: Across from him as the other defensive end will be Bilal Nichols, who is coming off an impressive season. No player on this roster raised their stock for this season more than him after coming off a two-sack season that saw him land in the top 35 among qualified defensive players.
The numbers weren't eye-popping, but Nichols was consistent, which is all you ask for from your players, especially for someone who has been a role player much of his career. With players like Eddie Goldman opting out and Hicks missing time, Nichols took it upon himself to prove he is starter material. Not only did he do that, but he did so impressively and now looks to be in line to be a full-time starter this season.
Prediction: 16 games, 35 tackles, eight tackles for a loss, 5.5 sacks
Fans should be excited about Nichols this season, especially after witnessing what he did last year in limited time. Now expected to shoulder a full-time roll on the defensive front, you may finally see what he is capable of. Having guys like Hicks, Mack, Quinn, and Goldman around him will take pressure off him and could lead to even better production. He may be the wild card of the entire defense this season.
EDDIE GOLDMAN: No player may prove to be more valuable on defense this season than Eddie Goldman, who returns from opting out of the 2020 season. Essentially, his return is like the Bears adding a free agent DT for nothing as he was already under contract for this season. It's hard to say what Goldman will look like this season, especially when you consider he took a year off last year.
However, if you base your predictions and expectations on past history, you know the type of player the Bears are getting. You are getting a monster of a man in the middle of the defensive line who teams up with Hicks to plug holes in the running game. Back in 2018, when the Bears were at their best, this defensive front allowed just one 100-yard rusher all season and held opponents under 70 yards per game on the ground.
The Bears would like to get back to doing that again, and the presence of Goldman is a big reason they could get back there. I expect the Bears to ease him into the season, especially after missing an entire year, but don't expect that to be too long. Chicago does have Mike Pennel, Angelo Blackson, and others who could split time with him early on.
Prediction: 14 games, 45 tackles, 18 tackles for a loss, four sacks
While I don't think Goldman will influence the passing game all that much, look for him to wreak havoc on the running game this season. He is not only looking to get back to his old self, but to prove to everyone that he is better than ever. If I were an offensive coach, my head would be spinning right now, trying to figure out how to move the ball against this defensive front.

Upgrade Your Account
Unlock premium boards and exclusive features (e.g. ad-free) by upgrading your account today.
Upgrade Now