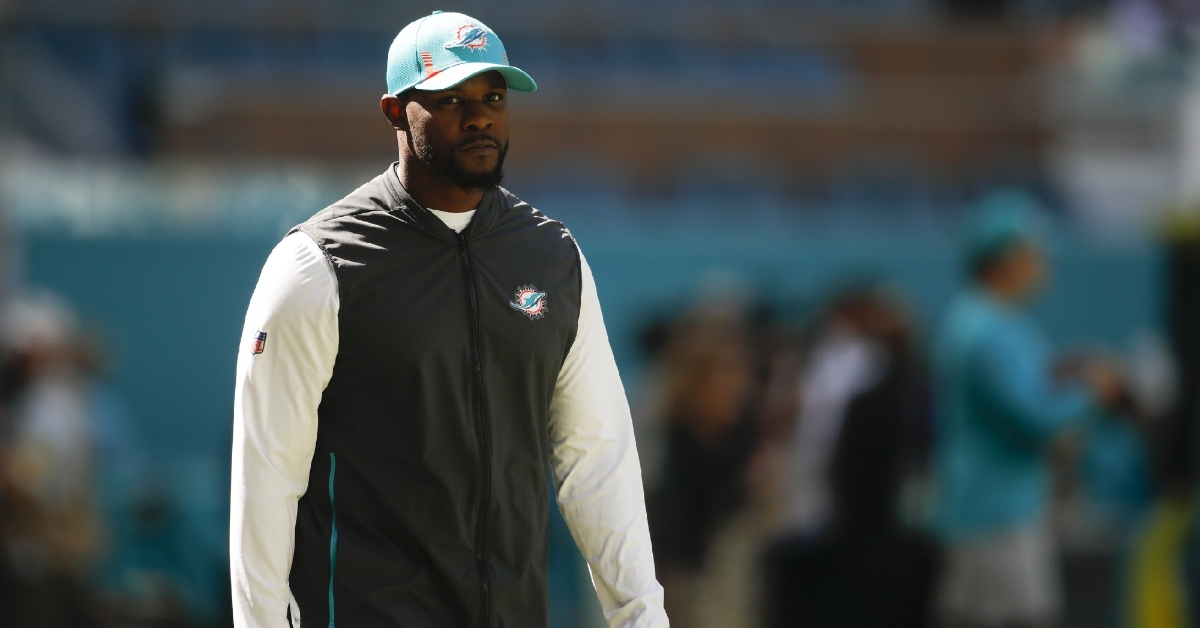 | | |
| --- | --- |
| Bears Coaching Candidate: Brian Flores | |
---
Black Monday came and went this season, and there were a few surprises. Not only did Black Monday carry over to Thursday when David Culley was Fired from Houston, but several GMs parted ways with their organizations, including Ryan Pace and the Chicago Bears.
Among the coaching firings, most were expected, but some came as a bit of a surprise. Culley was a surprise when you look at the situation he walked into at Houston. Some argue that Vic Fangio and Mike Zimmer were surprises also, but given the way their teams performed the past three years, it was time to send both packing. The biggest shock of them all came from Miami as the Dolphins fired Brian Flores after just three seasons.
It was a move that no one saw coming, and it could benefit the Bears long-term. Not only is Flores the hottest coaching commodity on the market, but the Bears are making sure they get an interview with him as he could be the right man for the job. The 40-year-old Flores is still young when it comes to coaching, but has been around the NFL for over 15 years.
Most of that time was spent with the New England Patriots, where he emerged as one of Bill Belichick's most trusted men on the staff. Flores started as a scouting assistant with the Patriots in 2004 and held that position for two years before moving up to the Pro Scout. Another two years had passed, and Flores was promoted yet again, taking on the Special Teams Assistant role in 2008-09 before becoming the Assistant offense and special Teams coach in 2010.
Following that season, Flores held a defensive assistant role for one season before getting his first big break in 2012 as the Safeties coach from 2012-15. Everyone knows how good the Patriots secondary has been over the last decade, so Flores deserves a ton of credit in that. Looking to broaden his coaching mindset, Flores finished his tenure with the Patriots in 2018 after holding down the linebacker coach from 2016-18.
Unlike most first-year head coaches, Flores was never a coordinator and had a different path to becoming a head coach. When Miami gave him the opportunity in 2019, they were banking on his knowledge from Belichick to potentially lead the Dolphins back to respectability. Despite his 24-25 record over three seasons, Flores is an underrated head coach that the Dolphins will regret getting rid of. He started his first season 0-10 before winning five of the last six games to finish 5-11.
One year later, Flores shuffled between Ryan Fitzpatrick and rookie Tua Tagouviola to finish 10-6 and miss the playoffs by one game. This year was an up and down roller coaster that saw the Dolphins win their first game, lose their next seven, win their next seven, and then finish 9-8 to miss the playoff by one game again. That is the main reason why the Dolphins let him go, as he failed to make the playoffs despite making Miami relevant again.
Everyone knew Flores would be a hot name once he hit the open market, but the Bears wasted no time as they were the first team to request an interview with him. Whether that is a good thing or a bad thing remains to be seen, but they wanted to ensure they had a shot at getting him before someone else did. Given the culture he created in Miami with his demanding coaching style, he is the perfect fit for a Chicago team that needs some direction.
Flores checks all the boxes the Bears are looking for in a head coach and some that they may not have even thought about. However, one box he hasn't checked yet is building a legitimate offense surrounded by a great play-caller. That was an issue in Miami and has been an issue in Chicago for quite some time. If Flores can't find the right offensive mind for his system, his results will be the same, which isn't good enough for Chicago.
Adding a guy like Flores to the Bears reminds me a lot of the Cubs adding Joe Maddon following the 2014 season. Maddon suddenly became available, and the Cubs made sure they brought him in. In just one year, he got them to the NLCS and won the World Series the year after. I am not saying Flores will have that same immediate success, but he knows what he is doing, and that alone would be huge for the Bears and their future.

Upgrade Your Account
Unlock premium boards and exclusive features (e.g. ad-free) by upgrading your account today.
Upgrade Now