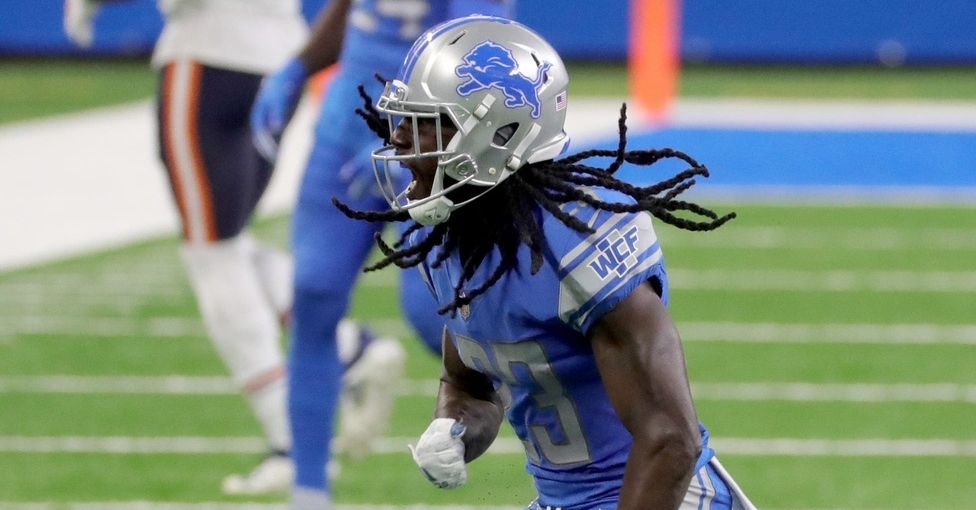 | | |
| --- | --- |
| Bears make several intriguing roster moves | |
---
Although there have been rumors out there that some of the Bears defensive room is unhappy with Ryan Pace, that hasn't deterred him from at least adding some depth pieces to bulk up this team. After releasing Kyle Fuller, the Bears turned around and signed Desmond Trufant as he brings a ton of experience to the table.
Chicago then turned around and added Jeremiah Attacochu from Denver to bring in more pass-rushing help and has now shown interest in former Bills WR Isaiah McKenzie. Now it looks like the Bears are trying to trade Nick Foles, which would put them in the market for not one but two quarterbacks with Gardner Minshew and a draft prospect as options.
Let's talk about Desmond Trufant for a second
Although not as skilled as Fuller in terms of ball-hawking skills, the Former Atlanta Falcons and Detroit Lions veteran CB Trufant brings a veteran pedigree to the table and will look to anchor the Bears secondary with Jaylon Johnson this season. Despite only playing six games with the Lions in 2020, he spent the previous seven seasons with Atlanta, where he was their top defender.
His best years are behind him, but this is not a bad pickup for Chicago. Trufant has hauled in 14 career interceptions to go along with six sacks across his eight seasons so far. His best season came in 2014, but he has still put together a strong career since.
Look for him to be the team's No.2 next to Johnson and add a nice leadership mantra to that defense.
Jeremiah Attaochu is an intriguing pickup for the Bears
On paper, Khalil Mack and Robert Quinn's pass-rushing duo should be one of the best in the league. Coming off a down season regarding Quinn, Attaochu will add an excellent pass-rushing presence off the bench, making this unit deeper.
The Chargers' former second-round pick, Attaochu, has 74 games of experience under his belt in which he has tallied 20.5 sacks, 31 tackles for a loss, and 42 quarterback hits. All that came as a primary reserve type of player, so the potential to add more thunder to this defense is there. Not only that, he is a great special teams player who will immediately fill in there also.
Look for him to replace Barkevious Mingo this season and be a reserve defender with special packages designed for him. If Quinn continues to struggle like he did last season, Attaochu could see an increase in snaps, and who knows what type of production the Bears would get from him them.
Rumors involving receiver Isaiah McKenzie
Switching back to the offensive side of the ball and you will see plenty of rumors swirling about players of interest. After Kenny Golladay declined their offer to sign with New York, it looks like the Bears are showing interest in another playmaking receiver. That man is former Bills, WR Isaiah McKenzie.
A bit undersized at 5-8, McKenzie caught 30 passes last season, with five of them going for scores. The 25-year-old played in all 16 games and posted career highs in every category while also bringing game-changing ability to the punt return game.
The Bears have one of the best kick returners Cordarrelle Patterson, but McKenzie would be a great option if he doesn't return. With Chicago showing interest in several other receivers, this shouldn't come as a surprise to see this team look for more help on the offensive side of things.
Bears quarterback offseason talk
Lastly, we circle back to the quarterback position, where once again, the Foles topic is coming into question. After having to pay him his bonus from last year, it appears the Bears are looking to now trade him elsewhere, and oddly enough, the Eagles are showing interest to bring him in as Jalen Hurts backup. That would leave the Bears with no backup to Andy Dalton.
Not only do some feel the Bears will target a QB in this year's draft, but suddenly Gardner Minshew's name is popping up as a possible backup to Dalton in Chicago. While this move would be a huge surprise, it does make sense when you look at Chicago QB coach John DeFilippo who worked with him in Jacksonville when he had his best season.
Minshew is also a better backup than Foles at this point in his career and would give Chicago much better security should Dalton go down with an injury. These are just some things the Bears are looking to consider as they inch closer to the NFL draft in a month.