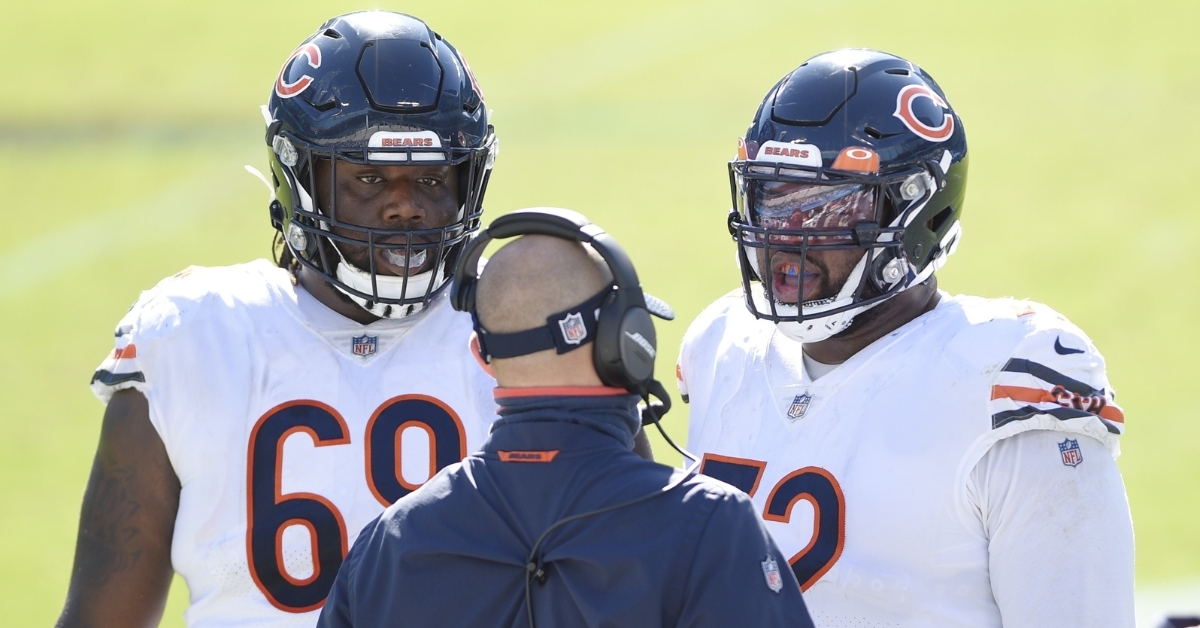 | | |
| --- | --- |
| Bears OL grades for 2020: Room for big improvement | |
---
| | | |
| --- | --- | --- |
| Tuesday, February 9, 2021, 10:47 AM | | |
Outside of the Carson Wentz to Bears rumors that are continuing to swirl around, there hasn't been any significant news recently coming out of Bears camp. With that being said, this will allow us to do another season in review report card series as we finish up the offensive side of the ball. Today, it is all about the offensive line and how they played this season.
Unlike the rest of the positions that are statistic based, the offensive line is more of an observation than stats. Many people want to point their fingers at the quarterback position for the Bears struggle this season, but the offensive line needs to shoulder some of that blame. A quarterback is only as good as his line is, and for a chunk of the season, the Bears offensive line wasn't pretty.
Things got better as the season went on, which is why there is no coincidence that Mitch Trubisky played better down the stretch.
Here are the report card grades that I would give out this season for the offensive line:
CHARLES LENO JR. (LT): Of all the offensive lineman the Bears had this season, he was the only one who started every game at one position. That position was left tackle, where he has now gone five consecutive seasons without missing a game. Leno is becoming one of the more durable linemen in football, seeing the ninth most snaps in the league at 1066.
Despite seeing the most snaps, he also allowed the most sacks on the team with five, to go hand in hand with committing six penalties. That tends to happen when you play as many snaps as he did, but the line's left side was the issue this season. Despite those sacks, he put together a 74.6 PFF grade among lineman, which ranked him 11th in the NFL for his position. That isn't terrible when you think of it, which makes you wonder why the Bears line looked as bad as it did for so long.
Season Grade C+: Leno is as durable as they come, which is enormous for Chicago, but the left side of the line needs some work. Giving up five sacks may not seem like a lot for an entire season, but when you think about how many linemen you have rotating, that does add up. Chicago did improve as a unit as the season went on, but once again, it was nothing like the 2018 season where the Bears landed three offensive linemen in the pro bowl. Chicago needs to get their blockers playing at that level again if they expect to do anything as a team.
GERMAIN IFEDI (RT): Signed as a surprise free agent last season, Ifedi was considered one of the missing pieces for this line. A guy that has now made 76 career NFL starts, Ifedi has all the tools to be an elite tackle but continues to lack the consistency to be that. Much like the rest of his teammates on the line, Ifedi moved around a lot, starting 10 games at RG and six games at RT. He played better at the tackle position as that is his more natural spot.
One thing Ifedi did well was hold up all season as he played 1066 snaps this year. Not only that, but he was also one of the few players that held up all season. For the year, Ifedi not only committed just five penalties, but he allowed only two sacks all season. Add in the massive improvement in the Bears running game when he moved to tackle, and you can see why the team took off.
Season Grade A-: Of all the offensive lineman on this team, Ifedi may have put together the best season. Not only was he versatile, but he continued to be durable, playing tough at multiple spots. He didn't allow sacks, made very few mistakes, and did his job on the field. Hopefully, the Bears can bring him back next year.
ALEX BARS (RG): The second-year pro Alex Bars had a much different 2020 campaign after spending his rookie season on the practice squad. Not only did he see action in all 16 games, but he made eight starts at the right guard position, which ultimately moved Ifedi back to tackle.
Much like Ifedi, Bars held up nicely on the line as the line's right side seemed to be the strong point for the Bears. In roughly half the snaps as Ifedi, Bars allowed just one sack on the season to go with only two penalties. Had he played the entire season, those numbers would be slightly different, but at least he showed tons of promise this season.
Season Grade B: Bars has a long career ahead of him and will only get better. Granted, he put up good numbers this season, he only started half of the year, so I can't give him as high of a grade as you would think. Had he started every game this season, who knows what type of production he would have done? All that matters is the right side of the line looks to be in a good position next season.
CODY WHITEHAIR (C): After transitioning to center last season, Whitehair solidified that spot for the Bears and continued to do that again this season. He started every game through week seven before an injury caused him to miss weeks eight and nine. He then returned to the lineup to join a unit that only got better as the season went on.
Not only has Whitehair done well at the center position, but he tends to hold up in both pass protection and against the run as he allowed just three sacks this season. That ranked ninth among centers, which is a nice stat to have next to your name. The other thing that stood out and perhaps what is most impressive is the lack of mistakes he makes during the season.
Across his 893 snaps, Whitehair committed zero penalties. That is right, and he went through the entire season without committing a penalty. Mental mistakes often kill drives, and Whitehair has shown that he very seldom makes those mental mistakes.
Season Grade A: Whitehair continues to be the most consistent player on this offensive line and could be the best one they have. Not allowing sacks is one thing but going an entire year without a penalty is an entirely different ball game. Whitehair doesn't put his team in a challenging position and does his best to hold down the fort. When the Bears chose to run up the middle behind him, they averaged 4.8 YPC instead of 4.1 everywhere else.
RASHAAD COWARD (LG): Unlike the right side of the line, the left side is where the problems started as that was a revolving door all season. Despite making just one start at Left Guard, Coward was named the starter in week one and saw anyone's most action at that position.
After an impressive 2019, after he stepped in for now-retired Kyle Long, Coward struggled to get things done this season. Despite allowing just three sacks, only in 334 snaps or the equivalent to allowing one every three games. That is not something you want in a starting lineman, which is why he ranked 79th among left tackles with a 46.5 PFF grade.
Season Grade D: Coward had a rough season this year, which was a surprise to me. When you look at how he played in 2019 after replacing Long, I felt he would be the one player to make significant strides forward this season. Instead, it was Whitehair taking that leap while Coward went backward. It will be interesting to see if he can bounce back next season.