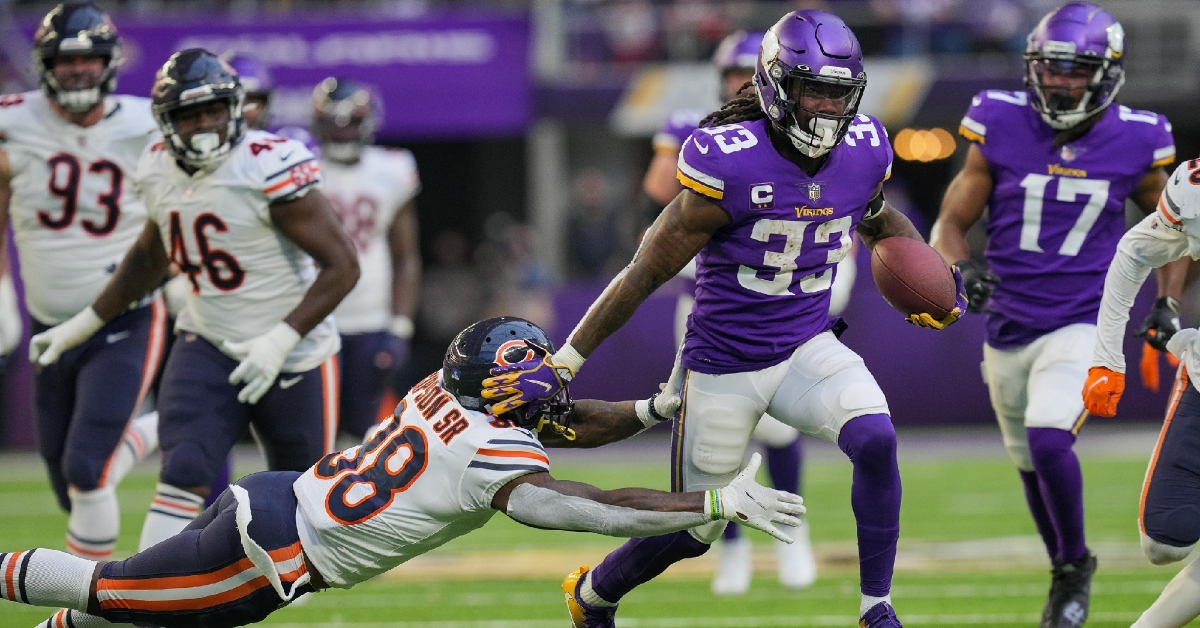 | | |
| --- | --- |
| Bears-Vikings Prediction: Can Bears end season on high note? | |
---
| | | |
| --- | --- | --- |
| Sunday, January 8, 2023, 9:32 AM | | |
At long last, the 2022-23 season for the Chicago Bears is about to come to a close. At 3-13 right now, the Bears have had a rough go of things this season and have now lost nine consecutive games. That has put them in the position to secure a top-three pick, but they still have an outside shot at grabbing the No. 1 overall pick.
For that to happen, the Bears need to lose to the Vikings, who have punched a ticket to the playoffs by winning the NFC North. However, they are coming off a blowout loss to the Packers last weekend, and even with a 12-4 record, they have a negative 19-point differential this season. That tells you that when they win, they are barely getting by, and when they lose, they get blown out.
Chicago had a chance to finish off the Vikings earlier this season, only to see Cameron Dantzler rip the ball away from Ihmir Smith-Marsette to seal the game. Kevin O'Connell has already announced that he will play his starters as the Vikings can still get the No. 2 seed in the playoffs. They have a lot more to play for than the Bears, so it will be interesting to see their approach.
Here are some things to look for:
Jefferson chasing history
Although Justin Jefferson was held to just one catch for 15 yards against Jaire Alexander this week, he still leads the NFL in catches and receiving yards. He is also closing in on history and has an outside shot of getting it done this week.
Heading into the Packers game, there was a lot of talk about whether or not he could reach 2000 yards this season to become the first WR in NFL history to hit that mark. Granted, he still can; it would take a massive game of more than 220 yards to get it done, which is unrealistic. What is more realistic is the opportunity to break Calvin Johnson's record, as he needs just 170 yards to reach that.
Again, that is no small task, but he put up 153 yards the first time against this Chicago defense so expect the Vikings to target him early and often. As cool as it would be to see, I think O'Connell wants his guys to stay healthy more than anything, so he may be pulled before hitting that mark.
Fields out, Peterman in
It was long speculated whether Justin Fields would play this week, but Matt Eberflus put an end to that on Wednesday. During his morning presser, Eberflus announced that Fields would indeed miss the season finale with an injury hence turning things over to Nathan Peterman this week.
This will be his second start of the season, as his first start didn't go great, but it didn't go that bad, either. With nothing to play for at this point apart from draft positioning, the Bears have nothing to lose, and this was the smartest decision for this season and beyond. You are protecting your franchise QB by letting him rest, and you are not bringing in your best option, which alone could help improve your draft status.
A better pick means a better player would be available for the Bears, and they need a ton of talent on this roster. I think Eberflus waited too long to sit Fields, as the kid has taken a beating the last month.
How many starters will actually play?
Fields is not the only one injured this week, as the Bears have a grocery list of injuries right now. Some are more day-to-day aches and pains, but some serious ones will have the Bears shorthanded again.
At this point, you have to wonder if the starters are going to play on Sunday, and should they play, how long do they? I know fans want a win, but this team has been tanking the last few games, and the proof has been their effort at times. There is no sense in ending the tanking now as they have put themselves in this position, and now it is time to acknowledge where they are.
Prediction: Vikings 35-24 over Bears
If Fields were healthy enough to play this game, the Bears' chances of winning would be significantly better. Minnesota has not played well at Soldier Field over the last decade and are coming off their worst loss of the season not named Dallas. They have a sour taste in their mouth that they would love to get rid of, especially with the playoffs right around the corner.
Given that the Vikings still have potential seeding to play for, and the starters will be out there, it could be a long afternoon for the Bears. Sure, the Vikings defense will give the Bears a few chances, but in the end, it will be the Vikings coming through 35-24.