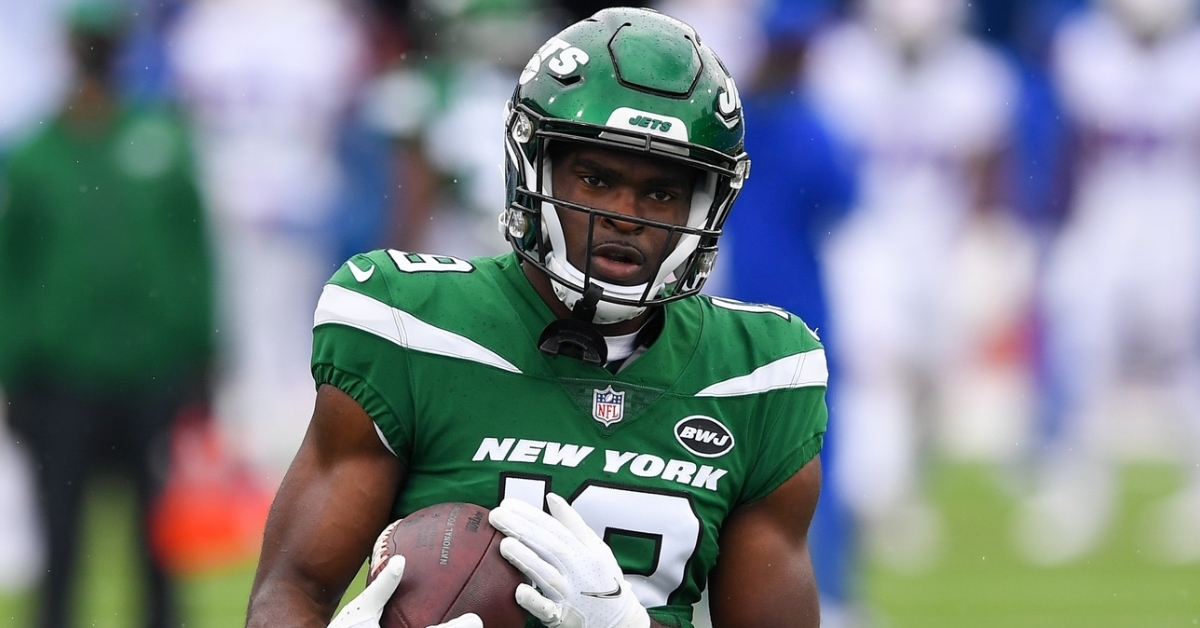 | | |
| --- | --- |
| Bears welcome a former first-rounder to WR room | |
---
So much for that initial 53-man roster.
Less than a day after the Bears released their opening 53-man roster, changes were made, especially at the WR position. This was one of the positions that most experts figured would have some movement, especially after the Bears only chose to carry five receivers.
While cornerback remains the most important piece in terms of adding players to it, the Bears added two more receivers, and one of them was immediately signed to a one-year deal and could prove to be the team's No. 4 before all is said and done.
The biggest move on Wednesday comes a bit of a surprise with recently released Breshad Perriman joining the Bears on a one-year deal.
Taken in the first round of the 2015 NFL draft, Perriman was one of six receivers selected in the first round of what was said to be a talented receiver group that season. The Bears should be very familiar with that class as they took Kevin White in the first round that year. Of the receivers taken, only Davonte Parker (Miami) remains with his team while the rest have fizzled out.
Perriman was linked to the Bears a lot that spring as he was one of the receivers Chicago was looking to take. However, given White's production during his final collegiate season, the Bears couldn't pass up the opportunity to take him and elected to make him their selection. With their second opportunity to have Perriman, unlike Webster, Perriman should be able to work his way into the top four receivers on this team and contribute immediately.
The 26th overall pick in 2015 has had an up and down career, but has performed well enough to land on several rosters. Thus far on his resume, Perriman has hauled in 125 catches for 2066 yards and 14 scores. Great numbers, no, but by far better than what a lot of No. 3 or No. 4 receivers can bring to the table.
Bears sign wide receiver Breshad Perriman to a one-year deal. At the NFL Combine his 40 times were 4.24 and 4.27 pic.twitter.com/RLSRu6g4Vb

— Barroom Network (@BarroomNetwork) September 1, 2021
Perriman has bounced around a bit so far in his career, but when he was given a chance to be an everyday player with the Buccaneers in 2019, he showed what he could do. He brought in 36 catches for 645 yards and six touchdowns that season, by far the best marks of any point of his career. One year later, Perriman brought in 30 more catches for 505 yards and three more scores with the Jets. Those two years alone give him half of his career production, which goes to show that the best years could still be to come from him.
After signing with the Lions this summer, Perriman looked to have the inside track to be the team's No. 1 or No. 2 receiver along with Tyrell Williams. Yet, he didn't make the cut for whatever reason and has now signed with his sixth team in his last five years. That is a bit concerning, but the bottom line is the last two seasons, when given the opportunity, he has produced at a higher level than earlier in his career.
Perriman will not be the No. 1 on this team with Allen Robinson, and there is a good chance he doesn't overtake Darnell Mooney for the NO. 2. However, if Perriman plays the way he did the past two seasons, look for him to battle Marquise Goodwin for the team's No. 3, giving the Bears four legitimate receiving threats.
All this can go a long way to improving this Bears offense, and the more weapons they add, the better it will be. This also makes things easier for Justin Fields whenever he is given the opportunity as the starter as the transition becomes easier with more toys. Perriman is a sneaky good pickup for this team and could help this offense more than most people think.
The second of the two receivers added to the mix is former Los Angeles Ram Nsimba Webster.
Claimed off waivers by the Bears early Wednesday morning, Webster is a receiver by trade, but is known as a return specialist. That is something this team could use this season, especially now that Cordarrelle Patterson is no longer in the mix.
After spending 2019 with the Rams, Webster was in training camp with the 49ers this season only to miss the final roster cut earlier this week. San Francisco was hoping to bring him back if he could clear waivers, but the Bears wouldn't let that happen and have added him to the mix for, at worst, a camp or practice squad body.
Webster may have WR listed as his position, but he thrives as a return man where he averaged nearly eight yards per punt return and 22 yards per kick return. Add in that Webster has played in almost 60% of all special teams snaps, and you can see what his niche is. The problem with him is that he only has five offensive snaps under his belt at this stage in his career. Bringing him aboard was solely a special team's move as the Bears try to sort out that part of the roster.