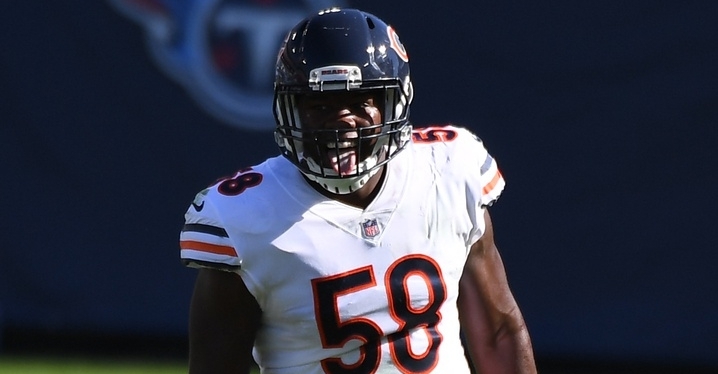 | | |
| --- | --- |
| Commentary: Roquan Smith needs to man up and honor his contract | |
---
This is not the news that Chicago Bears fans wanted to hear, especially with training camp on the verge of getting started. Not only have the Bears had a drama-filled offseason full of off-the-field issues, but now there is drama carrying over into the camp side of things which is never good.
Just days after it was announced that rookie Jaquon Brisker wouldn't be reporting to camp with the rest of the Rookies, the Bears now have a bigger problem on their hands as Roquan Smith is set to skip camp and hold out of the regular season unless his contract demands are met.
This has been an ongoing saga all offseason, but at least the Bears have been trying to get something done with Ryan Poles giving Smith several contract offers. The problem with those offers is that Smith hasn't seen one he would consider remotely. Thus we are now in the stand-off period when a player wants to hold out.
When it comes to Smith and the importance he plays on this team, you could argue that he is their best player on either side of the ball. He is their best defensive player, and he has demonstrated why in his first four NFL seasons. Not only has he emerged as a team leader, but he has also recorded more than 100 tackles every season and continues to rank near the top of the league in tackles.
When you look at that type of production, you can see why Smith wants to get paid, and he deserves to be right up there with the highest paid, if not the highest paid LB out there. So, why haven't the Bears done a better job of trying to work something out?
Well, for starters, it is not like they are not trying, but they don't have to offer him a contract yet as he is still under contract for one more season. Granted, that contract is still a rookie deal, but it is a contract nonetheless that Smith signed, and he must acknowledge the agreement. The Bears have held up their end of the bargain, and just because they haven't agreed on a long-term deal doesn't mean they don't want to.
Obviously, the ultimate goal is to keep Smith around, but they must also look out for what is best for the team. Let's say the two sides agree tomorrow, and Smith gets an eight-year 160 million dollar deal. Then, in week one, he suffers an injury that ends his career. Not only is that a tough break for Smith, but also for the Bears, they would still have to pay out that contract.
That could be one of the main reasons why the Bears haven't signed him yet, as they want to make sure he gets through another season healthy. To this point, his play on the field certainly merits an extension, and there was reporting that the Bears were prioritizing a Smith extension. How much they prioritized it is now under question as the Bears don't seem to be focussing on it as much as they claimed to be.
Smith is about to sit things out because he reportedly has yet to get a worthwhile offer. Add Smith to the list of disgruntled Bears. Pass-rusher Robert Quinn didn't show up to mandatory minicamp, believing in some circles that he wants a trade. And second-round safety Jaquan Bridker remains their only unsigned draft pick.
In addition to racking up tackles by the hundreds, Smith has had consecutive second-team All-Pro nods. He hasn't made a Pro Bowl, but those snubs aren't representative of how good he has played. Given all that he has accomplished on the field so far, Smith does deserve an extension, and I am sure every NFL executive would agree.
While I may be on Smith's side regarding that, I will not side with him when it comes to handling this situation. Even if you are unhappy with how things are going, you can never turn your back on your teammates like he is now. It creates a bad look and can sometimes tear a locker room apart.
Smith also needs to understand that this is a business, and he signed a contract with a team within the business. Because of that, he must honor the deal before worrying about a new deal, and I think that is what a lot of players nowadays are forgetting.
Whenever this does get resolved, there will be some lasting implications that could affect this team. From a loss of respect to having someone putting himself above the team, Smith needs to man up, finish out his deal and let free agency do the talking for him.