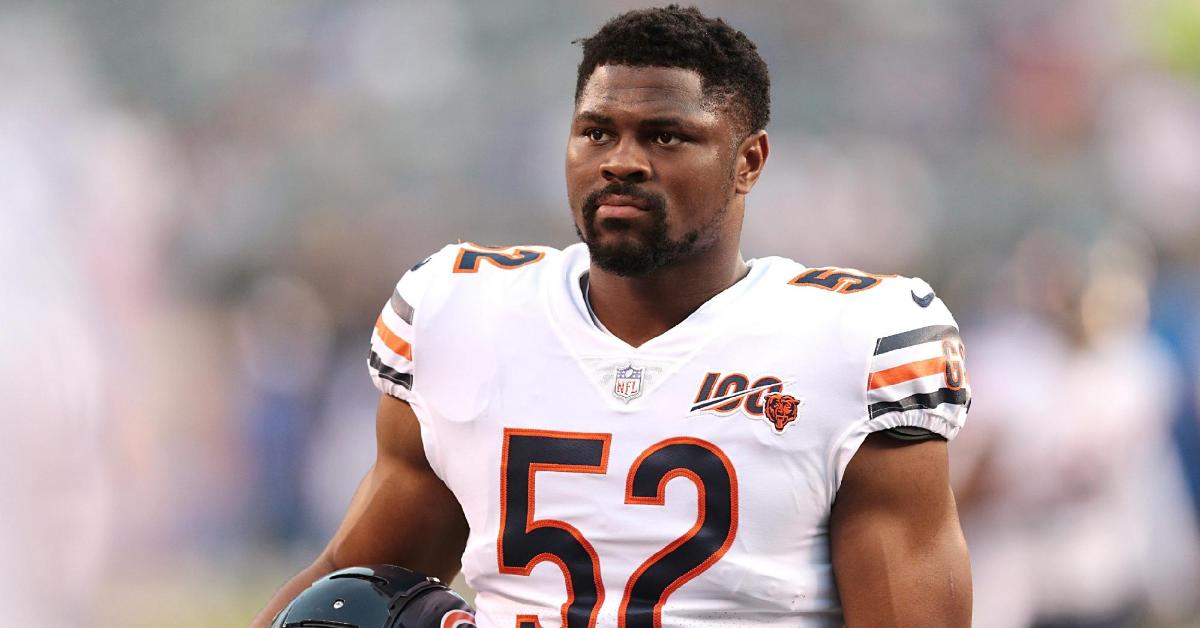 | | |
| --- | --- |
| Does a Khalil Mack reunion make sense for the Bears? | |
---
| | | |
| --- | --- | --- |
| Tuesday, February 7, 2023, 1:11 PM | | |
There was a time, not all that long ago, when the Chicago Bears had one of the best, if not the best, defense in the NFL. The year was 2018, Mitch Trubisky was the QB, and the Bears made a plethora of offseason moves, including for the then Oakland Raider Khalil Mack to add to their defense.
With legendary defensive coordinator Vic Fangio running the show, the Bears defense specialized on stopping the run, forcing turnovers, and most importantly, getting after the QB as they led the NFL in sacks that season en route to an impressive 12-4 season under first-year head coach Matt Nagy. Mack was a big reason for that success, as he was a nightmare on the field, leading the Bears with 12 sacks and making just about every play you can think of.
In the years since this defense has gone from one of the best to one of the worst as a steady hand of changes have been made. Chuck Pagano, Sean Desai, and Alan Williams have held the defensive coordinator role for at least one season. You then have the steady diet of trades from Kyle Fuller to Robert Quinn, and Roquan Smith as this defense continued to lose talent. Throw in Eddie Goldman, Akiem Hicks, and Mack, and you have a defense that no longer was a feared unit.
For Chicago to get their defense back on track, they will have to get back to their old ways, which starts with getting more pressure on the QB. Trevis Gipson showed signs of it this season, but he was about the only one. Looking at the most recent mock draft, the Bears are predicted to select either Jalen Carter or Will Anderson, and both would be a significant upgrade to the pass rush. However, one name and one rumor is starting to swirl, which has me thinking about what could be if it comes true.
That rumor is Mack reuniting with the Bears this offseason. Granted, Mack may not be the player he once was as age and injuries have caught up to him, but he is still a valuable piece to a defense. In his lone season with the Chargers, Mack came away with 33 tackles while picking up eight sacks. That was two more than he had in 2021, but he played in 10 more games, so do what you want with that info.
Before arriving in Chicago, Mack accumulated 40 career sacks with the Raiders, including a career-high 15 in 2015. He followed that up with 11 more in 2016 and 10.5 in 2017, which is when the Bears pulled the trigger to get him. From the moment he arrived in Chicago, Mack put on a show picking up 12.5 sacks in his first season and creating havoc on opposing offenses all season long.
However, that was the last time he would record double-digit sacks as injuries hampered the back half of his Bears career, but he still averaged better than eight sacks a season. Now at 31 years old, the 6-3 252 EDGE rusher could be on his way out of Los Angeles as he is viewed as a salary cap casualty. You hate to see a great player like Mack get cut, but that could help the Bears out significantly.
When the Bears acquired Mack, they gave up a boatload of draft capital to the Raiders. However, when they traded him to the Chargers, they got nothing in return, leaving many fans questioning the deal. If Mack is on the block, the Bears could once again trade for him. The only difference is that it would require less capital to get it done.
You also have to consider the getting factor into all of this, as he could get cut, leaving him free for the taking. That is the route the Bears should go, as they could add Mack to their roster without giving up anything in return. Although he may not be the same player he once was, Mack would be a significant upgrade for this team and one that will help this organization long term.
Not only are you getting a proven pass rusher who knows how to get after the QB, but he also makes everyone around him better. Mack requires so much attention on the field that it leaves others in 1v1 situations and can lead to more production. You also have the veteran presence to take into the equation, as he would be a great mentor for Carter, Anderson, or whomever the Bears bring in.
Although this is just talking at the moment, you have to love this time of the NFL season. Not only are you flooded with rumors, but the free agent period is coming up, and that is when things get fun.

Upgrade Your Account
Unlock premium boards and exclusive features (e.g. ad-free) by upgrading your account today.
Upgrade Now