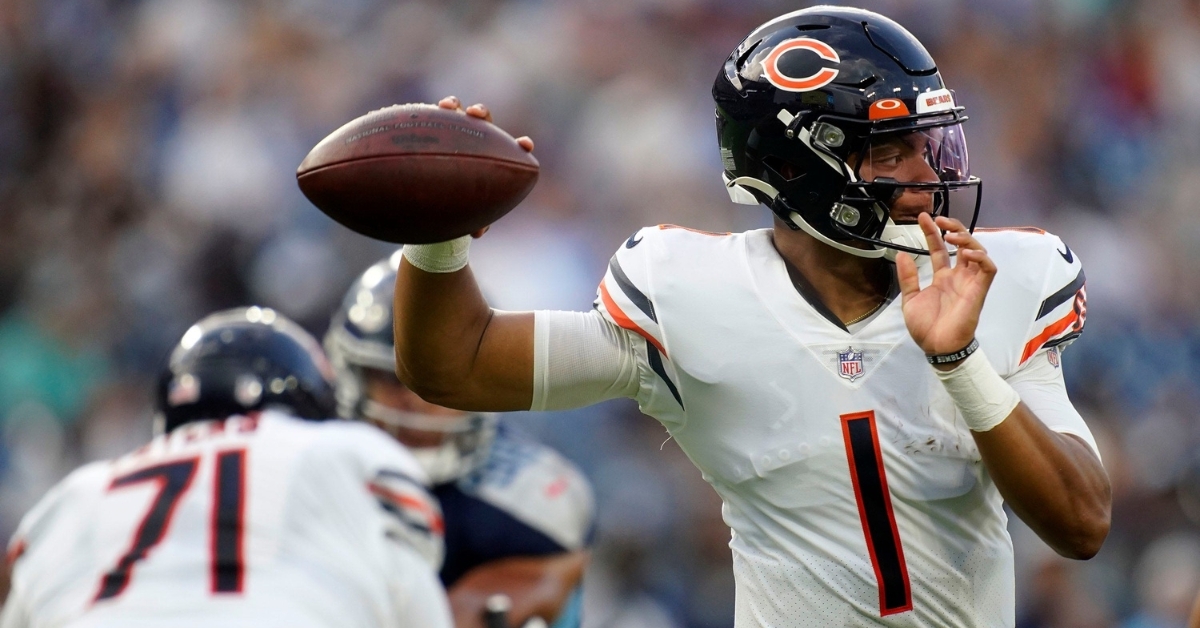 | | |
| --- | --- |
| Takeaways from Bears' win over Titans | |
---
There was a lot on the line for the Bears in their final preseason game with the Titans as they looked to avenge a terrible loss in week 2. Not only would this be the last game until the season opener, but the Bears finally got a chance to see what Justin Fields could do with the starters as he earned the start for the preseason finale.
For the most part, Fields continued to play well despite Nick Foles having the best day between the two going 10-13 for 142 yards and two scores. Fields continued to show tons of poise despite the offense struggling to score much of the first half. Along with the offensive struggles early on, the defense had to fight for this one, with Mekhi Sargent putting the Titans on top 7-0 with a short TD run.
Shortly after, the Bears defense finally made their presence felt as former CFL CB Tre Roberson stepped in front of the pass for the interception and raced back 27 yards to the house, tying things up 7-7. After Sam Ficken gave the Titans a 10-7 lead in the first half, Fields made one of the best throws of the preseason when he found Jesper Horsted for 20 yards giving Chicago a 14-10 lead at the half.
Horsted was just getting started as he had a day to remember hauling in not one, but three touchdowns with Foles finding him for six- and 54-yard strikes in the second half. Those two scores proved to be the difference in the game as both teams scored a pair of second-half touchdowns, with the Bears pulling out the 27-24 win to close out the preseason.
Who gets the No. 3 TE spot?
Entering the season, everyone knows that Cole Kmet and Jimmy Graham will be the team's top TE targets this season. The question is, who gets the No. 3? We have seen Chicago add plenty of TE's in camp, and all of them have shown flashes of being able to deliver.
When things started in the preseason, Jesse James was my pick to land that final TE, given his experience as a starter in this league before. James got off to a great start bringing in a touchdown pass from Fields in week one, but didn't offer much since. Of the other TE's on the roster, not many have shown much this preseason until the game Horsted put together on Sunday.
With five catches for 104 yards and three scores, Horsted put together the game of his life, even if it was just a preseason game. Those are the types of games that coaching staff notice, and Horsted may have just put himself in the conversation for the No. 3 TE spot. With two weeks of practice leading into week one, expect Matt Nagy and the coaching staff to evaluate the TE room thoroughly so they can make the right decision.
Highest-graded #Bears players in the win against the Titans:

TE Jesper Horsted (92.3)
OLB Trevis Gipson (91.6) pic.twitter.com/a21clqw6o5

— PFF CHI Bears (@PFF_Bears) August 29, 2021
Justin Fields has delivered this preseason:
It took long enough for Fields to see time as a starter this preseason, but he was finally given a chance on Saturday. Although he may not have wowed going 7-10 for 54 yards and a score, his body of work this preseason was great and ranked right up there in terms of top rookie performances.
He completed over 60 percent of his preseason passes for almost 400 yards to go with three touchdowns and zero interceptions. He also added around 100 yards on the ground with another score to put his full arsenal on display.
Not only did Fields show the poise needed to be the starter, but he took care of the football and made things happen consistently. That is exactly what the coaching staff is looking for from him, and he didn't disappoint. Nagy is still set on Andy Dalton being the team's Week 1 starter, but should he be?
Dalton may be the more experienced QB than Fields, but Fields put up better numbers than Dalton in the preseason. Dalton also saw Foles put up better numbers so take what you will from that. At some point, Nagy will have to look long and hard at the decision he made regarding Dalton as the starter.
That may happen once the team starts losing in the regular season, but it could happen sooner than some think. Fields may not be starting week 1, but the gap between Dalton and Fields is much smaller than Dalton thought coming into camp this season.
JUSTIN FIELDS ERRRYBODY ?? pic.twitter.com/NoOK6klMbJ

— sportsthread (@sportsthread) August 30, 2021
A pair of new playmakers:
Following the release of Javon Wims earlier in the week, there may be an opening for a WR position as the regular season opens. Rodney Adams made a strong case to make this team, and I firmly believe he will be the team's No. 5 this season. That leaves a possible No. 6 spot up for grabs, and the next few weeks will go a long way to determine who gets it.
Riley Ridley has always been viewed as a difference-maker, but has never lived up to his billing. Similar to Wims, Ridley may have his time coming to an end in Chicago, so who knows what his future is. Newly acquired Isaiah Coulter immediately saw the field and hauled in two catches for 17 yards as he will be looking to turn heads in the final two weeks of practice.
Then you have rookie Dazz Newsome who missed most of camp with a shoulder injury and finally made a play in the passing game on Saturday. Of these names, Ridley, you would think would be the most likely to get that final receiver spot, but what about Newsome? When the Bears drafted Newsome in the fifth round, it was viewed as a major steal.
When you look at his play-making ability, especially when in space mixed with his return experience and Newsome fits better for this team than some of the others. It was great seeing him make a play on the field on Saturday, and hopefully, that is just the start of what will be a valuable career with the Bears.
Dazz Newsome #ProHeels playmaking Dazz pic.twitter.com/ev4iuMBBvQ

— Jarrod (@jhardy575) August 29, 2021

Upgrade Your Account
Unlock premium boards and exclusive features (e.g. ad-free) by upgrading your account today.
Upgrade Now