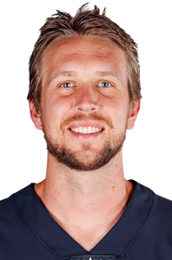 #9
Nick Foles
Quarterback
| | |
| --- | --- |
| Position: | Quarterback |
| Ht./Wt.: | 6-6, 262 lbs |
| Hometown: | Arizona |
B I O
PRO CAREER:




Nine-year veteran QB, has played in 67 career regular season games with 55 starts, throwing for 13,753 yards, 81 TDs and 43 INTs; also has six postseason starts, throwing for 1,633 yards, 11 TDs and 5 INTs
Has an overall record of 32-29 as a starter, which includes a 28-27 mark in the regular season and 4-2 in six postseason starts
Named Super Bowl LII MVP after leading Philadelphia to its first Super Bowl championship in 2017
En route to capturing the Lombardi Trophy in 2017, Foles recorded a 100-plus passer rating in all three playoff games, posting 971 yards, six TDs and an NFL single-postseason record 72.6 completion percentage, and the third-highest passer rating in a single postseason in league history (115.7)
Is one of eight quarterbacks all-time to throw for an NFL-record seven touchdown passes in a single game (11/3/13 at OAK); the others include Sid Luckman (1943, Bears), Adrian Burk (1954, Eagles), George Blanda (1961, Houston Oilers), Y. A. Tittle (1962, Giants), Joe Kapp (1969, Vikings), Peyton Manning (2013, Broncos) and Drew Brees (2015, Saints)
Owns the highest passer rating in Eagles franchise history (93.2) and the sixth-highest in NFL postseason history (98.8)


HONORS:


2018:NFC Offensive Player of the Week (Week 16)
2017: Super Bowl LII MVP; awarded the ESPY for "Best Championship Performance" in July 2018 following his postseason and Super Bowl success
2013: Pro Bowl selection; NFC Offensive Player of the Month (November); NFC Offensive Player of the Week (Week 6, Week 9)


2020 SEASON (Bears):


Played in nine games with seven starts, completing 202 of 312 passes (64.7) for 1,852 yards, 10 touchdowns and eight interceptions
Saw his first action in relief in Week 3 at the Falcons; entered the game with 9:58 left in the third quarter and led the Bears back from a 26-10 deficit for the 30-26 win
In that game, Foles completed 16 of 29 passes for 188 yards, three touchdowns and one interception; tossed a 28-yard game-winner to Anthony Miller with 1:53 remaining; also added a 37-yard touchdown to Allen Robinson II in the fourth quarter 
Completed 30 of 42 passes for 243 yards with one TD and one INT in a 20-19 win over the Buccaneers in Week 5
Threw for 249 yards on 26 of 42 passing in Week 4 against the Colts with one TD and one INT
Threw for 261 yards in Week 7 at the Rams and a season-high 272 yards and two TDs in Week 8 vs. the Saints
Threw for a season-high 335 yards with two fourth-quarter touchdowns in the Week 9 loss at the Titans; tied a personal career high and Bears single-game record with 36 completions
Inactive for Week 12 at Green Bay with a hip injury


2019 SEASON (Jaguars):


Started four games, completing 77 of 117 passes (65.8%) for 736 yards, three TDs, two INTs and a passer rating of 84.6
Spent Weeks 2-9 on the reserve/injured list before being activated to the team's 53-man roster on Nov. 5, 2019
Made his first start for the Jaguars at QB, throwing for 75 yards on 5 of 8 passing and one TD for a QB rating of 132.8 before leaving the game due to injury (shoulder) vs. Kansas City 
Completed 33 of 47 passes (70.2%) for 296 yards, two TDs and one INT for a passer rating of 92.2 at the Colts
Completed 32 of 48 passes (66.7%) for 272 yards at the Titans


2018 SEASON (Eagles):


Started the final five games of the regular season, posting a 4-1 record and leading the Eagles to a playoff berth; completed 141 of 195 passes for 1,413 yards and seven TDs
Threw for 471 yards on 35 of 49 passing and recorded a season-high 120.4 passer rating vs. Houston
Tied an NFL record shared by QBs Phillip Rivers and Ryan Tannehill for the most consecutive completions (25) vs. Washington; Foles and Rivers are the only QBs to do so in a single game
Threw for 266 yards and two TDs in the Divisional round road win at Chicago; threw the game-winning touchdown to Golden Tate with :56 seconds remaining 


2017 SEASON (Eagles):


Started the final three games of the regular season, posting a 2-1 record, including a division-clinching road win at the Giants
Recorded a 100-plus passer rating in all three playoff games, posting 971 yards, six TDs and the highest completion percentage in NFL single-postseason history (72.6), and the third-highest passer rating in league history (115.7)
Became the third player in NFL history to record a postseason passing TD, rushing TD and receiving TD, joining QB Kordell Stewart (Steelers) and RB Freeman McNeil (Jets)
Completed 24 of 38 passes for 237 yards and four TDs and zero INTs en route to a 115.8 passer rating at the Giants
Clinched the NFC Championship title with a 352-yard performance, tallying three TDs and zero INTs vs. Minnesota
Threw for 373 yards and three TDs, earning Super Bowl LII MVP honors in the win over the Patriots
His 373 yards were the third-most among Super Bowl-winning QBs in league history
Became the first QB to catch a TD in the Super Bowl when he caught a 1-yard pass from Trey Burton on fourth down, known as the "Philly Special," which garnered an ESPY for "Best Play"


2016 SEASON (Chiefs):


Played in three games, starting one, throwing for 410 yards and three TDs


2015 SEASON (Rams):


Started in all 11 games that he played, throwing for 2,052 yards and seven TDs
Threw for 297 yards and one touchdown in a Week 1 win vs. Seattle
Tossed a season-high three touchdowns in a Week 4 win at Arizona


2014 SEASON (Eagles):


Posted a 6-2 record before suffering a broken collarbone and was placed on IR; threw for 325 yards and three TDs en route to a 114.4 passer rating vs. Washington


2013 SEASON (Eagles):


Started the final 10 games of the season, posting an 8-2 record en route to his first Pro Bowl appearance
Totaled 2,891 passing yards and recorded a 27-2 TD-INT ratio
Posted passer ratings of 100-plus in eight of his 10 starts and set a team record with 233 consecutive passes without an INT
Threw for 406 yards on 22 of 28 passing for a career-high seven TDs and zero INTs for a 158.2 passer rating at Oakland; became one of eight QBs in NFL history to throw seven TDs in a single game
Set a career-high 84 percent completion percentage on 21 of 25 passing for 230 yards in a 54-11 victory vs. Chicago


2012 SEASON (Eagles):


Started the final six games of the season, throwing for 1,699 yards and six TDs
Tallied a season-high 381 yards, including the game-winning, 1-yard TD pass as time expired, at Tampa Bay



*Courtesy Cubs.com
VIDEO HIGHLIGHTS

No videos currently available.

Please send YouTube video links for this player to

webmaster@cubshq.com

.
Latest Nick Foles News