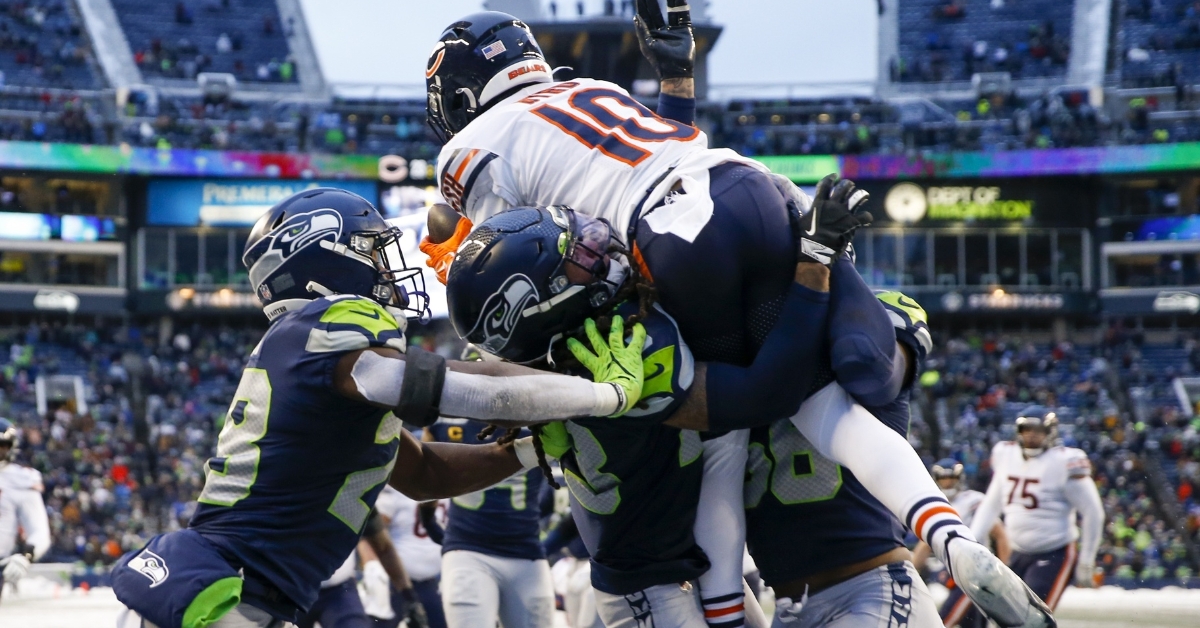 | | |
| --- | --- |
| Foles leads Bears to comeback win over Seahawks | |
---
SEATTLE – When it was announced earlier in the week that Nick Foles would be the Chicago Bears (5-10) starting QB on Sunday, not many people liked the Bears chances. Add in below-freezing temperatures and some snow earlier in the day, and Seattle looked more like Chicago, which was the perfect ending to Christmas weekend.
Much like the Bears this season, not much has gone right for the Seattle Seahawks (5-10) as a rash of injuries, including losing their leader Russell Wilson for over a month, put them in a significant hole. Even with Wilson back into the mix, this team is a long way away from being a playoff contender as they were officially eliminated from the postseason, as were the Bears on Sunday.
With nothing but pride to play for, the Bears again struggled to get much of anything going as the Seahawks had their way with Chicago through three quarters. That was until the fourth quarter when Foles did what he does best, which is close out a game in style. Trailing by seven points and less than four minutes to go, Foles pulled a rabbit out of his hat, hooking up with Darnell Mooney for 30 yards.
Add in a roughing the passer call and that pass play amassed 45 yards of field position. That was just the beginning of the excitement on that drive as Foles was sacked by Carlos Dunlap later on that drive, fumbling on the play, but recovering. Two plays later saw Foles find Jimmy Graham in the endzone to pull the Bears within one before capitalizing on the two-point try to come away with a 25-24 win.
Neither team started the game off on a good night as both sides punted on their first possession. That is when Seattle started to put an incredible drive together as they began to gash the Bears. The first few plays were nothing more than short-yardage plays to move the sticks up until Rashaad Penny bounced off to the right for 25 yards. Penny had a massive game, carrying the ball just 17 times, but coming away with 135 yards.
Later on the drive, it was time for Wilson to make a play as he went up top to D.K. Metcalf for 41 yards giving the Seahawks a 7-0 lead. Looking to answer, it was time for the Bears offense to get things rolling, and they did so by putting together a 15 play, 71-yard drive, which took more than eight minutes off the clock. David Montgomery opened the drive up with an excellent first down burst before Dazz Newsome got involved in the passing game.
A couple of short-yardage plays later, Foles felt the need to go deep for Marquise Goodwin, where a pass interference call gifted the Bears 26 yards. Facing a goal-to-go situation inside the five-yard line, Chicago could not come away with points turning the ball over downs and missing a golden opportunity. Missed opportunity or not, the Bears were not about to hang their heads as Newsome broke off a 28-yard punt return to set the offense up in a good spot.
After a first down pass to Goodwin moved the Bears inside the 10, Montgomery finished things off by touching the ball on three consecutive plays, including a one-yard TD run to tie things up 7-7. That touchdown seemed to awaken the Seattle offense as they closed out the half with 10 unanswered points. The first of their scoring drives was a lengthy 12 play 74-yard drive that took five-plus minutes off the clock.
Penny played a part in that on the ground, but Wilson was starting to spread the ball out more, finding Gerald Everett and Tyler Lockett for several nice completions. Four of the final six plays on that drive came via the ground game, with Penny finishing things off from three yards out to give Seattle the 14-7 lead. Wilson would find Everett for a huge hook up later in the half, which set things up for the 36 yard Jason Myers field goal and 17-7 halftime lead.
Despite being down double digits at the break and having a rough year overall, you must give this team a little bit of credit as they continue to fight for Matt Nagy. With both teams coming away with punts to open the second half, Chicago once again put together a great drive going 82 yards on just 10 plays. A pass interference call to start things out is always a good thing, but so is having a RB like Montgomery, who was a part of five of the first six plays on that drive.
Facing a second and long at the 20-yard line, Khalil Herbert continued to show his playmaking ability, breaking off a 20-yard scamper for the TD to pull Chicago within 17-14. Like earlier in the game, Seattle answered that touchdown with a scoring drive of their own that took just four plays and less than two minutes. A nice kick-off return was a great start to things, as was a 32-yard burst by Penny. That set things up for the Everett and Wilson connection once again as Wilson found his TE for 24 yards to extend the lead to 24-14.
No matter what people think about Foles, you must admit that he does a good job when called upon in emergency situations. Finding Graham for a first down got the Bears next drive off to a good start, which was answered by a first down to Mooney. Montgomery continued to make plays in both the passing and running game, as did Cole Kmet, as the Bears closed out the third with tons of momentum.
That drive ended with a 35 yard Cairo Santos as the Bears were within one score. Not only did that field goal seem to bring momentum back to Chicago, but the Bears need to be thanking the Seahawks too, as Seattle wasted another 32 yard run by Penny as Myers watched his 39-yard field goal, miss, to the left. With an opportunity to make Seattle pay, it was the Bears coming away empty-handed as they would turn the ball over on downs, giving the Seahawks a chance to put them away for good.
Needing a huge defensive stand, the Bears defense did what they needed to do, handing the ball back to Foles with just over two minutes to play. Needing yards in a hurry, Foles connected with Mooney on a quick hitter over the middle for 30 yards moving the ball to midfield. Tack on the roughing the passer call on the play, and the Bears were all the way down to the 35-yard line.
A pair of first-down passes to Montgomery had the Chicago offense in business as the Bears were down to the 11-yard line. Looking to deliver the dagger, Foles was sacked by Dunlap and fumbled on the play. What could have been a disaster ended in relief as Foles recovered that fumble to keep possession. Facing a third-down play from the 15, Foles showed that ice water in his veins as he connected with Graham for the 15-yard score pulling the Bears within 24-23.
Typically, Chicago would take the extra point in this situation, but given that they are out of playoff contention, they went for two as they had nothing to lose. Not only did that call seem like a no-brainer, but Damiere Byrd hauled in the Foles pass to give the Bears a 25-24 lead before the defense stopped Seattle one last time to give them a huge road win.
Da Bears WIN after going for two! ??

What a CATCH! ??

(Via @ChicagoBears) | #DaBears

pic.twitter.com/pcq8fi1LK7

— Sunday Night Football on NBC (@SNFonNBC) December 27, 2021
Making his first appearance of the season, Foles was impressive as he went 24-35 for 250 yards and that late-game score. Montgomery struggled to rush the ball, finishing with just 45 yards, but he added a team-high 61 yards receiving on seven catches. Mooney added 57 yards, with Kmet chipping in with 49.

Upgrade Your Account
Unlock premium boards and exclusive features (e.g. ad-free) by upgrading your account today.
Upgrade Now