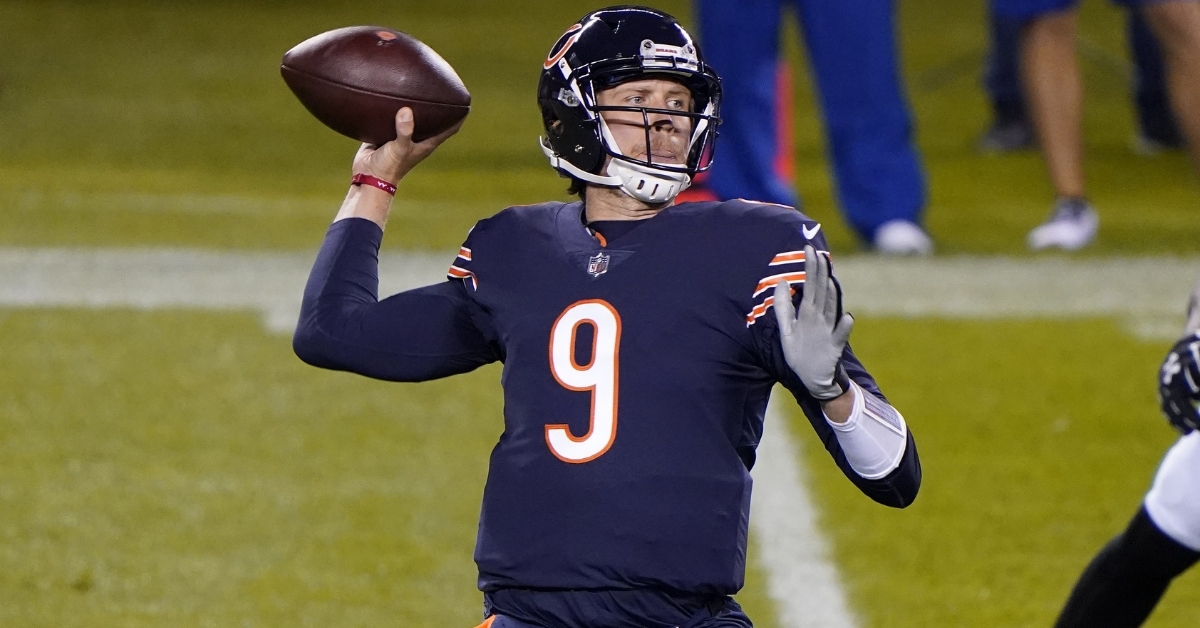 | | |
| --- | --- |
| Bears could be active before trade deadline | |
---
The Chicago Bears are in an interesting situation as the 2021 NFL trade deadline nears after another disappointing loss. They are sitting at 3-5 and appear very likely to become sellers from a record side of things this season. However, with Carolina occupying the final playoff spot for the moment at 4-4 and Minnesota right behind them at 3-4, Chicago is very much alive for that last seed in the NFC, so don't look for them to unload quite yet.
With Tuesday signaling the trade deadline, I expect many teams to be very active as they look to improve or unload talent from their roster. For the Bears, two names make a ton of sense and are names that fans should watch over the next several hours. Nick Foles is the most likely name that could be on his way out, who remains the third QB on the Bears depth chart.
The former fifth-round pick from the University of Arizona, Foles has had an interesting career that began under Chip Kelly in Philadelphia. In just two years with Kelly, Foles looked like a top 10 starter putting up a 27 TD season to go with just two interceptions in one of those years. Outside of that, his first go-around with the Eagles didn't go as planned, as he was later dealt with the Rams before losing his starting job there to Case Keenum.
Eventually, Foles landed back in Philadelphia as a backup to Carson Wentz, where he went on to play hero two years in a row. With Wentz dealing with injuries left and right, Foles not only stepped in to lead this team to the postseason, but ended up putting together an impressive three-game playoff run to earn the Eagles a Superbowl title. His play those two years earned him a lucrative four-year contract with Jacksonville, where it looked like he would get his opportunity again.
After just one game, Foles suffered a broken collarbone, and his Jaguars tenure was over almost as quickly as it began. Since then, Foles has been traded to the Bears, where he has filled the role of starter and backup, although the results haven't been great. Now the third QB on the roster, Foles is looking for an opportunity elsewhere, and the Bears would be happy to unload his contract.
Not too many teams need a QB right now, but the New York Jets make a ton of sense with Zach Wilson being out of action. They tried to trade for him this offseason, and it didn't work, so why not now? Houston could be another team looking to add help, especially with the status of Deshaun Watson in the air. Either way, look for Foles name to come up in trade talks again.
Another player who I thought had a great chance to be dealt was Khalil Mack. When you look at his contract and the production he has put together, it made a ton of sense for the Bears to not only free up cap space, but to get some picks back in return. That doesn't seem likely with him nursing a foot injury, but Allen Robinson is now a name popping up.
Since joining the Bears four years ago, Robinson has been the teams No. 1 receiver putting up consistently great numbers each year. He has been adamant that he wanted to remain in Chicago, but after failing to reach a deal and playing on a franchise deal this year, his time with Chicago appears to be coming to an end.
Instead of losing him for nothing this offseason with free agency, why not try and deal him to at least get something in return. It is unclear what type of package he would bring back, but any team will take WR help, and Robinson would be the best WR on the market if available. As things sit right now, Brandon Cooks continues to be the top WR candidate to be up for grabs, but now it looks like Robinson or even Adam Thielen could be added to the mix.
If you want to compare those three names, Robinson has put up as good if not better numbers than Thielen, so he would be the top priority for many teams. Should the Bears indeed dangle him for the open market, they can't settle for just any deal. They would have to get at least one player and a pick or two for him.
While the trade deadline could ultimately hurt the Bears in some aspects, it could also help them improve their team in other areas. For starters, this team needs more draft picks after giving up so many in recent seasons, so look for them to ask for that in return should a deal have been made. Secondly, offensive line help is a must for this team, so look for them to maybe target some of that to protect their prized possession in Justin Fields.
Finally, after letting Kyle Fuller go this offseason, the Bears secondary took a significant hit.
With Eddie Jackson nursing a hamstring injury and his future status up in the air, the secondary unit could use some help too. That is another area the Bears could look to target from other organizations who appear to be in lost seasons. Regardless of what happens later today, there will be plenty of rumors and drama to go around.

Upgrade Your Account
Unlock premium boards and exclusive features (e.g. ad-free) by upgrading your account today.
Upgrade Now