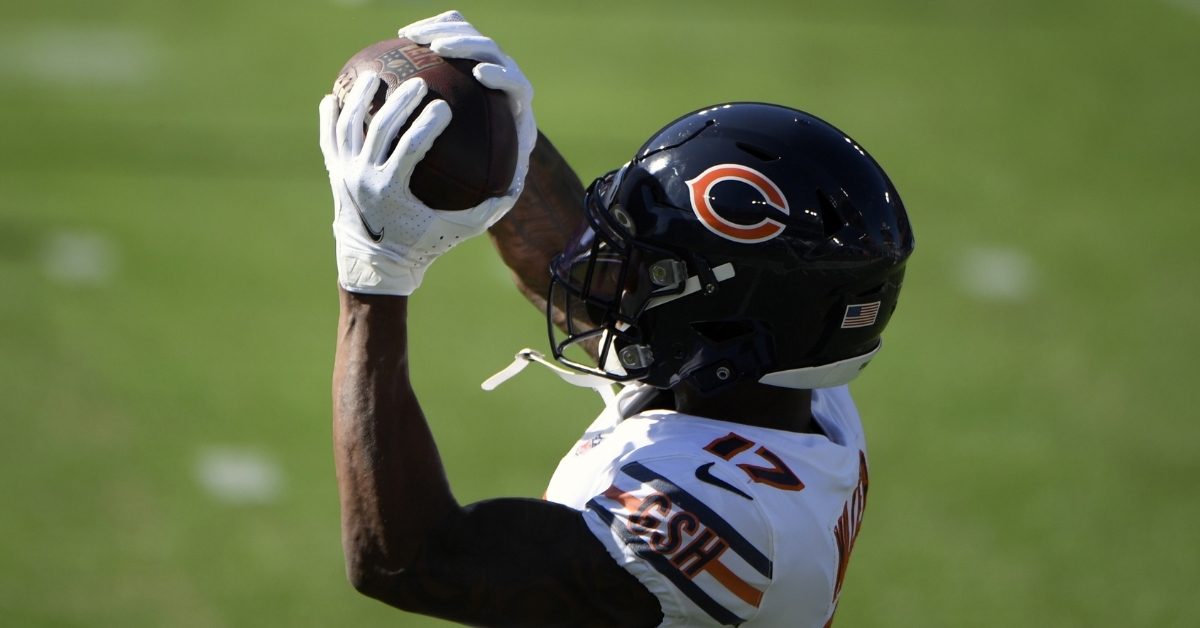 | | |
| --- | --- |
| Trade idea involving Bears and Patriots | |
---
As we turn the page from the NFL offseason to training camp, there will be a lot of focus on the Bears offensive side of things. The main focus will surround the quarterback battle between Andy Dalton and Justin Fields and the offensive line as they have a new look.
Other things to watch would be the receiving core, as they have added not only some new faces, but plenty of speed that could make the Bears offense a force. However, even with the good, some question marks still surround this team, and Anthony Miller is one of those question marks on offense.
When the Bears took Miller in the second round of the 2018 NFL draft, they had high hopes for him. When you look at his production in college mixed with his size and speed, and you could see why. While Miller may have put together a strong rookie season, his production has left Bears disappointed and wanting more over the past two seasons.
He has even found his name on the trade block several times, but no move has been made. At least not yet. However, could another unhappy receiver lead to Miller being moved in hopes of the Bears adding more production? I wouldn't shy away from it at this point as New England Patriot 2019 pick N'Keal Harry is disappointed in the Patriots organization and wants out.
The former first-round pick is very similar to Miller in that he hasn't lived up to his hype. Across two seasons, Harry has seen action in 21 games and has produced 414 yards on 45 catches to go with four touchdowns. Injuries have played a role in that lack of production, but so has the offensively philosophy of Cam Newton last season, as New England didn't have much of a passing game.
While injuries are not something you can control, getting in the right system is, and Harry may be a gem in the Bears system. Granted, Chicago is vastly improved in the receiving core, but they still need to add some production alongside Allen Robinson. Not only is Harry big, but he has the size and physicality to win a lot of one-on-one matchups. That is something the Bears don't have right now outside of Robinson, and Harry would be the perfect complement to him.
Going back to his college days at Arizona St., you can see how lethal a receiver Harry was. He put together consecutive 1000-yard seasons, which is rare at ASU, but Harry scored 17 touchdowns across 25 collegiate games. That type of production landed him plenty of pro comparisons and even had Robinson himself listed as a comparable player.
What better way to be compared to your comparison than playing next to him. While the trade would make sense for both sides when you consider his desire to get out of New England and the Bears needing more WR help, does it make sense outside of that? I mean, ideally, you could trade Miller and maybe a pick for Harry straight up, and at worst, you will be getting similar production from a player three years younger.
Harry is still considered a work in progress. Given how much the Bears have invested in this team, I am unsure they want a prospect, especially when you consider they have Riley Ridley, Javon Wims, and Dazz Newsome already in the receiver room. It is hard to fathom Harry continuing to struggle much longer, especially when looking at his college productivity. Still, if the Bears traded for him, they would need that production instantly.
While there may be many red flags surrounding a trade for Harry, if you go based on potential alone, it seems like a no-brainer. This is a deal that could get Harry into a better environment for him and allow the Bears to move on from Miller. It seems like a win-win for Ryan Pace, but the fit and the logistics need to work as always.