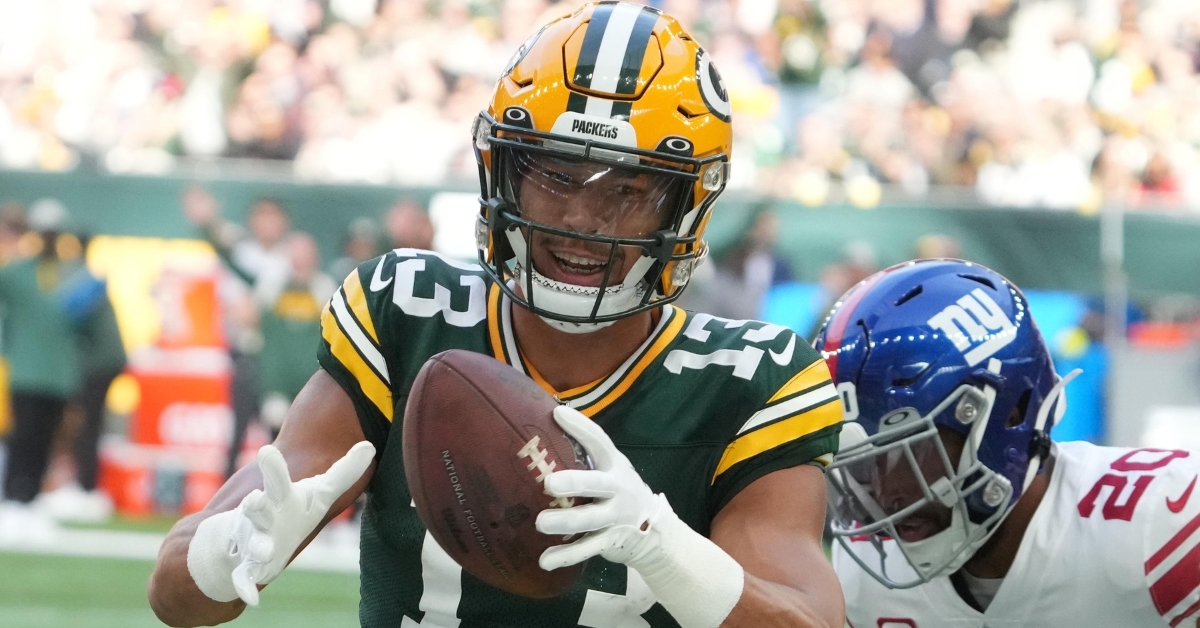 | | |
| --- | --- |
| Would Allen Lazard make sense for Bears? | |
---
| | | |
| --- | --- | --- |
| Tuesday, January 17, 2023, 1:00 PM | | |
It is no secret that the Chicago Bears will be the team to watch this off-season. From a new President to holding the No. 1 overall pick, throw in the most salary cap space of anyone, and this team is poised to make some noise this offseason. That said, it will take more than one offseason to fix this team, as a 3-14 record comes with plenty of holes.
Apart from Justin Fields at the QB position, you could argue that every other position on this roster has holes that need to be addressed. Some are bigger needs than others, but the Bears need to take a long and hard look at where they are as a franchise and what needs to happen. A lot of those holes come on the offensive side of the ball, where the Bears continue to struggle to protect the QB.
Despite the elite athleticism that allows him to make plays with his legs, Fields was still sacked the most of any QB this season, which is a concern. Sure, some of that had to do with the offensive line, but you also have to put some of the blame on Fields, as he does hold the ball too long at times. The main reason is his lack of overall receivers, as the Bears need to put more talent around him.
While Darnell Mooney and Chase Claypool appear to be the locks next season, neither one of them is a No.1, but Claypool has the potential to be a No.1 if he can return to his old self. In any instance, the Bears will address the WR position somehow, with free agency as the expected route.
One name they might consider is from their rivals to the North, as Allen Lazard seems as good as gone in Green Bay. The former Iowa St product has been around the league for a while now, but was always the third or fourth option in Green Bay behind Davante Adams and Marquez Valdes- Scantling. When both of them signed elsewhere this season, Lazard immediately became the Packers No. 1 Wr as he was the one Rodgers trusted the most.
Lazard made plenty of plays for his QB throughout the season up until he got hurt midway through the season. That paved the way for rookie Christian Watson to take over as the team's No. 1, but Lazard still had his best year as a pro. He hauled in 60 passes for 788 yards and six scores for the season. The catches and yardage were career highs, but the TDs were not.
Had he not gotten hurt, he would have been pushing for 1000 yards which goes to show you the talent is there. At 27 years old, Lazard will be entering free agency for the first time, and he is believed to be one of the top WR options on the market. The Bears may want to look at him as he wouldn't cost a ton and would upgrade the position.
I know most fans wouldn't like this acquisition because you are already adding to this team's problem. They have a ton of no. 2 and No. 3 WR, but no No. 1. Lazard would fall into that category, but could emerge as a No. 1 because of one key component. That would be offensive coordinator Luke Getsy, should he be here next season.
Getsy was criticized all season long for how the offense looked. Whether he deserved it or not, he could only work with what he had, and the results did improve as the season went on, but they still needed improvement. Lazard could change all that as he was with Getsy in Green Bay and knows how to succeed in that system.
Initial projections have Lazard signing a three-year deal in the $30-33 million range. That may be an overpay if you ask me, but in the right system, it could turn out to be a bargain. The Getsy system could be the system for him, as the years of success in Green Bay can't be ignored. The Bears could do better, but they could do a lot worse than adding Lazard, as it would also take another weapon away from Aaron Rodgers.