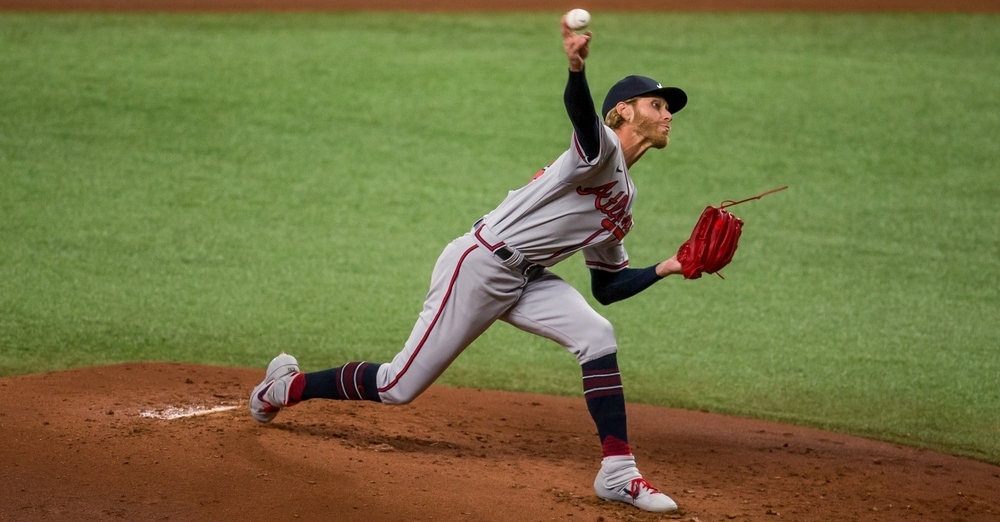 | | |
| --- | --- |
| Commentary: Cubs should look into acquiring Mike Foltynewicz | |
---
| | | |
| --- | --- | --- |
| Wednesday, July 29, 2020, 12:08 PM | | |
In case you missed it in recent news, Braves starter, or should I say former starter Mike Foltynewicz is looking for a job after being demoted from the Atlanta rotation. After a rough outing in his season debut against Tampa, Manager Brian Snitker wasted no time letting him know how he felt about it by sending him straight to Minor League camp.
What does that mean for Foltynewicz in the future? Of course, he is still on their roster and will be working his way back to the team. However, with rosters only getting smaller as the season goes on, what he needs to do to get back on the team remains a mystery for the 28-year-old as he continues to endure a rocky MLB career.
Once viewed as one of the Braves' top pitching prospects, Foltynewicz has struggled to find that consistency, posting a 44-42 career mark in 138 games with 118 being starts. His 4.33 ERA is not terrible; neither is his 239BB/650K ratio. Folty is coming off a season in which he went 8-6 with a 4.54 ERA but had a tremendous second half.
The biggest issue surrounding Folty is not his stuff, but his consistency, which showed up in the worst way when it mattered most. In the 2019 NLDS last season, Folty pitched one of the best games he ever threw in game two, helping the Braves even up the series with St. Louis. In the clinching game five later in that series, Folty then threw the worst game he ever pitched, and it appears as if he hasn't recovered, and his time with the Braves may be done.
That brings me to the question, should the Cubs pursue him and see what he can do? The answer should be a resounding yes, even if they must trade something to get him. Here are the reasons I would like the Cubs to get him and why I think he fits in nicely.
Age and Control
Not only is Folty still just 28 years old and still coming into his own, but he is still under team control this season and next before hitting arbitration. That means that if the Cubs bring him in, they will have him for cheap for the next few years and figure out a long-term plan.
Pure stuff
Make no mistake about it, Folty has some impressive stuff when he is on and knows what to do as a pitcher. His fastball sits consistently in the 96 MPH range and can top out at 98, while adding a nice change and slider to go with it. That makes him a solid three-pitch guy with above-average command.
For a staff that needs to get younger and needs some more velocity, this seems like the perfect choice beyond this season, but the problem would be where you put him this season. I have always liked his stuff and the way he pitches but felt that he never reached his potential. At least not yet.
Starter depth and experience: Having too many starting pitchers is never bad, especially when you can add a guy like Folty into the mix. Much like the case was with Alec Mills heading into the season, Foltynewicz has experience as a full-time starter and as a swingman out of the pen. Those are both great depth options for teams to have and something the Cubs will need beyond this season, where they need to replace two and possibly three starters ahead of 2021.
Change of Scenery
Sometimes, all a pitcher needs is a change of scenery to jumpstart their career. The Cubs know all about that as Jake Arrieta needed a change of scenery when he was in Baltimore and came to Chicago to give the Cubs a fantastic five-year run. Could the same thing happen with a guy like Foltynewicz?
We have seen both the good and bad from him in each of his last three meaningful starts, and there is no question the talent is there. However, finding that consistency is something that needs to be done. Maybe getting out of Atlanta where the pressure to be that man from Game 2 has gotten to him and coming to a different organization is all he needs.
Foltynewicz could be a closer-type
We have seen this in the past with Wade Davis and, most recently, Brandon Morrow when you have starting pitchers who struggled as starters, but emerged as great back of the bullpen arms. I would like to see the Cubs sign Folty and do the same with him. After what we saw from Craig Kimbrel Monday and even as far back as last season, his days as a closer could be numbered, and it will only worsen before it gets better. With the Cubs having a work in progress bullpen as it is, the ninth inning should be the one inning the Cubs don't have to worry about, but as of now, they do worry.
Foltynewicz has never closed a game in his career, but it shouldn't be that hard to adjust with his type of talent. Instead of going out and trying to pace yourself and watching your pitch count, you're counted on to get just three outs and go all out to do so. Even if he wouldn't be a closer, he is the type of arm you could use in the pen in a variety of spots, much like Joe Kelly of Los Angeles is used.
With him now designated for assignment, it is only a matter of time before he hits free agency and is available for any team to take. With the Cubs bullpen struggles early on this season, he is undoubtedly someone they should be on the phone with immediately. Even if he is not a long-term option in the pen, Chicago should keep tabs on him and bring him to South Bend with hopes a change of scenery does him well as either a starter, closer, or someone in between.