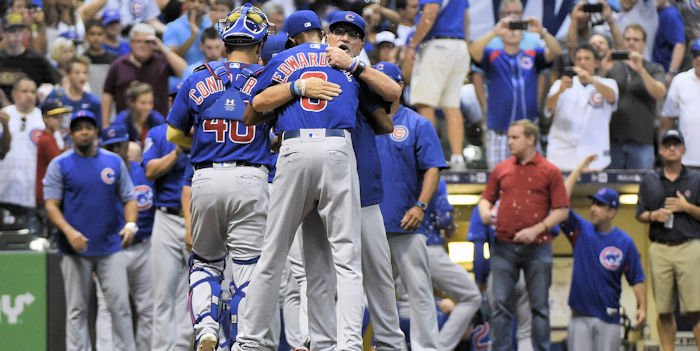 | | |
| --- | --- |
| Commentary: What happened to Carl Edwards Jr. is shameful | |
---
Before I even start, I want to be clear to everyone. There is no possible way I can ever understand what it is like to be the subject of racism, or any other "ism' and I would not begin to imply that I do. This is meant to be a discussion on a topic that has come into the news recently.
News broke recently about racist posts sent to Carl Edwards Jr. as I was pondering what all happened.
"We were shocked by the racist, profanity-laced social media message sent to Carl Edwards Jr. earlier this month," president of baseball operations Theo Epstein told the Athletic in a statement. "We vehemently condemn the content of the message and are supporting Major League Baseball's investigation to identify the person responsible.
"In a sport that celebrates diversity and unites people from all backgrounds, we are appalled anyone claiming to be a fan would send divisive and bigoted insults to a player. Whether spoken, posted or published, this type of reprehensible language and views cannot be tolerated in our game or society."
More often than not a minority athlete, in my opinion, has to be multiple times squeaky cleaner than a person who is white or the fans will turn on him/her quickly and viciously.
I wondered how Addison Russell is going to be greeted when he returns to the team and I bet myself it would not be like Tiger Woods was greeted in Augusta at the Masters. Chicago sports fans, for some unknown reason, are among the harshest fans anywhere if you are not named Walter Payton, Ernie Banks, or Michael Jordan.
If you don't believe me ask Devante Smith-Pelly of the Washington Capitals, who were subjected to racial insults during a game at the United Center against the Blackhawks. While sitting in the penalty box, Smith-Pelly said he was taunted by four fans who chanted "basketball."
"It's pretty obvious what that means," Smith-Pelly told reporters. "It's just one word, and that's all it takes. I got the idea. It's sad that in 2018 we're still talking about the same thing."
Former Cub players who go out of their way to tell people that Chicago Cubs fans are not lovely people include LaTroy Hawkins, Milton Bradley, Dusty Baker, and even the 'Big Z,' Carlos Zambrano. Cubs fans have roasted all for the transgression of not being great every minute of every day.
What happened this week to Carl Edwards is shameful and disgusting and has no place in society, forget baseball or sports. The person who did this does not represent what my position is on Edwards, and I would guess 99.99 percent of fans.
The history of Chicago fans is undeniable when it comes to often inappropriate and hateful actions, and it needs to improve drastically. There are too many exceptional people in the great city of Chicago, and this stuff makes everyone look terrible by association.