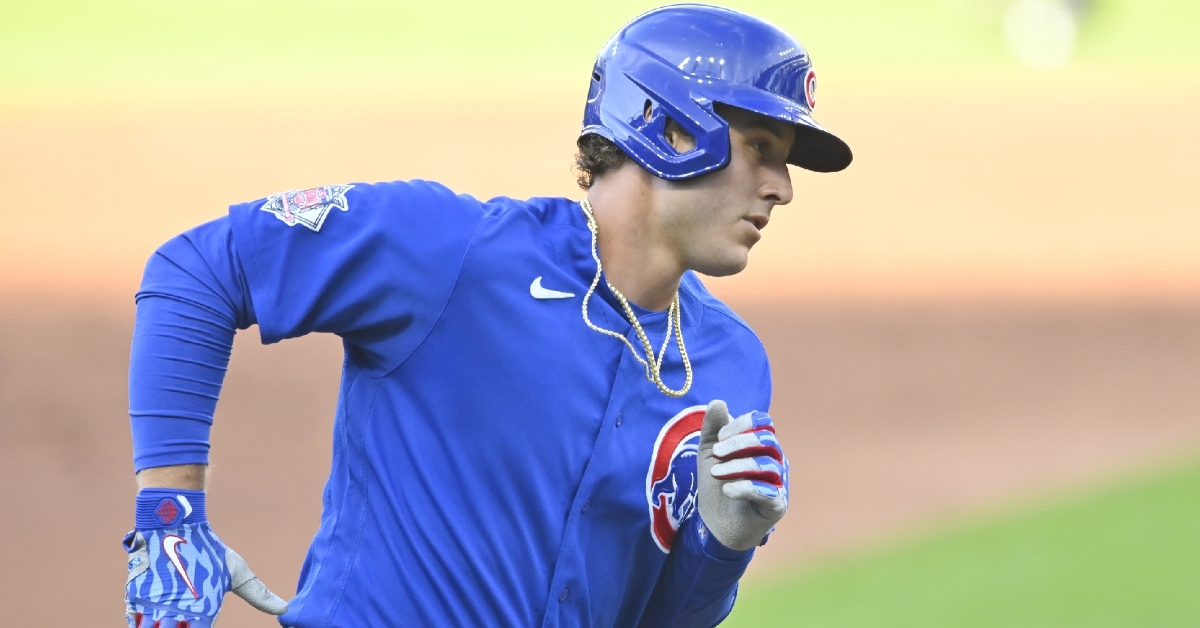 | | |
| --- | --- |
| Cubs Report Card: Anthony Rizzo, other first basemen | |
---
| | | |
| --- | --- | --- |
| Tuesday, October 6, 2020, 7:16 PM | | |
Yesterday, we started our season in review series by grading the teams catching position. Today, we continue down the line as first base is next up on the list. Unlike most positions on this roster, first base is generally the one spot where Cubs have not had to worry. They have one of the best in the game and can expect substantial numbers from him each season.
This season, much like the rest of the Cubs offense, their defacto captain suffered through his worst offensive season as a pro. The reasons for that are unknown, but this is not something the Cubs expected, nor do they hope to see again. Here are how the Cubs first base grades panned out this season.
Anthony Rizzo: Rizzo is the heart and soul of this Cubs team and has been the team leader since 2012. Take away his rookie season in which he hit just 15 homers and 48 RBI's, and Rizzo has been one of the more productive first basemen in the game offensively. Not only does he bring a respectable 271 average for his career, but he averages 22 homers and 75 RBI's per season across his career.
Those numbers are slightly less than you would expect, but keep in mind he has only played seven full seasons across his 10 years in the league. Going off his seven full seasons, Rizzo averages 29 homers to go with 104 RBI's. Not to mention he brings platinum defense to first base, and you can see why he is regarded as one of the best first basemen in the game.
Much like a lot of Cubs hitters, 2020 was not kind to Rizzo. When all was said and done, Rizzo delivered his worst season as a pro. Say what you want about this being a 60- game season, but the numbers don't lie, and Rizzo struggled. His 222 averaged surpassed his previous career low of 233 back in 2013, and his 11 homers and 24 RBI's were also career lows. Average that out for an entire season, and Rizzo was on pace to connect 24 homers, but only around 60 RBI's. That is not the type of production you expect to see from him.
Rizzo was patient at the plate taking 28 walks and just 38 strikeouts on a positive side of things. That is something he continues to get better at with age and is one of the few Cubs who didn't mind working the count. Rizzo will look for a big bounce back next season.
Anthony Rizzo said of the Cubs' letdown: "It's heartbreaking, it's upsetting, it's all of the above." pic.twitter.com/SQBlCIWpq0

— Chris Emma (@CEmma670) October 2, 2020
Season Grade C-: The numbers are what they are, and Rizzo struggled most of the season. However, his defense was never affected, and that alone saves his grade a little bit. Often when a player is struggling to hit, their defense tends to follow. That wasn't the case for Rizzo. He knew hitting was not going well, but he didn't let that affect him in the field. As the leader of this team, he did what he needed to do to keep everyone together. It will be interesting to see what the Cubs do with his future.
Jose Martinez: A trade deadline acquisition, Martinez headed to the Northside following a trade with the Tampa Bay Rays for a player to be named later. At the time of this trade, it appeared like a great deal as the Cubs didn't give up much for him. When it was later revealed that INF Pedro Martinez was sent the Rays way, this turned in to be a bust of a trade as Martinez struggled with the Cubs while Pedro Martinez has a bright future.
Ever since his playing days with the Cardinals, Martinez has been a utility-type player that has found consistent starts against left-handers. For his career, Martinez holds a 289 average but hits north of 340 against lefties. Martinez has also put together some big games at Wrigley, where he joined the Cubs after posting a 313-career average at Wrigley as a Cardinals member. The deal seemed like a win-win for the Cubs.
However, Martinez was never able to get things going with either of his teams this season as he hit just a 182 with two homers and 10 RBI's. Given what we saw from him in St. Louis, that was completely unexpected as the more playing time he saw, the more he hit. That certainly wasn't the case this season. Brought in to hit lefties with the Cubs, Martinez never got anything going appearing in 10 games and collecting 21 at-bats. He went hitless in those 21 at-bats, walking just once and striking out seven times.
Jose Martinez now 0 for 19 as a Cub. That passes @manbearwolf who was 0 for 18 as a new (non pitcher) player with them back in 2014. A ways to go to pass Jon Lester's 0 for 30 in 2015.

— Jesse Rogers (@JesseRogersESPN) September 23, 2020
Season Grade F: How can you not give Martinez an F for his performance with the Cubs. Not only did he not hit lefties as Chicago expected, but he didn't hit at all, going completely hitless for the season. When you give up a player like Pedro Martinez for that lack of production, it is a gut punch. Maybe this season was a case of mental fatigue, but it was not a good look.
Martinez is under team control through arbitration by the Cubs for two more seasons.
Patrick Wisdom: Another mid-season pickup was Free agent Patrick Wisdom who was added to the South Bend site in Mid-August. The minor league journeyman appeared in 41 career games heading into this season and was called up by the Cubs ahead of their final series against the White Sox. Wisdom saw just two plate appearances and went 0-2.
Patrick Wisdom is like me in HS basketball. If he's in the game, it's either going really well or really poorly.

— Evan Altman (@DEvanAltman) September 26, 2020
Season Grade Incomplete: Wisdom was a mid-season pickup, but only played in two games for the Cubs. He also saw just two at-bats and one inning in the field, so it would be impossible to grade him out. This is a classic case of a September callup for depth purposes.