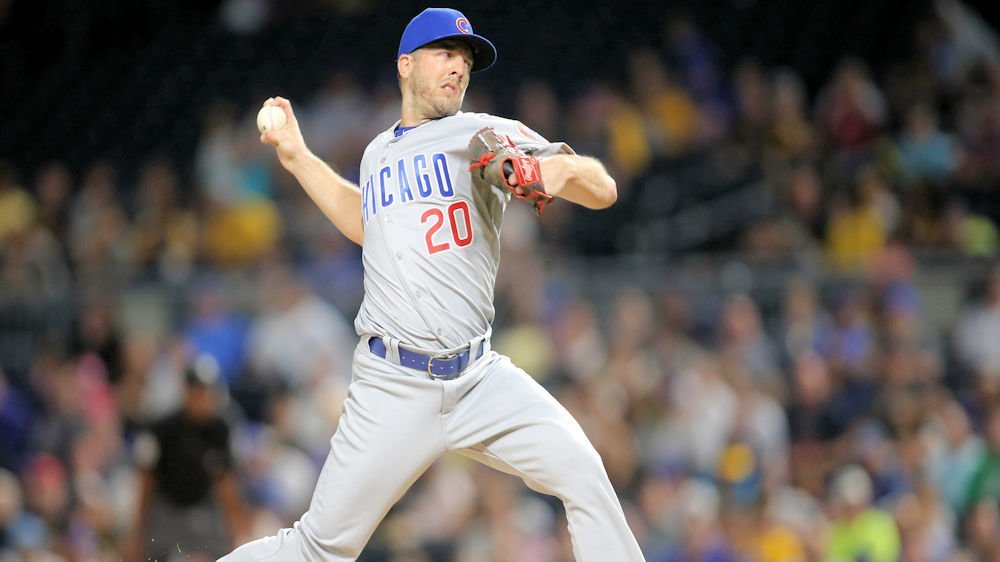 | | |
| --- | --- |
| Several relievers are viable options for Cubs | |
---
| | | |
| --- | --- | --- |
| Monday, February 1, 2021, 8:34 AM | | |
Finally, the Cubs are starting to get more aggressive when it comes to free-agent signings. After signing what seemed like every player to a minor league deal, the Cubs are beginning to add to the Major League roster as the team nears spring training.
Jed Hoyer and the front office had a plan in place, but they still needed to do something to remain competitive. In my opinion, this team had four holes to fill this offseason. They took care of one of those holes by bringing in backup catcher Austin Romine and added Joc Pederson to left. That leaves this team with two more spots to fill.
The most obvious one is still starting pitching help as the Cubs haven't figured out how to address the final spot in the rotation. Guys like Shelby Miller have been signed to minor league deals, but there is no guarantee he makes the team. Now it looks like old friend and former top prospect Jeff Samardzija is throwing for the team this weekend.
That right there is a move I don't understand as Samardzija has had a bumpy MLB career. His best days are long behind him as those days came as a Chicago Cub. Depending on the situation as to what Samardzija would ask, I would consider putting him in the bullpen, which is where he was at his best when the Cubs first called him up.
Speaking of the bullpen, that is the last hole this team needs to fill as several openings need to be addressed.
Primary option number one would be to bring Jeremy Jeffress back, as longer he goes unsigned, the cheaper it might be for Chicago to bring him back.
Should they not retain him, several other cost-effective options could hold down the fort this season.
Former setup man Steve Cishek is looking for a new deal after spending last season with the White Sox. Take away his terrible 2020 season, and Cishek has had a great MLB career. Across his 11-year career, Cishek has gone 32-37 with a 2.78 ERA. That includes a two-year stint with the Cubs in 2018-19, where he went 8-9 with a 2.62 ERA, 36 holds, and 11 saves. Cishek has notched 82 holds for his career and 132 saves as he continues to be a valuable late-inning arm.
Another available name the Cubs are familiar with is Oliver Drake. The former Milwaukee Brewer holds the MLB record for playing with the most franchises in one season, playing for five in 2018. Much like Cishek, Drake had a rough 2020 season but did manage to pitch for the Rays in the division series. 2019 is when Drake made a name for himself, showing his versatility for Milwaukee.
In 56 innings that season, Drake notched 70 strikeouts while posting a 3.21 ERA. Drake was often used in low-leverage situations, but Craig Counsel trusted him in more significant situations down the stretch. Could he come to the Cubs and give them middle relief help?
Wrigley Field is known as a hitter's park, so finding ground ball pitchers is helpful. The Cubs had one in Brandon Kintzler, who is once again a free agent. However, what about Chicago adding T.J. McFarland. Not only is he a ground ball specialist, but an extreme groundball specialist who has induced a 63% groundball rate since 2019.
That happens to be the third-highest mark in baseball since 2013, only behind Zach Brittan and Brad Ziegler. The Price side of things fits in the Cubs financial window, but this would be a great signing regardless of cost. Adding him on the cheaper side of things is just a bonus.
As mentioned above, Kintzler was a part of the Cubs in 2018-19 but emerged as a critical piece in 2019. A 22-23 pitcher with a 3.31 ERA since joining the league in 2010, Kintzler has done the same things as Cishek has. The Guy has been used as a setup man, notching 84 holds, including 21 with the Cubs, and has performed well as a closer picking up 61 saves, 12 coming with the Marlins in 2020.
Kintzler, who knocked the Cubs out of the postseason last year and age aside, would be an excellent addition back to the pen. His ground ball rate is above 50%, and he knows how to get hitters out.
While we continue to discuss the possibility of bringing former pitchers back for another go-around, why not get the old band back in Hector Rondon. The former Rule 5 pick has posted a 24-20 career mark with a 3.49 ERA, but his best days were with the Cubs. From 2014-17 Rondon emerged as a key piece in the Cubs bullpen, eventually moving to closer.
During that time, he went 16-14 with an ERA hovering around 3.05. Rondon also collected 67 of his 92 career saves with the Cubs, including 30-34 in 2015. Rondon then signed with the Houston Astros and proved to be a valuable eighth-inning reliever for two seasons. Arizona took a chance on him last year and was awarded by a subpar season. Rondon still can hit 95 plus on the radar gun and may be looking for a rebound season.
All these names mentioned above could be had for less than two million if not three million at the most. The Cubs need to open their wallet over the next few weeks and strongly look at adding one if not two of these names to their pen.