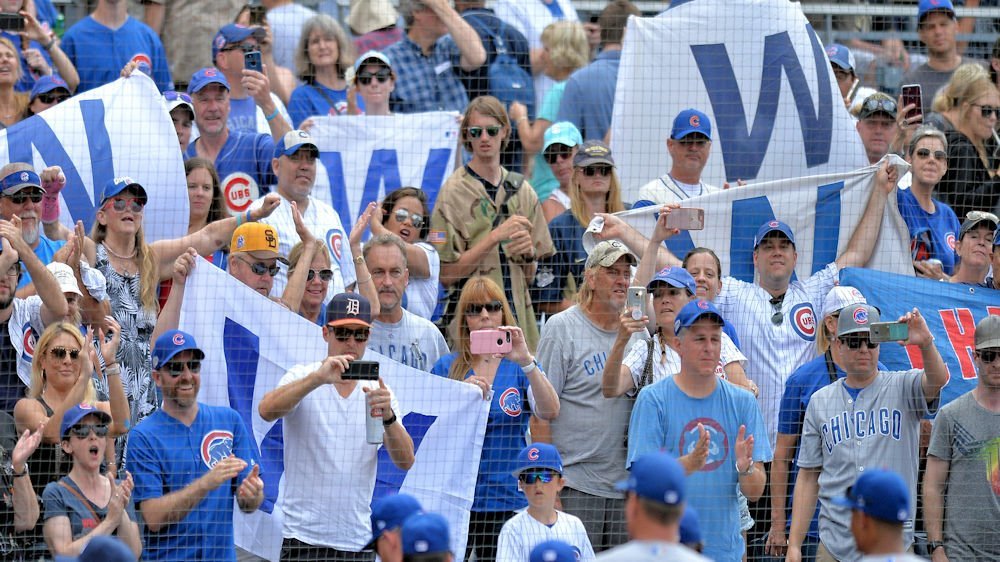 | | |
| --- | --- |
| What to expect from Cubs in Arizona Rookie League in 2020 | |
---
| | | |
| --- | --- | --- |
| Monday, February 3, 2020, 11:12 AM | | |
We move to the least familiar of the Minor League levels as we shift to the Arizona Summer League Rookie teams. Unlike the Arizona fall league, where multiple organizations make up a team, the Arizona Rookie League program is one or more teams per organization, aimed at developing some of their younger minor league talent.
The Cubs are fortunate to have not one, but two Arizona league teams, so the abundance of players continues to be flowing from year to year. Another good thing about this league is that it tends to be a steppingstone for rehabbing players also as they try to get into the swing of things once again. With AZL 1 going 24-31 and AZL 2 going 31-25, you see that there has been some consistent success one way or another, but the question is for how long.
Not only does the agreement between Minor League Baseball and the MLB end this season, but if talks continue at the level they are at right now, it looks as if the Rookie league program will be a thing in the past after the conclusion of this season. Not only would that be a hit to the organization itself, but with so many players getting drafted yearly, what would that mean for them if two leagues are entirely removed. Until we get to that point, this is what I am looking for in the Arizona Rookie League this year.
AZL 1: Starting with the worst of the two teams in the Cubs organization, a lot of what we will know remains unsettled as a large chunk of their roster is made up of draft picks from the June draft, or injured players looking to rehab their way back. Even with that, players will still wind up at Arizona, possibly from other leagues and other teams as well.
Left-hander Luis Rodriguez certainly put on a show last season in his nine starts and will one to watch this season. Now in his third year in the rookie ball program, the 20-year-old has been nothing short of impressive, posting a 7-4 record to go with a 1.99 ERA. His 31 BB and 105K is also a pleasant surprise as he has excellent command for such a young age.
Fellow starter Benjamin Rodriguez is coming off a 2-3 season for AZL, where he posted a 3.58 ERA in 10 starts of his own. Although his command was much more of an issue, these two will be tasked to anchor the AZL 1 staff again in 2020.
The hitting side of things is where things will get interesting, as AZL 1 has a lot to work with. Look no further than LF Carlos Pacheco to be one of the leaders once again offensively. Despite posting just a 256 average, Pacheco connected for four long balls to go with a team-best 29 RBI's last season. He should continue to grow into his frame once again this season.
Second baseman Flemin Bautista is another bat to watch this season as he too played a big role for AZL 1 last year. After starting the year in the Dominican League, Bautista finished up with AZL 1, where he hit .194 with two homers and 13 RBI's. Add his Dominican League stats to that and you have a young 19-year-old who hit 256 with eight homers and 50 RBI's. There is a ton of potential for this kid moving forward. Look for Luis Diaz, Widimer Joaquin, and Albert Hiniro to all play huge roles this season.
AZL 2: AZL 2 had slightly better luck than AZL 1 this season, but that was largely in part to them being more of the rehab team for other players in the system. Yes, they had their own group of guys, but when teams needed to rehab someone, this is where they ended up going. Players like Johnny Field, Kendall Graveman, D.J. Artis to name a few all spent time with this organization as they just missed the postseason by one game.
This year maybe some of the same in terms of a rehab destination, but AZL 2 has their group of guys to watch once again this season. Perhaps the player starting to generate the most buzz among infielders outside of Nico would be Luis Verdugo. The 19-year-0ld SS continues to rise, and his production follows. That was on full display last year as he managed to hit an impressive 305 with five homers and 38 RBI's in just his second season. Look for him to be moving through the system sooner rather than later.
Joining him in the middle of the infield is second baseman Reivaj Garcia. After struggling with Eugene last season, Garcia was sent to AZL 2, where he seemed to start putting together. For the season, Garcia hit a 247, which was 50 points higher than his Eugene average. His power still hasn't translated, but he continued to get better during the second half of the year.
Outfielder Carlos Morfa had a down year last season, but we have seen the kind of power he has displayed for the Dominican League. Let's see if that can hold true again with AZL this year. Brandon Vicens and catchers Ethan Hearn and Danny Zardon will give the Cubs plenty of potential offensively this season.
Pitching in the AZL has always been a challenge, but you wouldn't have guessed that from the performance 19-year-old Manuel Espinoza put together last year. In his first season of pro baseball, Espinoza made 11 appearances, seven starts where he led the team in wins with five to go with just two losses. His 2.49 ERA and 9BB to 37K ratio is even more impressive as this unknown arm may be attracting a lot of scouts this year.
Looking to build off an impressive starting campaign himself will be Jose Miguel Gonzalez, who posted an 0-1 mark with a 3.47 ERA in 12 starts. He would like to improve his 17/29 BB to K ratio, but he led the team in starts last season and improved by nearly 2.5 runs in his ERA. Carlos Ocampo is the team ace and will once again take that title into 2020. Coming off a year where he went 3-3 with a 3.28 ERA in 11 starts, Ocampo is now 5-5 with a solid 3.78 ERA in 25 career rookie league starts. His 23 walks were a problem, but a team-high 48 strikeouts were not.
Should he return, Chi-Feng Lee will add much-needed starter depth with Alex Moore, Tyler Schlaffer, and Omar Ventura as possible breakout stars this year.
Projections: I am not going to give a record projection an any of the rookie league teams. Instead, I will tell you what I expect from each of them as none of these games are televised. Look for both clubs to once again put a competitive group of players on the field that will look to further their development skills. Whether through the draft, from the DSL, or rehabbing players, the AZL will continue to be a fun league.
Let's hope it isn't the last we hear of it.