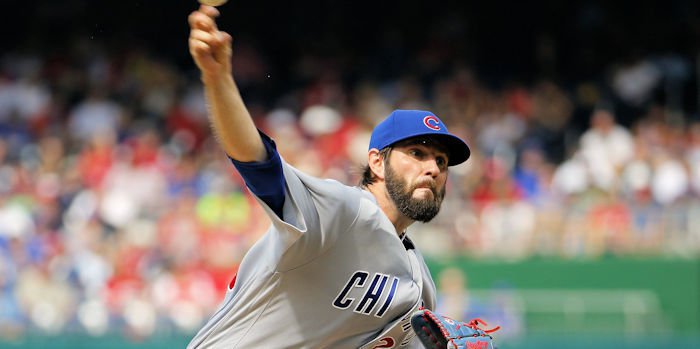 | | |
| --- | --- |
| Cubs News: Break down of Jason Hammel's second half struggles | |
---
Since the Cubs acquired Jason Hammel in 2014, he has been a different pitcher in the first and second halves of the season every year. Of course, Hammel was traded in 2014 along with Jeff Samardzija for Addison Russell and Billy McKinney and suffered a hamstring injury in 2015. Let's take a closer look at what caused Hammel's drastic regression in the second halves of the past two seasons and try to predict what we can expect in the second half this year.
Jason Hammel was fantastic in the first half of 2014, posting a FIP (Fielding Independent Pitching) of 3.33 and allowing only .8 HR/9. Then the trade happened, and Hammel gave up 18 earned runs on 5 home runs and 10 walks in 17 innings over his first 4 starts. Not the best start in Oakland. After that four game slump, Hammel was actually pretty good outside of a start in Atlanta where he let up 3 home runs in 3 innings. Outside of those four starts, Hammel allowed 14 earned runs on 8 home runs and 11 walks in 50.2 innings. In those 9 games pitched, he had an ERA of 2.49, which was better than his 2.98 mark with Chicago that season. It is safe to say that Hammel's numbers looked worse in the second half because of high amount of home runs, walks, and hard hit balls given up in only a few starts, but he was not as bad as everyone seems to believe.
After the 2014 season, Hammel signed a three-year deal with the Cubs and picked up in 2015 right where he left off in June 2014, posting a FIP of 3.12 and a WHIP under 1 in the first half. Right before the All-Star Game, Hammel suffered a hamstring injury that derailed his stellar season. After the All-Star Break, his BB/9 nearly doubled, WHIP bloated to 1.49, and FIP increased by nearly 1.5. The mystery is what caused this falloff. His fastball velocity, slider movement, and K/9 stayed nearly identical. The thing that significantly hurt Hammel in the second half of 2015 was his lack of control, resulting in higher walk numbers, and lack of command, resulting in mistakes within the strike zone getting hit hard. The following two images show ISO against him in the first and second halves of the season.
ISO is a measurement of extra base hits allowed. It is reasonable to believe that the overall spike in ISO was caused by his inability to locate his pitches. It is also very likely that this lack of control and command was caused by the hamstring injury still nagging him.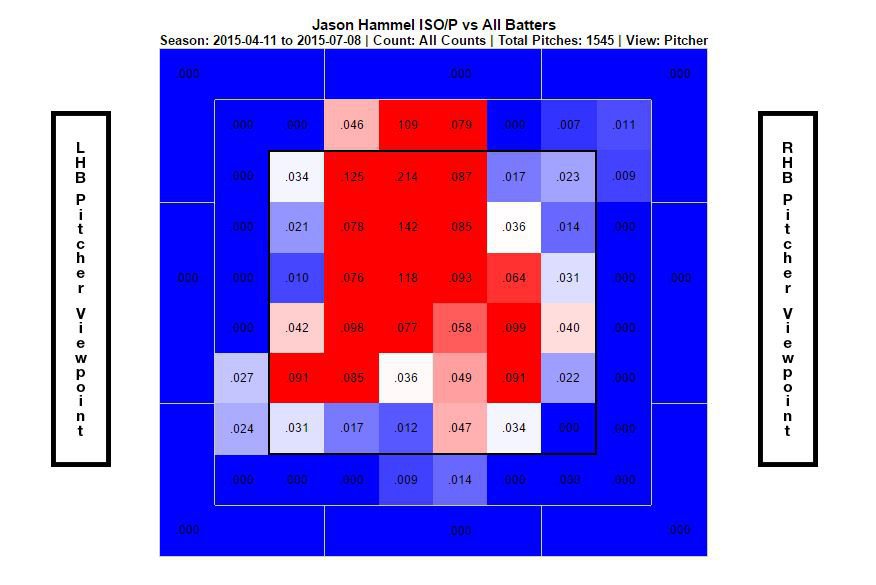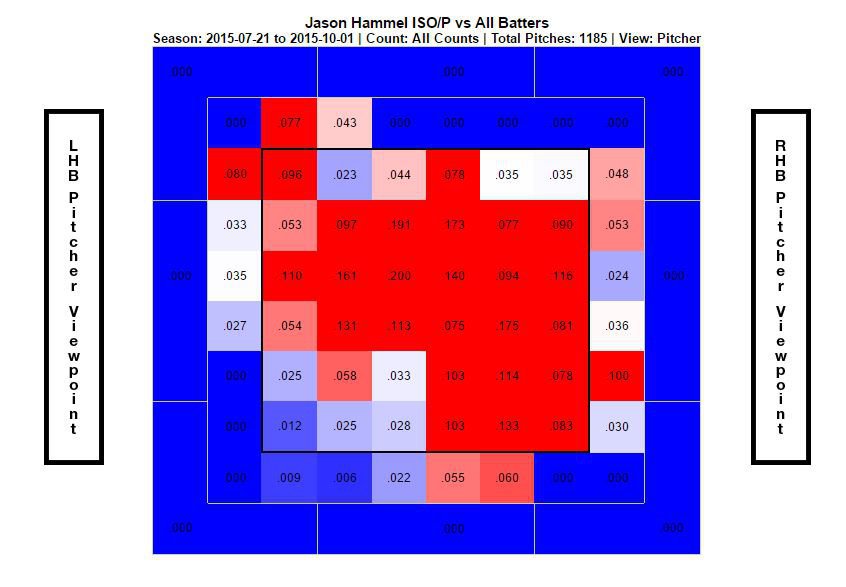 Graphs courtesy of Fangraphs.com
Jason has been very good to start this year, although he is overperforming his peripherals, considering his 2.58 ERA and 3.85 FIP. His BB/9 are up and K/9 are down from 2014 and 2015, and his BABIP against is .246, whereas his career mark is .300. His success has primarily come from allowing only .82 HR/9 versus posting numbers of 1.17 and 1.21 in 2014 and 2015 respectively.
Hammel is due for some regression, but if he can continue to keep the ball in the park, he should continue to be very effective. Unless an injury or other drastic change occurs, the worst Hammel can suffer is an increase to his ERA by about one run. This would make him a number 4 starter with an ERA in the mid to high 3s worth about 3 WAR (Wins Above Replacement), which is still very respectable.