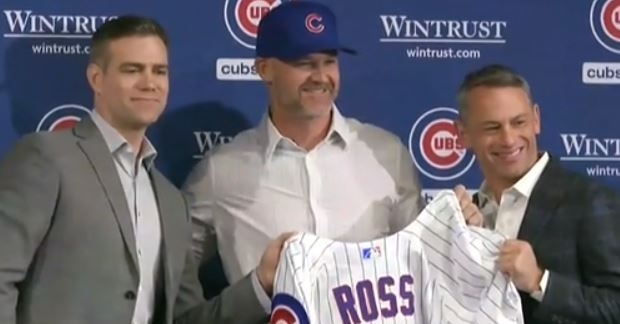 | | |
| --- | --- |
| Breaking down the 2020 Chicago Cubs staff | |
---
The Chicago Cubs have finalized their staff under first-year skipper David Ross, and although some names are interesting choices, I like what they have done to help Ross. Ideally, the Cubs wanted to pair Ross with some experience on the Bench given he has never managed a day in his life. Yes, the Cubs don't have a ton of head coaching experience around him at this moment, but they have paired him with several bright baseball minds that should make the daily grind of an MLB manager that much easier for Rossy.
Starting with the bench coach where the Cubs signed former San Diego manager Andy Green. Now Ross's right-hand man in the dugout, Green was in a similar situation with San Diego four seasons ago as he was hired without any MLB managing experience. That didn't go too well for him, ultimately leading to his firing this season.
The most significant difference between Green and Ross, however, is that Green did have four years of minor league managing experience before getting the job, so he did have a consensus on how to manage. Green will aid Ross with in-game decisions, which will allow Ross to manage the best way he can. Being a former new manager himself, Green knows exactly how difficult things can be, but in a market like Chicago, it can be that much tougher.
I was a little surprised by this hire as I thought John Farrell was going to be the man appointed next to Ross. Now that Green is here, I would give this a B for a grade, and I am intrigued to see how their relationship is together.
HITTING COACH's: Anthony Iopoce will be back for his second year as Cubs hitting coach after an inconsistent first season. Much like the hitting coaches, the Cubs have had in the past, Chicago still struggles to score runs when runners are in scoring position if they are not hitting the long ball. That is part of the reason why the Cubs had three different coaches in three years before electing Iopoce to come back this season.
Iopoce was previously the Rangers hitting coach from 2016-18 before coming to the Cubs to retain the same position. Before working for Texas, Iopoce was in the Cubs organization as he oversaw the Cubs Minor League hitting program. It was during this time where he worked with Kris Bryant, Javier Baez, Kyle Schwarber, and Willson Contreras as most of them enjoyed nice bounce-back seasons this year.
I understand the decision to bring him back, but based on last season, I must grade this as a C-. The Cubs continue to struggle in many ways offensively and until they show more consistency, they can be game planned. However, going with four hitting coaches in four years would have been a bigger mistake, and given his track record with a large chunk of these players in the minors, I am willing to give him one more go.
The Assistant Hitting Coach will be Termel Sledge. Much like Iopoce, Sledge was brought in last season with the same role and will look to build on that role this season.
Pitching Coach: Tim Hottovy: He returns for his second season as the Cubs pitching coach. Formally hired as the run prevention coordinator, Hottovy endured his fair share of ups and downs last season as the Cubs staff never got going. Despite that, the organization was impressed with the way he handled things, and given what they saw from Yu Darvish the second half, the Cubs are hoping that is a trend Hottovy can keep going.
If I am going to rate this hire, I give it a C+ mainly for his inexperience as a coach and the way the staff performed as a unit. However, that can't be put entirely on Hottovy as he had a patchwork bullpen to puzzle through that was the biggest flaw in the Cubs team early on. Once Hottovy had a consistent group of players, you could see the numbers to get better. Let's hope he builds on that in 2020.
Bullpen Coach Chris Young: Lester Strode should be known as the MR. Cub of the coaching staff as he endured so many changes in this organization. Unfortunately, Strode couldn't survive the change this year as he will not be returning as bullpen coach, and instead, it will be former Phillies bullpen coach, Chris Young.
Before working with the Phillies, Young was a scout for both the Astros and Padres, while also pitching in the major leagues. Here's hoping he can use that knowledge on this year's team as I like this signing a lot and will grade it as a B.
Associate pitching, catching, and strategy coach: Mike Borzello. When we look at Borzello, he now becomes the longest-tenured coach on the staff as this will be his ninth for the Cubs and 25th season overall. He works closely with Hottovy and the team's pitchers on game planning while also helping the Cubs' catchers, which will be crucial in terms of pitch framing. With a former catcher infused as manager, I expect Borzello to be even more involved as this hiring receives an A – from me.
The new first base coach also happens to be the catching coach in Craig Driver. Another former Phillies coach who was the bullpen catcher and receiving coach for the Phillies the past few seasons, Driver is one of the fastest rising names in the coaching ranks after spending some time at Yale University doing the same thing.
Driver will double as a catching coach for the Cubs, bringing an analytical approach to the position. It is another hire that fits Chicago's push to modernize its operations. That is essential to keeping ahead of the curve in the ever-changing role of Baseball. This hire, to me, could be the most critical one overall, so for right now, I give it a B+ with the potential of higher by seasons end.
Will Venable will move from first base to third base as he replaces Brian Butterfield as the new third-base coach. Loved by everyone in the organization, Venable was said to be a candidate for multiple manager jobs this offseason, including the Cubs, so I am a bit surprised to see him back.
Venable will now be in his third season with the Cubs and will continue to work with the outfielders as well as third-base coach. Before his role as a first base coach in 2019, Venable was an assistant to the GM in 2018, meaning he has held significant positions in this organization. That alone gives this an A for the hire as he wouldn't have been considered for the manager's job for nothing.
The bearded wonder Mike Napoli will be teaming up with Ross once again, but this time as the Quality assurance coach replacing Chris Denorfia. Napoli interviewed for a spot with the Cubs in 2019 but was bypassed that year only to see his coaching career begin under Ross in 2020. The former teammate of Ross, when they played for the Red Sox, Napoli, who has played in three world series as a player, earned the reputation as a clubhouse leader as a player.
That is essential for a team that seems to have lacking leadership, and his hiring fits the Cubs' desire to enhance the level of accountability in the clubhouse. Giving out A+ grades are few and far between, but this hiring gets an A+. I love Napoli, always have and always will, and at one time, I did want him as the bench coach over Mark Loretta last season. I am happy that didn't happen because now he is in the organization and could work wonders.
Kyle Evans returns to the Cubs for a ninth season after spending the past eight years working in the front office as senior director of player personnel. This season is all about change, and that includes Evan's role on this team as he will now become the Senior Director of Major League data and development, which has to do with analytics.
With the game-changing and going more of an analytic route, this must be a home run hire for the Cubs, or it could backfire in their faces. Given how long Theo has kept him on the front office staff, I can trust this hire and have no problem giving it a solid B without knowing much about him.
The rest of the Cubs coaching staff is as follows, Chad Noble Bullpen Catcher, Juan Cabrera Staff assistant, and Franklin Fort Staff Assistant. Together everyone will have their own jobs to do as well as coming together to bring the Cubs back to world series contenders again.

Tags: Cubs Baseball
,
David Ross
,
,
,
Kyle Schwarber
,
Willson Contreras
,
Yu Darvish
,
Lester Strode
,
Chad Noble
,
Mike Borzello
,
Will Venable
,
Brian Butterfield
,
Mark Loretta
,
Chris Denorfia