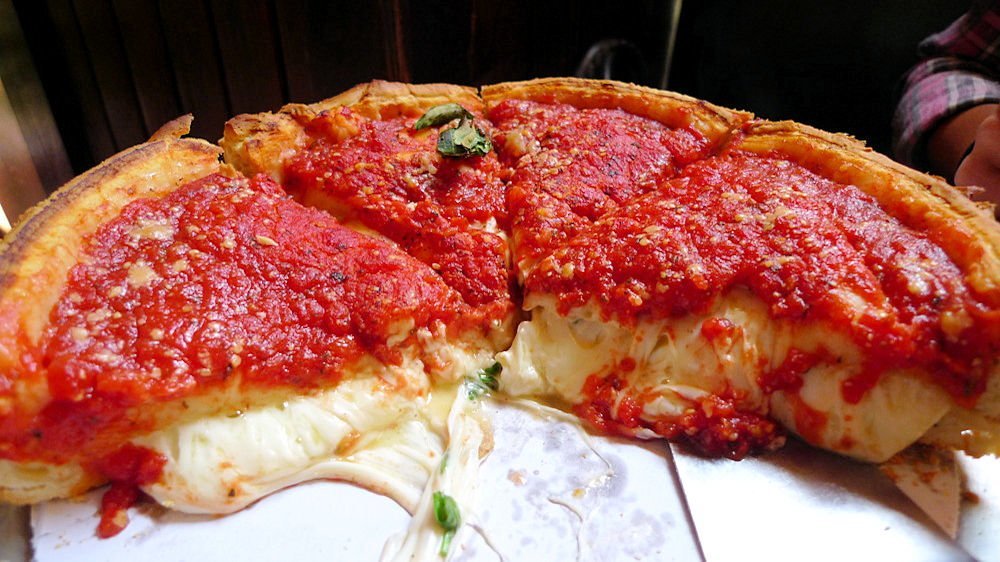 | | |
| --- | --- |
| Chicago-style Deep Dish Pizza is overrated | |
---
Because our editor is sadistic, he decided it would be fun to list our favorite hot dogs, beefs, and pizza in the Chicago area so that we could share with you our preferences. The fact that none of us lives there anymore and all this is doing is making us want to get on a plane and stuff carbs for three days is a sick thing to make someone do.
Chicago-Style Pizza:
Dan's Take: Here is where it is going to get dicey for me. There is a secret that most Chicagoans don't discuss with outsiders and I fear that by telling you this it may cost me my right to come back and visit. Locals rarely eat deep dish pizza. In fact, about the only time we do is when someone comes in from out of town and wants to have "Chicago Style" pizza. We always eat thin crust, cut in squares, and with either extra sauce or extra cheese.
Sorry, Chicago. It needs to be told so that the world will stop with the insane Chicago or New York style contests. In the thin crust world, Chicago's thin is crispier and holds up better in the middle.
Again, there are about 527 local neighborhood places that are all good, but Rosatti's, and Aurelio's are two of the better chains. My favorite was Jake's, but they are sadly gone. Jake's was one of the first to switch the tomato sauce for barbeque sauce, and it was a revelation. Possibly the best thing I've ever eaten in my life especially if you put sausage, pepperoni, and bacon on it. I'm getting weak in the knees just thinking about it. If you have to have deep dish, then the only two options are Uno and Due downtown where it originated. All other deep dish is disgusting and a waste of your time.
Ken's Take: There's a ton of places in Chicago to get good pizza, and every one of those places has their own fans. Sanfratello's and Numero Uno are good, and you've probably seen ads behind home plate at Wrigley for Giordano's. But nothing, in my humble (and overweight) opinion, beats an Aurelio's Pizza.
I remember when I was a kid, my dad used to order from them on Friday nights when watching the ball games. He'd always order the same thing; a Fiesta-sized (18"), thin crust, Italian sausage, and cheese- 45 years later, I've never ordered anything else. The crust is crispy, the sauce is sweet and mouth-watering and the sausage (at least used to be) home-made. Aurelio's started in suburban, Homewood, Illinois, but they've now branched out to Florida, Indiana, Nevada, and Minnesota. Aurelio's will ship pizzas on dry-ice to customers, not in the vicinity of their locations.
Tony's Take: I've had the famous "Chicago-style" deep dish pizza, and I have to say that I was not impressed. I don't want my pizza to be that wet. It was like eating a soupy cake, and I couldn't even finish two slices compared to my normal feast mode of pizza eating. I enjoy tasting my main toppings and not overwhelmed by tomato sauce. As I've gotten older, I've enjoyed crispy thin crust pizzas as long as the toppings are loaded on top. I also don't mind just a regular greasy pepperoni pizza from time to time. Don't forget the breadsticks or chicken wings.

Upgrade Your Account
Unlock premium boards and exclusive features (e.g. ad-free) by upgrading your account today.
Upgrade Now