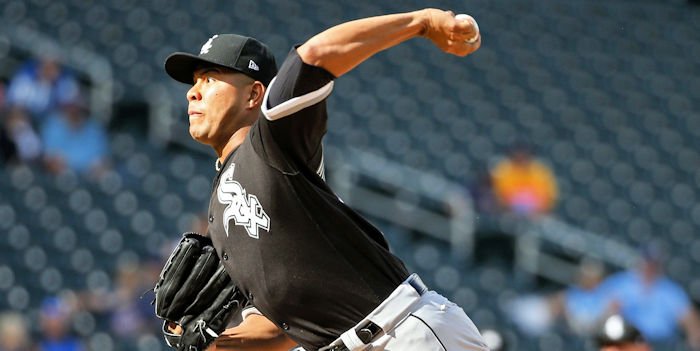 | | |
| --- | --- |
| Commentary: Crosstown deal shows Epstein at his best | |
---
CHICAGO -- Questions swirled about how aggressive the Cubs would be in acquiring pieces for a second-half push, but today's trade for de facto ace, lefty Jose Quintana, albeit for a hefty price: top-prospect (#5 in-season, as rated by Baseball America) Eloy Jimenez, another highly-touted and toolsy prospect who was an international signing from the same class as Gleyber Torres (former Cubs prospect MI whom was dealt last season to the Yankees). Along with Jimenez, the Cubs dealt their #2 prospect (midseason ranking by Baseball-America), starter Dylan Cease, whose fastball has touched 100 mph, and has a breaking ball that has even drawn a comparison to Dwight 'Doc' Gooden's—if anyone can believe that. Cease, a former draft pick who was signed by the Cubs and underwent Tommy John surgery before debuting for them, has taken a big step forward this year in lamenting his prospect status and becoming the team's #1 starting pitching prospect. The other two prospects included were first baseman Matt Rose, an 11th round pick out of Georgia Tech in the 2015 draft, who possesses raw power (that includes an approach at the plate with much-needed work), but is blocked by Anthony Rizzo. A bit more than a throw-in, but a player the Cubs can afford to deal and shouldn't miss much at all with team-leader Rizzo manning first base for many more years to come. Rounding out the deal is infielder utility man-in-making, Bryant Flete, age 24, who is more of a throw-in than the rest but could one day see the majors as a nice back-up player.
Quintana, still signed to a friendly deal under team control until 2020 (three years left at 30mil total, approx. w/ a team option in the final year for negotiation leverage to boot), will slide into a rotation that currently features Jake Arrieta, Jon Lester, John Lackey, Mike Montgomery, and Eddie Butler. Once healthy, one would assume Kyle Hendricks will knock Butler out of the rotation upon return shortly after the break. It remains to be seen how it will actually line up, but when you look at a potential staff including Quintana, it lines up Arrieta-Lester-Hendricks-Quintana-Lackey. That alone, compared to what it had become before the break—Arrieta, Lester, Lackey, Montgomery, Butler—should take a load off of the frontline guys who have been taking egg on the face lately.
I admit that when I suggested the Cubs sell, I had never considered the possibility of the White Sox and Cubs doing business—especially involving a pitcher like Quintana who could potentially help the Cubs now for another two seasons after this at a very reasonable cost, and replace Arrieta in the rotation next year while allowing the Northsiders to go after an arm on the open market as well, since Quintana's contract is extremely team-friendly. As with any trade, there is the fact of the matter they had to give up a good bit to get what they got. In Quintana, they have another lefty starter to slide into their rotation with Lester and someone who is both consistent and will pitch into the game, something Cubs starters have had issues dong this year. While the bullpen has been fantastic, the Cubs need their starting pitchers to go deeper in the second-half if they want to keep the arms from running into September on fumes.
The main thing this trade does is speaks volumes about the Cubs outlook and what they believe they have going for this year—and next. In acquiring Quintana, they've jumped the gun just like last year in using their stocked farm to get what they want, when they need it. Maybe this is what it takes to wake up the rest of the guys. Maybe it wakes them up, and it can help lead to the third straight year where Cubs have the best second-half in baseball (coming off of the last two seasons, which they did). Maybe this motivates Arrieta. Maybe it picks up some slack and takes the pressure off of Lester a bit. Maybe the shakeup and the break just will help in general. It also shows the NL Central—particularly teams like Pittsburgh and Milwaukee—two teams linked to Quintana and still in the running with the Cubs, that the Cubs mean business and are still planning to be competing for the whole way, and will be breathing down Milwaukee's neck, with another 10 games against the Brew crew in the second-half alone.
Eloy Jimenez could be a major difference maker this time next season. It hurts to lose young players, but you need to give something to get something. Regardless, dealing him says one big thing to me about the direction of the team here: The Cubs are invested and trusting in the players in their outfield. Schwarber, Happ, Heyward—these guys aren't going anywhere. That may be your starting outfield for the future right there. Eloy was blocked and would still be blocked at season's end or next spring, and trading him shows how much trust the front office has in those three guys, as well as Almora as a super fourth outfielder who can play great defense and any position, any day of the week to give guys a rest.
Trading Dylan Cease from the thought of the front office hurts almost more, since this is a Cubs team that has still really struggled to develop pitching from their own draft classes, and 2014 6th rounder Dylan Cease looked like that potential ace, with a 165/65 K/BB ratio over 1201/3rd IP in his minor league career (to go with a nifty 3.29 ERA). Cease has had his Tommy John and rehabbed after being drafted by the team and is hitting triple digits, fully recovered. The White Sox may have a potential frontline starter or lockdown closer here depending on which route his minor league career path takes, but the Cubs can afford to lose a Dylan Cease while getting back a cost-controlled innings eater who has been a product of consistency on the Southside over the last few season (and may yet benefit from moving to the NL Central, too). A shakeup to this team, which has seemingly been playing in their pajamas for the first-half, was needed if they were going to go on another second-half run like the last 2 seasons. Obviously that is what is in their plans, and if they wanted to break some ground and make a lot of noise, this certainly did that. I can't say I saw it coming one bit.
Lester, Quintana, Hendricks, and Montgomery will likely be coming back next year. Whether Jake Arrieta is back or not remains to be seen, and Lackey may retire or sign elsewhere as both are arguably question marks and I'm not the best wager right now. Adding Quintana helps the Cubs fill the void Arrieta would be leaving and also leaves them with ample wiggle room to go after another frontline starter if they feel the need.
On paper, this is a trade that could be beneficial and great for the ChiSox and Cubbies—for now and the future. Eloy Jimenez may fit in great with Avisail Garcia on the Southside, and maybe Dylan Cease and Michael Kopech will be throwing gas for years to come down the short road. Or maybe not—let's remember, prospects are prospects for a reason. Right now, Quintana can stabilize this rotation which will be getting a boost with Hendricks' return as it is, and hopefully, help them surge to the best second-half for the third straight season.
This is Theo at his best, just when you least expect it.
Surprising everyone by taking one of the best available starting pitchers off the market—from the crosstown rival White Sox, no less—before anyone else even had the chance. If you don't think that some of this trade was in order to keep the likes of Pittsburgh and/or Milwaukee from making a run at him, you should think again. This is Theo making a move, for now, the next three years, and to retake control of the NL Central.
Gear up, Cubs fans. It looks like we're all in for the second half. The break is over soon, and the Cubs will look to get back on their feet tomorrow against the Baltimore Orioles in a three-game set, followed up by the Braves who are right there with them in the NL Wildcard race which is something Cubs fans will hope they need not worry up for much longer.