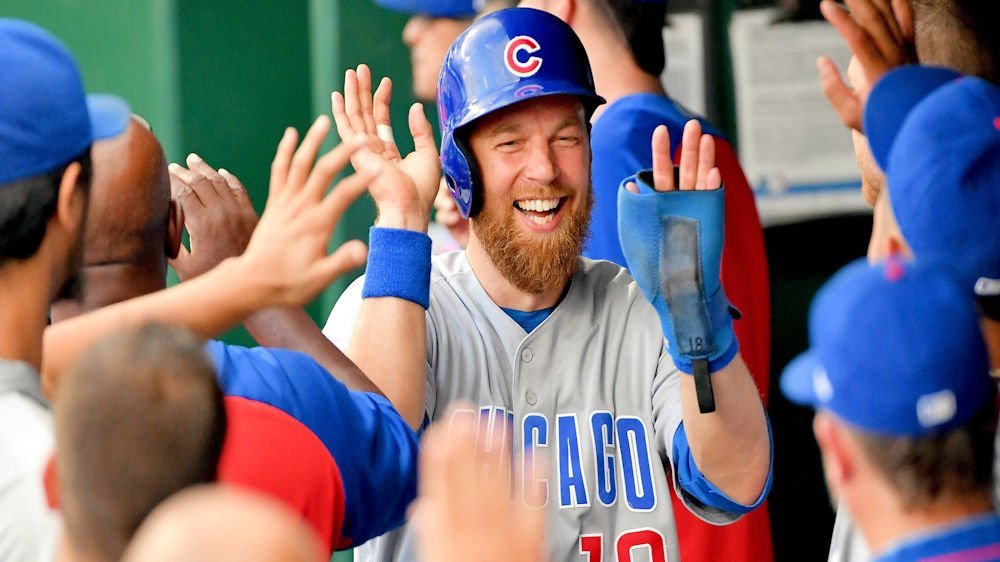 | | |
| --- | --- |
| Commentary: Grading the Cubs' roster moves | |
---
Yippee! September first is here, and the rosters have expanded. As of Sunday, the Cubs' expanded roster stood at 33 of the allowable 40 men. Some of these moves were predictable, some were probable, and the Cubs even managed to do something nonsensical.
Ben Zobrist: The Biggest move (so far as the fans are concerned), was the reinstatement of Ben Zobrist. As most everyone knows, Zo took an authorized leave of absence on May 5 this year, allowing him time to attend to family matters that arose in the form of an impending divorce. For almost three months, Zo dealt with the unpleasantries that come with such an event, while trying to stay in shape for an anticipated return to the majors.
Once ready, the Cubs (per MLB rules) had Zo playing in the minors, but his maximum allowable amount of games there was 30. Playing in games for every level of the minors, Zo only managed a .189 average (.333 OBP/.405 SLG), with 10 RBI. Those numbers will not help the Cubs, but Zo's presence may, which is why I believe he was called up.
An ESPN 1000 poll asked whether Ben Zobrist's return would (a) Help the Cubs, or (b) Have no impact. With 300 votes cast, 62% say that Ben's return will help the Cubs. I'm with the 38% that thinks he'll have no impact.
Ben Zobrist's return will...

— ESPN 1000 (@ESPN1000) September 1, 2019
I love being able to see Ben Zobrist return (and he is eligible to participate in the playoffs), but his offensive numbers are in the tank, and he was promoted based solely on his name. No other hitter with a sub-.190 batting average would get called up, so it's obvious that the Cubs are looking to him more for his presence than his offense. I also believe this is what Ben and his teammates needed- a chance for Ben to finish his career at the end of the season, rather than to disappear in early May, never to return.
I'd have to give this one an "A-," as both the team and Zo need this, if for no other reason than closure.
Zobrist said he has not made a decision one way or the other on retirement and if this month is the end of his career as a baseball player. He acknowledged the "time is coming" for him to focus on his kids and family, but doesn't have an exact answer yet when that time will be.

— Tony Andracki (@TonyAndracki23) September 1, 2019
David Bote: I cannot, for the life of me, figure out why the Cubs would have once again demoted David Bote to Iowa. Yes, he's on the 40-man, so he is eligible to play in the playoffs, but with seven open spots on the expanded roster (Cubs are now at 33), keeping Bote only makes sense. He provides solid defense in a number of positions, and although the stick has been a little cold, he's never more than one swing away from a walk-off grand slam.
Fun fact: Nicholas Castellanos (1.098) didn't even lead the Cubs in OPS in August.



David Bote did, with a 1.159 OPS in 32 plate appearances.

— Tony Andracki (@TonyAndracki23) September 1, 2019
Even if Bote is allowed to play in Iowa, their season has ended, so it'll now be a sporadic playoff schedule, giving him about the same number of at-bats that he would have gotten in Chicago. Wrong move- "F."
Mark Zagunis: To make room on the 40-man for Ben Zobrist, the Cubs elected to designate Mark Zagunis for assignment.
Great to see Ben back in Chicago, but I question designating Zagunis. True, he'd underperformed this year at the major league level (don't forget, he was Ian Happ's replacement as the Cubs broke camp in the spring), but I think I would have done some minor league shuffling so that Zagunis could have been traded in a month or so. The kid does have potential, and I think he just needs to get over the jitters. Bad move, Theo- this one gets a "D," as Zagunis has both value and untapped talent; odds are, he'll become a waiver claim, and the Cubs will get nothing in return.
As expected, the team also brought up several other players, including:
Albert Almora Jr.: I'd give this one an "A," as Almora's defense is superior to anyone's on the team, with the exception Jason Heyward's, but his sporadic bat may spell trouble. When Almora hits, he REALLY hits, but unfortunately, consistency has been an issue for the last couple of years.
Taylor Davis: I like Taylor Davis, but this one has me scratching my head, especially with the demotion of David Bote. Willson Contreras should be back within a week- two weeks max- and at that point, the Cubs will have four catchers on the 40 man. Davis is still learning the MLB ropes, and he's not only slow out of the crouch but generally ineffective at the plate. I love ya, Kid, but this move gets an "F."
Robel Garcia: DING, DING, DING- A+. I won't argue the fact that the likelihood of Garcia staying in Chicago was nil, especially coming from Italy with no MLB experience, but this kid nailed when he had his chance. Had it not been for a withering bat, I believe Garcia may have spelled trouble for one of a couple of guys on the 25-man. Garcia has the potential to be a superstar, and the more he plays at the big-league level, the better he'll become. Watch for Garcia to have a shot at making the Cubs roster out of spring training next spring, but in the meantime, enjoy the show during the last month of 2019, and any playoff time the Cubs get.
Duane Underwood Jr.: I predicted Underwood would get a call-up, and Theo nailed it by doing so. For those who missed underwood's MLB debut last summer, the kid went just 4.0 innings against the Dodgers (6/25/18), but he survived a 39 pitch first inning, without giving up a run (Credit to Chris Gimenez who caught that game).
Underwood emerged this year in Chicago as a reliever, called up during the absence of Cole Hamels (oblique strain). Underwood only logged a total of 3.1 innings in three appearances, but he did great, allowing only one earned run on three hits (no walks) while fanning seven. Gotta give Theo a solid "A" on this one.
Alec Mills: Ugh. Mills has built an ERA of 3.94 in just four appearances for Chicago this season, with the last coming on August 14 in Philly. For some reason, Joe Maddon clings to this kid, though I'm not sure why. He does chew up innings (averaging just under 5.1 per appearance), but he's given up 20 hits (4 dingers), nine earned runs and seven walks in those four appearances, with the saving grace being his 18 strikeouts. Although effective at times, Mills does have control issues, nailing four guys in his first outing this season (July 16 vs. Cincinnati), then one in each of his last two appearances.
Sorry, Theo, this one gets a "C-," as Tyler Chatwood keeps getting passed over for guys like Mills, who really don't do any better than Chatty, and don't have even a fifth of Chatwood's experience.
Brad Wieck: (Pronounced Wick- so now we have two of these guys…) OK, so many are probably asking who the hell Brad Wick is, but you know that I'm going to tell you, so fear not.
Wieck is a 27-year old (almost 28) lefty reliever, whom the Cubs received from the Padres in exchange for Carl Edwards Jr.. Wieck's made 35 appearances since his debut last September, with 30 of those coming this year for San Diego. Although he managed a 1.29 ERA over his seven innings of MLB work last year, his appearances this year (24.2 IP) have resulted in an ERA of (sit down please…) 6.57. Um… mayday.
I'm not sure what the Cubs plan to do with Wieck, and while certain guys get to Chicago and turn their careers around, I can't see Wieck being one of them. His strikeout rate has been fantastic (averaging about 1-1/3 per inning), but his walk rate is 3.3 per nine innings, with a home run rate of 2.6 per nine.
A risky move, but for some reason, Theo likes him. I'm hoping for the best, expecting the worst, and in the meantime, giving this one a "C-." Fresh face, new scenery, strikeout rate, and left-hander are the plusses, but that gets bogged down heavily with the hits, runs and home runs given up.
Adbert Alzolay's name keeps coming up, but just as I said a couple of months ago- this kid is just not ready yet- a statement that was solidified by his two outings this year.
The Cubs still have room for an additional seven men, and I'm confident that David Bote will make up one of those spots. Until then, this is your current Cubs' playoff roster, and overall, this roster expansion gets a "C." Could be worse, could be a lot better.

Upgrade Your Account
Unlock premium boards and exclusive features (e.g. ad-free) by upgrading your account today.
Upgrade Now

Tags: Cubs Baseball
,
Ben Zobrist
,
David Bote
,
Mark Zagunis
,
,
Albert Almora Jr
,
Jason Heyward
,
Taylor Davis
,
Willson Contreras
,
Robel Garcia
,
Duane Underwood
,
Cole Hamels
,
,
Tyler Chatwood
,
Adbert Alzolay
,
Joe Maddon