| | |
| --- | --- |
| Commentary: The Darvish-Chatwood Saga continues | |
---
| | | |
| --- | --- | --- |
| Sunday, March 31, 2019, 12:23 PM | | |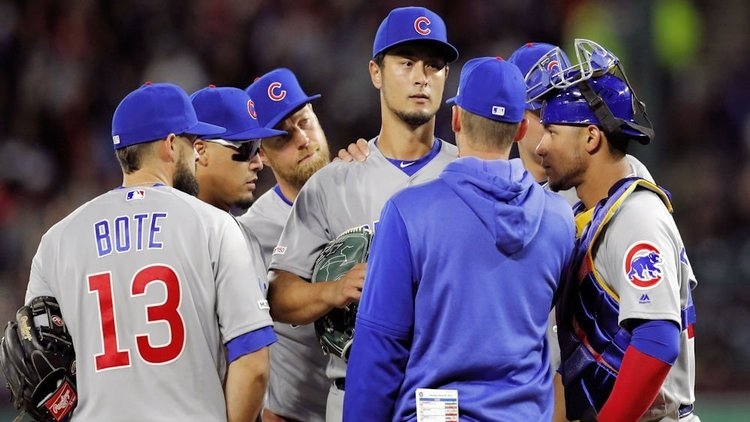 Just a little over nine months ago, I sat at this same desk and wrote my first commentary for CubsHQ.com, entitled "The Cubs' $164-Million Question." The piece covered just what I felt the Cubs got or instead didn't get, in Yu Darvish and Tyler Chatwood, for the amount money spent to sign them. When it came to riding both of them last year for their face-palm performances, nobody was more critical than I was.
New season, same names, different take.
I watched in bewilderment (or maybe horror is a better word), as Darvish made his first start of 2019 last night against his former teammates in Arlington. Darvish threw about 11 pitches to the first pair of batters that he faced, each ending in strikeouts, then he walked the bases full, before pitching out of the jam without allowing a run. The second inning started even worse, as walks were issued to the first two men that he faced, culminating in a run, then, even more, walks in the third, before he was pulled for Steve Cishek.
By the time it was over, Darvish had given up three earned runs on just a pair of hits (though one was a homer), struck out four, and looked like 2018's version of Tyler Chatwood, giving up seven walks and a wild pitch in just 2-2/3 innings. His ERA soared to 10.15, and the WHIP looks equally as bad, as it now sits at 3.383.
In a bizarre anomaly, Darvish may have set an MLB record last night, as he threw 58 pitches before the Rangers ever put a ball into play, as the first eight batters either walked or struck out. (No official stat is known to exist, but it's hard to fathom that any pitcher could have done this in the past.) According to Ed Hartig, Darvish's peformance is the first time since 1920 that an opponent started a game with first 10 batters not putting a ball in play vs. Cubs.
Believe it or not, although I'm fine with all of that, and so was Joe Maddon, who stated, "His stuff down there was really good, it is just about where it is going. Great stuff, velocity was good, breaking ball was good. Everything was good; we just have to be in the strike zone a little more consistently because that kind of stuff definitely is gonna play post fifth inning, six or seventh inning stuff."
Darvish had a ton of barriers to overcome last night, and he handled them well. He hadn't pitched an MLB game in almost a year, yet he looked very confident, even smiling, when he took the mound in the first. He was determined to win the fans over, and even after a 35 pitch first inning with three walks, fans were "Yu-ing" and not booing. I speculated that maybe the blister and tape on his ring-finger was bothering him, but Darvish outrightly denied that saying it was all on him- a big plus in my book. True to his word, he didn't hide behind an interpreter. He faced the media alone, and he spoke from the heart.
Darvish makes no excuses: pic.twitter.com/3gIxTVMCD7

— Mark Gonzales (@MDGonzales) March 31, 2019
The naysayers are out in full force. "He sucks," "He's sh*t," and "Send him back to Japan," were among the nicer comments that I saw last night on social media last night. I'm sticking with him though, as I think he'll get this turned around this year IF he can stay healthy.
As I see it, Joe Maddon made a critical error about Darvish last night (among a couple of others later in the game): He absolutely pulled him too early. Of the runs charged to Darvish, let's not forgot that he only allowed one- the other pair came courtesy of Steve Cishek giving up a single with guys on base that Darvish had walked. Nobody knows for sure, but if Darvish had stayed in and continued to hold the scoring down, he might have lasted five innings and qualified for a win- something that I feel he desperately needed to continue to build confidence.
Let's also not forget (or ignore) the fact that the strike zone wasn't precisely pitcher-friendly last night, and that it seemed to shrink by the minute. Also noteworthy is that while Darvish set a personal-worst record with seven walks, he still holds the record for most strikeouts by any pitcher in Globe Life Park (I believe that now stands at 535 after last night's game).
Last year I had zero confidence in him, and when the injuries began, I honestly thought his career was over. Tommy Hottovy is working miracles with this pitching staff and being mentored by Hamels is certainly helping Darvish and others. I strongly encourage you (and Yu) to hang in there, he's determined to pitch well this year and beyond. One outing doesn't represent a season, and before it's over with, the rest of the rotation and all of the pen will take their beat-downs as well.
So, I'm guessing you wonder where Tyler Chatwood fits into this article. Simple: Although Jose Quintana was brilliant in his 4-inning relief appearance last night, the minute Darvish was pulled, Q should have gone in, with Chatwood behind him. Several are confused as to why Maddon would "waste" a starter in a relief appearance, but that's very simple to answer. With another off-day on Tuesday, Maddon had a choice to make as to whether to start Q or Jon Lester (on five day's rest), on Wednesday, in Atlanta. Once he decided on Lester, he used Quintana in relief, to not make him sit idle for two weeks. I digress.
Chatwood had a phenomenal spring: 14 IP, 2.58 ERA, only 4 ER, nine strikeouts, and most impressively, only four walks. If Maddon has chosen to use Chatty in blowouts, he should have used him in the opener; if that isn't a factor, he should have entrusted him to chew up innings and hold the lead last night. Shelving him is only going to serve to rattle his confidence as well, and if there's still any sort of an elephant in the room, it needs to be addressed now. Claiming "matchups" as an excuse for not playing Chatwood last night won't wash, as Cishek and Edwards are both right-handed.
I'm already seeing a frightening trend starting again with how the bullpen is being used, especially in a blowout game last Thursday, when Pedro Strop was pulled for no apparent reason. Maddon's micro-management undoubtedly cost the Cubs game last year, and I believe that was the case last night as well.
In stark contrast to what I said about Darvish and Chatwood nine-months ago, I'd urge you to be patient with both, as I think we're about to see the pair earn a good chunk of their salaries this year.