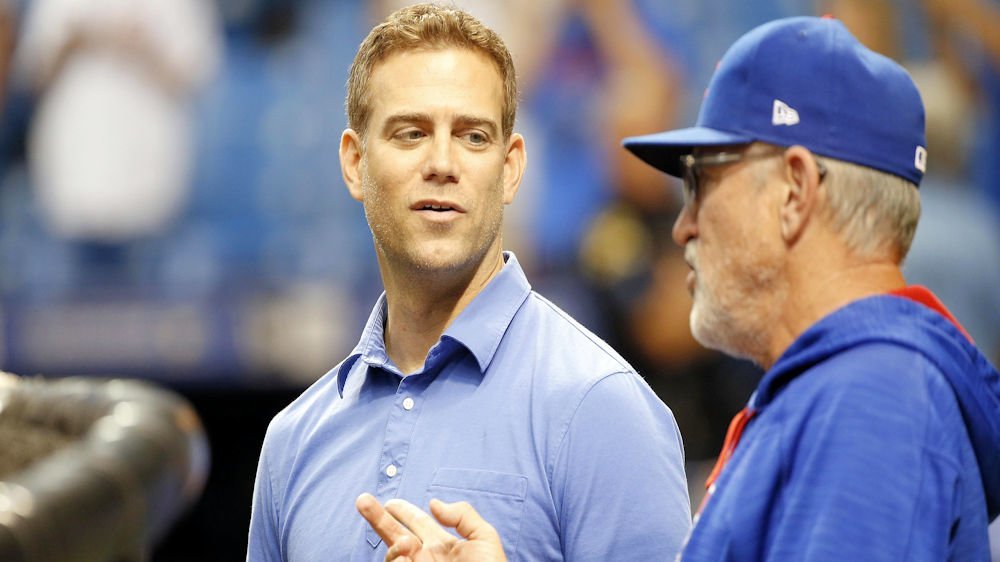 | | |
| --- | --- |
| Commentary: The angst of the off-season | |
---
By now the ivy at Wrigley is turning brown and withering, and the grass probably doesn't look much better than the grass in my yard. The players are home with their families, and Theo Epstein and the others are jetting around for meetings, the equivalent of some baseball G5 summit.
These are the days when nothing is sacred, and no one is safe in baseball. The free agent market is looming large, spots need to be cleared on the forty-man rosters to make room for the new additions, and the trades are inevitable.
I think for most Cubs' fans, this off-season has been incredibly painful and already seems overly long, due to their early exit from the playoff stage. Whether you believe the team should stay the same, or whether you feel radical changes are in the works, one thing remains clear; it's all still so unclear.
Joe Maddon is back for 2019, which I applaud, though I think the team needs to be managed a little more rhythmically, but there's been no talk of contracts extensions for the Cubs' skipper, from either side, leaving fans to wonder what's going on in Wrigleyville. Is 2019 to be the year that Maddon must get it right or get sent packing, or is Joe for some reason feeling that his time in Chicago has been served, and is now focusing on his exit strategy? Both sides are allegedly happy with each other, so the lack of contract extension talks seem nothing short of strange.
Then there are the rumors of this alleged cash crunch, which I believe to be some journalistic sensationalism, perpetuated to get people talking and wondering. Somebody mentioned it, and the next thing you know, there's a media frenzy that has the Ricketts family all but on the brink of bankruptcy. Nonsense. If the Cubs were genuinely hurting for money, they would have never even started courting the likes of Bryce Harper and Manny Machado.
The Cubs had a good idea as to what Cole Hamels would cost them for 2019, and they were well aware of the money that needed to be shelled out for Darvish, Quintana, Heyward, Lester and the rest under contract. There was no surprise that players had arbitration coming, and ownership always has a pretty good idea of what that'll cost them. Like any business, they need to be fiscally responsible, so don't buy into this hype about how the Cubs have to do this or that to be able to play in the free-agency market.
The latest rumors have the Cubs being forced to keep Addison Russell due to money supply issues- again, don't buy into this. If the Cubs keep Russell, it's because they believe that he can be rehabilitated (a mistake in my opinion), and not because they can't afford to pursue other options. If Russell leaves, it's due to a character flaw and a decline in skills, plain and simple.
Per Theo Epstein, "… That means taking steps to be sure the individual is worth the investment so that he can grow so that this never happens again with him. We are in that process… We are trying to verify he is serious about self-improvement and adding more stability to his life. Everything remains an open question. We have not made any determinations. The only determination we have made is we need to be part of the solution."
I'm not even going to get into the Harper/Machado talks here, as the pulse of that topic seems to change by the minute. First, it was Machado they reportedly had interest in, and then it was Harper. Next thing you know, the Cubs aren't favorites to land either one of them, and now I see reports that they may again be interested in Machado. I'd rather have Harper than Machado, but I don't think either one will be in a Cubs' uniform next year.
The offseason can be as appetizing as the regular season for those of us who follow it closely, but at least with the regular season, we see results, good or bad, almost daily. The Cubs have a lot of work to do, even if that means keeping the team exactly as it is today. Contracts need to be signed, negotiated and arbitrated, leaving just one thing clear: opening day 2019 is now only 140 days away.