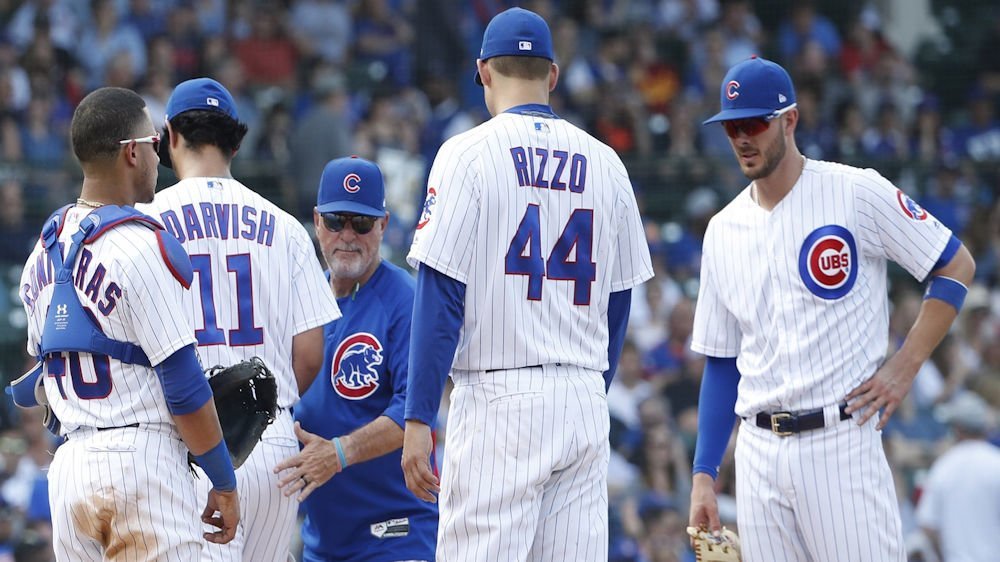 ---
I hate to be the bearer of bad news, but I wouldn't expect Yu Darvish back this season to help the Cubs in any meaningful way. The veteran right-hander is currently out with a nerve impingement (pinched nerve) in his right elbow, but Darvish's nerve related issues go far beyond that.
Darvish had his 2014 season with the Rangers interfered with, by what he originally thought was a stiff neck. He had reported that he "slept on it wrong," but the stiffness refused to go away. Darvish was again sidelined in Texas after literally feeling a pain in his rear, which was when his sciatica was diagnosed. During a spring-training game in March 2018 vs the Rangers, Darvish can be seen losing his balance as he starts his windup. A couple of more months down the road, and now it's the elbow. In my opinion, the future isn't looking very bright.
Standard treatment for any of Darvish's ailments, past or present, would include non-steroidal-anti-inflammatory drugs (NSAID), oral steroids, steroid injections, physical therapy, and if all else fails, surgery. We know that he's received steroid shots and undoubtedly physical therapy, yet he's still not back in the Cubs' rotation. "Cautious optimism" predicted Darvish's return prior to the All-Star break, but to the best of my knowledge, he hasn't even thrown since his appearance for the South Bend Cubs on June 25th.
Keeping positive, Darvish stated recently to reporters, "Instead of tolerating the pain and getting used to it, I think it's more important to prevent any of this happening in the future. In this rehab process, there's a little bit of preventative [work]." The words "getting used to it" indicate to me that this is, in fact, a chronic condition.
So what's next? A surgery that may be career ending? I don't know, but this whole thing is beginning to look very unpromising. They showed a camera shot of Darvish in the Cubs' dugout during the San Diego game on Sunday, but that's the first I've seen of him since he left the team to go to Texas for medical opinions and treatment. Conspicuously absent during the shot of Darvish, was any commentary about his progress from Cubs' announcers Len Kasper and Jim Deshaies.
Maybe Darvish has just had a run of bad luck with his body. Maybe these injuries are independent of one another, but maybe they're not. Darvish's loss of balance in the spring and his "flu-like symptoms" this year in Chicago, should be of concern to his doctors, as they may be signs of something far more serious than just a pinched nerve, a sore neck or sciatica. An athlete as young and in shape as Darvish is, shouldn't just lose his balance during a windup.
Hopefully, it's nothing more serious than a pinched nerve this time- not that that isn't serious enough. Either way though, this whole thing with Darvish has become a nightmare both financially and logistically for the Cubs. They're undoubtedly going to have to go after another starter, which is going to cost them at least one position-player. The Cubs could get a rental for the rotation, but if Darvish fails to return next season, the Cubs are back to square one. If he does, by some miracle, return this year, they will have lost a position player in the process, while trying to shore up the rotation. I guess time will tell, as whatever they are going to do, will have to be done within the next couple of weeks.