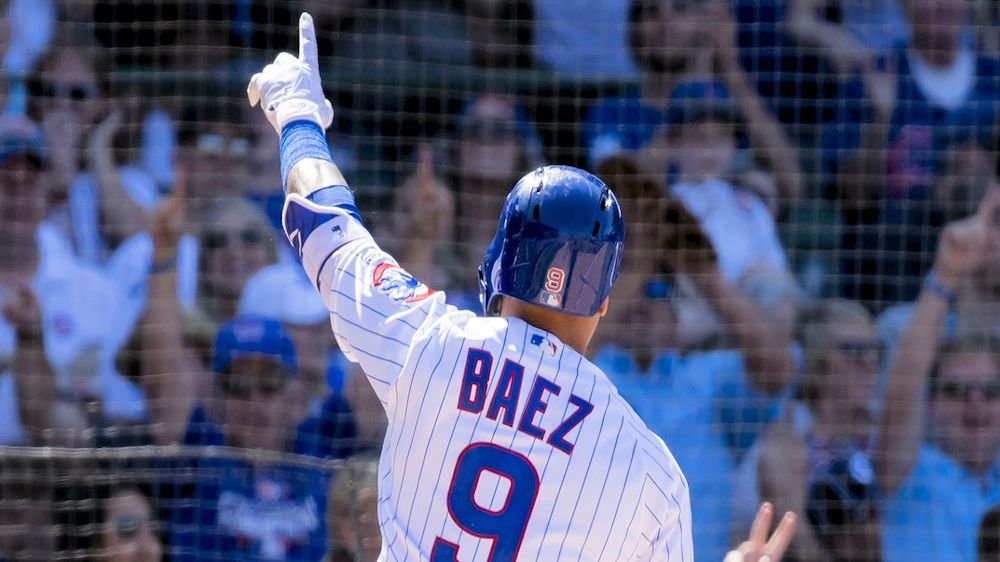 | | |
| --- | --- |
| Countdown to the 2019 Cubs Convention | |
---
Here we are, CubsCon starts this evening. The minor league affiliates have all posted that they're now in Chicago, Adbert Alzolay has announced his arrival, and Albert Almora has sent fans a tweet saying he was looking forward to meeting them. Here I sit in southwest Missouri, having to write about it without being able to participate this year. As a lifelong Cubs' fan, I'm no stranger to saying, "Maybe next year."
While meeting and chatting with players would have been nice, especially for a writer, I would have really looked forward to picking the brains of Tommy Hottovy and Anthony Iapoce; these two men have the weight of the world on their shoulders at this point, and their strategies going forward may make or break a team and its manager.
Something about this year's convention seems different. No Anthony Rizzo, no Jon Lester, and Addison Russell is prohibited from attending. Fans don't seem to be looking forward to hearing that big announcement of a major signing, and ownership hasn't teased the fanbase with rumors of impending news, in fact, yesterday seemed quite the opposite, as Tom Ricketts did sports-talk radio interviews in Chicago.
Citing a lack of interest by the fans, the Ricketts have cancelled their panel, laughingly saying (per Tom Ricketts) that the team "cut them" due to low turnout. As Mr. Ricketts continued through one of his interviews yesterday, he accentuated how happy the Cubs were with the talent they already have, and the best he could offer anxious fans was that "Theo may have a few moves left in him." While Ricketts never directly discussed the names Bryce Harper or Manny Machado, his synopsis of the team's budget left me feeling certain that any additional signings would be of a lesser caliber.
"How huge would it be if the Cubs announced signing Harper at CubsCon?" read a tweet that I saw this morning. Yes, that would be outrageously huge, and something that I'd be ecstatic to have been wrong about, but I can't see it, especially with the Ricketts not holding a panel. Again, I can only hope I'm wrong.
Many think this is Theo's weekend to unveil the master plan, even though that plan seems increasingly clear to many of us. The Cubs' have a good roster, and per Joe Maddon, "they need to be able to extrapolate" more from the players they currently have. If this plan works, it's brilliant. There's little doubt that the Cubs have championship talent, but when Theo Epstein says, "our offense broke," and that he never wants to be a part of something like that again, rest assured, changes of some sort will be made, and I don't think it stops with a new hitting coach.
For now, the countdown is on, with festivities starting at 6:00 PM (central). We'll wait, we'll watch, and we'll hope, but in the end, we'll all look forward to a season that starts in just over two months.
Oh well, as far as the convention goes, at least maybe I can live vicariously through the person that handles the Pelicans' social media. As a true, native Chicagoan, I pointed them in the direction of the necessary Windy City staples: Chicago Style Dogs, Italian beef sandwiches and pizza. Send me pictures, Pelicans.
Soon...... ?? #CubsCon pic.twitter.com/UUj9j4mMLV

— South Bend Cubs (@SBCubs) January 18, 2019
It's on like Donkey Kong! #CubsCon #CubsCon2019 #EverybodyIn pic.twitter.com/taN3fWth5h

— crawly's cub kingdom (@crawlyscubs) January 18, 2019
Tonight at the #CubsCon

Pat Hughes...

"Speaking of new faces, are you ready to meet the newest Cub?"

* crowd anticipation reaches a fevered pitch *

"Welcome to Chicago, Daniel Descalso."

***

end scene. pic.twitter.com/phVLhyNqU8

— Born on Third (@BornOnThirdCubs) January 18, 2019
Really looking forward to @Cubs Convention starting later today. Always fun to think baseball, green grass and sunshine in the middle of winter. And to see all the fans and all the people I travel with every summer. Mini-class reunion.

— Len Kasper (@LenKasper) January 18, 2019

Upgrade Your Account
Unlock premium boards and exclusive features (e.g. ad-free) by upgrading your account today.
Upgrade Now