| | |
| --- | --- |
| Cubs News and Notes: Fly the Walk-off W, Monty says goodbye, Epstein on Ben Zobrist, more | |
---
| | | |
| --- | --- | --- |
| Wednesday, July 17, 2019, 8:25 AM | | |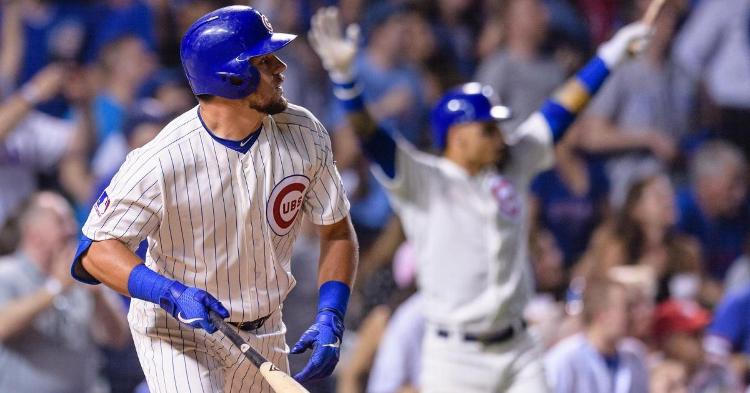 Next Game: Today, 7:05 PM CDT: Reds at Cubs. RHP Sonny Gray (5-5, 3.42 ERA) vs. RHP Yu Darvish (2-4, 4.72 ERA).
Tuesday's Game Recap:
Hoping to maintain their two-game cushion in the NL Central, the Cubs got back after it last night, hoping to figure out how to corral the Reds and avoid the series loss. Joe Maddon put his faith in Alec Mills, hoping that Martin Maldonado could help keep Mills calm, while David Bell turned to Anthony DeSclafani.
Mills got off to a horrid start, giving up a homer, beaning back-to-back guys (Puig & Dietrich), a single and a double… and that was just in the first inning.
In the bottom of the second, Robel Garcia would get the Cubs right back in it, with a two-run homer to left-center. This kid is money.
Robel Garcia's first #WrigleyField home run! #EverybodyIn pic.twitter.com/Wva040uRID

— Chicago Cubs (@Cubs) July 17, 2019
Mills would settle down after the first, lasting through the sixth, and wouldn't allow another run. All and all, a pretty good outing, and I'll admit, I was surprised.
Not to be outdone by the new kid, Kris Bryant would tie it up in the sixth, with his solo-shot to left-center.
Launch mode. #KBoom pic.twitter.com/Ly3kdzxGc6

— Chicago Cubs (@Cubs) July 17, 2019
Brandon Kintzler and Pedro Strop would both have good outings, getting the Cubs through the seventh and eighth, but the Cubs couldn't get a run pushed across to grab the lead.
Craig Kimbrel would help the Cubs stand pat in the ninth, but the Cubs blew another scoring opportunity. By the way, can somebody please tell Albert Almora Jr. that it's perfectly legal (and advisable) to run on a dropped third strike?
Steve Cishek was able to escape trouble in the tenth, then with one-away, Kyle Schwarber took matters into his own hands, delivering a Schwar-bomb to left. Cue the music, Fly the W, Cubs win this one 4-3.
We'll take this dinger to go, please.#Walkoff #EverybodyIn pic.twitter.com/LXsaCKzuHA

— Chicago Cubs (@Cubs) July 17, 2019

Cubs News, Notes and Commentary
Padres/Cubs Probable Pitchers: Friday, 1:20 PM: LHP Joey Lucchesi (7-4, 3.92 ERA) vs LHP Jon Lester (9-6, 3.74 ERA). Saturday, 1:20 PM: RHP Cal Quantrill (2-2, 4.21 ERA). vs LHP Jose Quintana (7-7, 4.21 ERA). Sunday, 1:20 PM: RHP Chris Paddack (5-4, 2.84 ERA) vs RHP Kyle Hendricks (7-7, 3.49 ERA).
The #Cubs today placed catcher Willson Contreras on the 10-day IL (retroactive to July 14) with a right foot strain, added catcher Martín Maldonado to the 25-man roster and recalled RHP Alec Mills from @IowaCubs. pic.twitter.com/0T9DtzaMoa

— Chicago Cubs (@Cubs) July 16, 2019
Maddon on having three catchers: Speaking in terms of when Contreras is back in action, Joe Maddon says, "We'd have to parcel out the work in a manner that satisfied all of them, which would not be easy. Would also open up pinch-hitting opportunities..."
Contreras on injury: Willson Contreras spoke to the media on Monday, regarding his injury. "If it was up to me, I'd be playing."
Contreras on foot "bruise" pic.twitter.com/zrOXV5dTsm

— Mark Gonzales (@MDGonzales) July 16, 2019
Maddon on how he would have dealt with delivering IL news to Contreras in 2016: "In a padded room. He's definitely matured."

— Mark Gonzales (@MDGonzales) July 16, 2019
Maldonado on being traded: "I wasn't surprised...I'm glad I get to play for a guy like Joe Maddon...When I was with Milwaukee, I looked to the other side, and they liked to have fun. That's the kind of player I am."
Mike Montgomery: Monty has wanted to be traded for a while, as his goal was to be a starter- a position that Chicago couldn't give him. He seems to leave with mixed emotions, knowing the role he played in the Cubs' World Series win, and knowing that he's leaving friends and a solid team behind.
The impact this city has had on my career and my family is immeasurable. Thank you @Cubs and Cubs fans - it was a privilege to be a Cub. I'll always cherish my time here, but I'm thankful for this new opportunity, back where it all started with the @Royals! #AlwaysRoyal pic.twitter.com/oyYSX2Hx8G

— Mike Montgomery (@MikeMontgum22) July 16, 2019
More Montgomery: "It's gonna be tough leaving here - I told some of the guys that I saw, I wish them the best. I think this team has what it takes to make it to the World Series and to win it all. I'll be watching and keeping tabs on these guys."

— Tony Andracki (@TonyAndracki23) July 16, 2019
Credit to Sahadev Sharma for the next two Theo Epstein quotes, which came from Sharma's article in The Athletic (subscription only).
Epstein on Contreras: "Our medical staff feels like if he were to try and play on it, that he'd be risking exacerbating the injury and turning it into something long term. We have to get ahead of it, take it out of Willy's hands and get him off his feet. We don't expect it to be longer than the ten days. That's what we hope for anyway."
Epstein on Maldonado: "He's an established catcher in this league who does a lot of great things behind the plate. He can really receive; he can really throw. He's caught playoff games; he's handled some of the best pitchers in the game. He's a favorite for pitchers to throw to. He's very calm back there, very prepared. Calls a great game. Really soft hands. A lot of experience, lot of savvy and someone who we think can step in and share the job with Vic [Caratini] and get up to speed really quickly in what we hope is a brief absence from Willson."
Maddon said he got 4 texts from people he respects speaking highly of Maldonado on the field and in the clubhouse: "As a catcher, kind of an interesting skill set."

— Jesse Rogers (@ESPNChiCubs) July 16, 2019
Rogers on Montgomery: According to ESPN's Jesse Rogers, Monty may have been getting a little frustrated toward the end.
So as I've been reporting all day on the radio,90% of Montgomery's tenure here was positive, but these last few months, not so much. Asked for a trade,teammates got down on him, was even sent home for a day and the 5.67 ERA never helped. So the move was important for him and team

— Jesse Rogers (@ESPNChiCubs) July 16, 2019
Javy's heart: Congratulations to Javier Baez, winner of this month's "Heart and Hustle Award" from the Cubs.
Congrats to @javy23baez, our #Cubs ?? & ????? Award winner!#HeartandHustle: https://t.co/bb8rWVH9pX pic.twitter.com/VrGFsIXhuR

— Chicago Cubs (@Cubs) July 16, 2019
Theo on Zo: According to Theo, he and Ben Zobrist are supposed to talk soon, regarding Zo's possible return to the Cubs. No timetable or specific plans have been made yet, but according to Theo, they're hoping to start getting at least some sort of idea when Ben may return. According to ESPN's Jesse Rogers, the target date is September first.
Baseball Quotes: "Show me a guy who can't pitch inside, and I'll show you a loser." -Sandy Koufax
What a player does best, he should practice least. Practice is for problems. -Duke Snider pic.twitter.com/xuziItoYrg

— Baseball Quotes (@BaseballQuotes1) July 16, 2019
Cubs Birthdays: Celebrating yesterday, were ex-Cubs Lee Elia (82) and posthumously, Alfred "Dad" Clark (146).
THIS WEEK'S NL CENTRAL SCEHEDULE:
(Wins are in green, losses in red)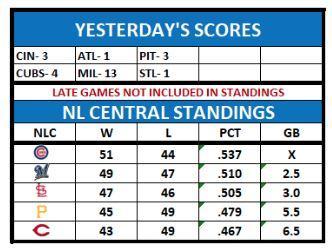 Tags: Cubs Baseball
,
Yu Darvish
,
,
Robel Garcia
,
,
Brandon Kintzler
,
Pedro Strop
,
Albert Almora Jr
,
Steve Cishek
,
Kyle Schwarber
,
,
Jose Quintana
,
Kyle Hendricks
,
Willson Contreras
,
Mike Montgomery
,
,
Ben Zobrist
,
Joe Maddon
,
Theo Epstein