| | |
| --- | --- |
| Cubs News and Notes: Yu Darvish's gem, bullpen implodes, Schwar-bombs, Sick Cubbies, more | |
---
| | | |
| --- | --- | --- |
| Friday, August 16, 2019, 7:37 AM | | |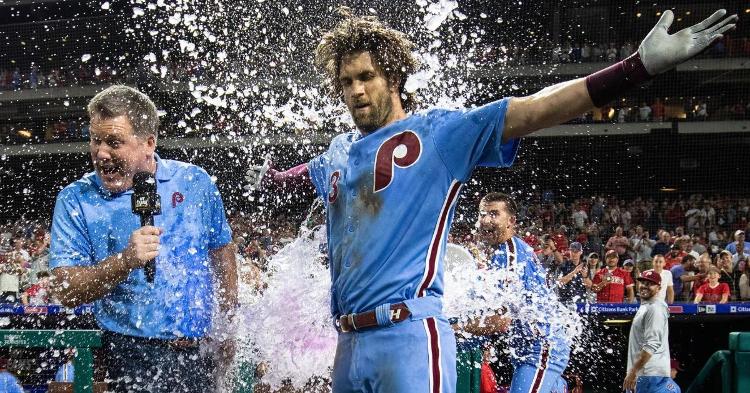 Next Game: Today: RHP Kyle Hendricks (8-9, 3.48 ERA) vs RHP Joe Musgrove (8-11, 4.71 ERA). Game time 6:05 PM CDT; WGN.
Thursday night's Game Recap:
Well, here we are again: The Cubs began the final game of an away matchup, down 2-0 in the series. This is a recurrent theme with this team, and certainly not one that is very becoming. Last night it was Yu Darvish vs. former Cub, Drew Smyly.
In the third, the Cubs would take a 1-0 lead on Anthony Rizzo's homer to right-center. That thing had a hang-time that would make any NFL punter proud, but more importantly, it broke Rizz's streak over two months without a dinger. Nicholas Castellanos would back that up with his 44th double of the year, but the Cubs failed to cash in.
The Greatest Leadoff Hitter of All Time strikes again.#TeamRizzo pic.twitter.com/XHQaYJ75Z4

— Chicago Cubs (@Cubs) August 15, 2019
Many, including myself, have felt that moving Rizzo to the leadoff spot may have been a way to chase the slump away, and it worked. Rizzo was initially scheduled to bat in the cleanup spot last night, but after Javier Báez was scratched, Maddon dropped Albert Almora Jr. from leadoff down to ninth.
Ian Happ would lead off the fourth with a triple to right, then scored on David Bote's double. Almora would drop a little single into shallow right that scored Bote, with Almora taking second on an error charged to Segura. Next, Rizzo would single to right, scoring Almora, making it 4-0 Cubs.
Three-run 4th! #EverybodyIn

- @ihapp_1 triple
- @DavidBote13 RBI double
- @albertalmora RBI single
- @ARizzo44 RBI single pic.twitter.com/Hs1wckPZsz

— Chicago Cubs (@Cubs) August 16, 2019
Kyle Schwarber's 100th career homer led off the top of the fifth, giving the Cubs a 5-0 lead.
Career home run No. ?? for @kschwarb12!#EverybodyIn pic.twitter.com/Mp452Vryal

— Chicago Cubs (@Cubs) August 16, 2019
With that homer, Schwarbs became the fastest Cub in history (453 games) to reach 100 homers. He replaces Kris Bryant at the top of the list (487 games), with the rest of the top five being Ernie Banks (500 games), Javier Báez (602 games) and Billy Williams (611 games).
By of the end of the fifth, Darvish had allowed just three hits, while striking out five and walking no one. However, he did plunk Harper in the first; 65 pitches total. Víctor Caratini also found a way to channel his inner Willson Contreras with this back-pick.
We pick you. pic.twitter.com/qMXXWc06qv

— Chicago Cubs (@Cubs) August 16, 2019
Maddon would manage to piss off probably a million Cubs fans off from the eighth inning on, beginning with replacing Darvish with Kyle Ryan. Not that Ryan has been bad- far from it, but Darvish was still capable after seven innings, pitching himself out of little jams here and there. His pitch count was good, his velocity was relatively unchanged, and both he and the Cubs needed an over-the-top outing from a starter.
Also, of note, Darvish has now faced 100 consecutive batters without issuing a walk.
Ryan allowed a run, but a great throw to the plate by Castellanos would cut down a second runner (Hoskins) trying to score and would end the inning. Cubs 5, Phils-1.
Yu Darvish has not issued a walk in four consecutive starts.

He is the first Cub since at least 1908 with 8+ strikeouts and no walks in four straight starts.

He was also the first Cub to do it in three straight. pic.twitter.com/W8KuPHcAtN

— Chicago Cubs (@Cubs) August 16, 2019
Rowan Wick would attempt to give it away in the ninth, creating a save-situation for Pedro Strop, who would quickly give up a hit to make it 5-3. Strop would load the bases with one out, before being replaced by Derek Holland who would face Bryce Harper (certainly not an optimal scenario).
Grand slam. Phillies win 6-5.
For those that still stand behind Maddon, make no mistake- he is the guy responsible for this loss. That was some of the poorest bullpen management I have ever seen.

CUBS NEWS AND NOTES
Cubs/Pirates Probable Pitchers: Saturday: LHP Jon Lester (9-8, 4.43 ERA) vs LHP Steven Brault (3-1, 4.33 ERA). Game time 12:35 PM; ABC-7, MLB Network (out of market only). Sunday: LHP José Quintana (10-7, 4.11 ERA) vs. RHP Mitch Keller (1-1, 7.94 ERA). Game time 6:10 PM CDT; ESPN. (I was praying that we were done being tormented by Álex Rodríguez, but apparently not).
Roster moves: After Alec Mills' performance on Wednesday, the Cubs elected to option him back to Iowa and recall James Norwood. Mills did get hammered for some runs, but his ability to serve as an impromptu start was a plus. Mills chewed up the last six innings on Wednesday after Cole Hamels was removed in the third.
Sick Cubbies: Reports say that Cole Hamels' pummeling was partially due because he was sick with the flu. Lester dealt with this a couple of weeks ago, and now Javier Báez has caught the bug. Javy was a late scratch from the lineup last night and was replaced by David Bote at short.
This is about the last thing the Cubs need, as they tried to salvage a win in the City of Brotherly Love.
Maddon said 6-7 players have experienced flu-like symptoms. No inkling of Baez's illness until he arrived three hours before the game with a high fever

— Mark Gonzales (@MDGonzales) August 15, 2019
Hoyer hits the media: As Jed Hoyer addressed the media, he had a lot to say about the problems hurting the team this season, saying, "We need to win now." Hoyer referred to the Cubs' leadoff issue as an "Achilles Heel," and says that the plan was to sit Jason Heyward another night, to rest a knee injury that "isn't serious."
Hoyer said the Cubs' struggle to find a consistent leadoff hitter has been an "Achilles heel" for the team

— Tim Stebbins (@tim_stebbins) August 15, 2019
Keeping in step with his boss, Hoyer affirmed the Cubs' (public) position about Joe Maddon's recent comments that surround his contract and future in Chicago. Hoyer says, "Theo and I had no problem with his answers...I think his answer was just fine."
Who can suck the most? You have to love Cole Hamels, as he tries to remain humorous with the media while discussing his and Jon Lester's latest slumps. Hamels lightheartedly says, "We're both competing to see who can suck the most."
"We're both competing at 'Who can suck the most'..."

August hasn't been kind to either Cole Hamels or Jon Lester: https://t.co/mmyxU0bpl5 pic.twitter.com/bqyHXIQBIN

— Cubs Talk (@NBCSCubs) August 15, 2019
Hamels fined: Cole Hamels is going to be fined by MLB for wearing an unauthorized patch, and he doesn't care. Hamels added a patch to his right shoulder that reads "DPM," honoring David P. Montgomery, the former president and Chairman of the Phillies, who died May 8, 2019. The Phils all wear that patch, and Hamels, having been with the Phillies since age 18, felt as though he deserved to do the same.
"I'll take the fine. I really don't care. David meant a lot to me"
I think it's excellent that Hamels' relationship with Montgomery made him feel that he also deserved to wear the patch, and I'm quite sure that neither the Cubs nor Phillies had a problem with it.
Cubs' Notes: The Cubs (23-37 on the road) have to play half of their remaining 42 games on the road, with 26 of the 42 vs. N.L. Central teams, including seven vs. STL (all in the season's final ten games) and seven vs. Brewers (in a 10-day span Aug. 30-Sept. 8).
Pass the Salt: The Cubs say that Brandon Kintzler is expected to be activated from the IL tomorrow and should be available to pitch when the Cubs open up their next homestand on Tuesday against the Giants.
Hoyer tells @670TheScore Morrow threw live BP in AZ on Wednesday. "hopefully that's a good step."

— Mark Gonzales (@MDGonzales) August 15, 2019
More bombs, please: Going into last night, the Cubs had hit homers in 12 consecutive games dating back to Aug. 2, (a total of 22 in that span). This is the second-longest HR streak this season (15 games, April 23-May 9, 30 HRs) and the first time the Cubs have had multiple consecutive HR streaks of at least 12 games in the same season since 2002.
Why don't they win it on the road? Cubs fan and podcast host, "Danny Rockett" tapped his musical skills, as he questioned the same thing you, me and everybody else does- why can't the Cubs win on the road.
Why Don't They Win It On the Road #Cubs parody song. pic.twitter.com/piEJwdKpyj

— Danny Rockett (@SonRanto) August 15, 2019
October or not? ESPN 1000's Waddle and Silvy posted a poll on social media, asking where the Cubs would finish the regular season. With over 2400 votes cast, and 20 hours left to vote (as of yesterday afternoon), only 41% felt the Cubs would win the NL Central. A total of 19% thought they'd get a wildcard berth, while 40% said that the last game in September is all you'll see of the team until spring.
How will the #Cubs regular season end?

— Silvy (@WaddleandSilvy) August 15, 2019
I'm pretty sure that if they don't find some magical cure, they'll never win the division, and if they can't produce a road record of at least .500, they may not even see a wildcard berth.
Cashman "yanked": If there are two things I don't like about MLB, it's the American League, and the Yankees; this, however, was too good not to share… Yankees GM, Brian Cashman, had his Jeep Wrangler stolen the other day. The police recovered the vehicle (unharmed), then released it to Cashman yesterday. On his way to wherever he was heading, Cashman was stopped by the police and ordered out of his vehicle at gunpoint, as someone forgot to remove the vehicle from the list of stolen vehicles. Oops.
Baseball Quotes: "The way I figured it, I was even with baseball and baseball with me. The game had done much for me, and I had done much for it. -Jackie Robinson
I was such a dangerous hitter I even got intentional walks during batting practice. -Casey Stengel pic.twitter.com/LhxdafupWm

— Baseball Quotes (@BaseballQuotes1) August 13, 2019
Cubs Birthdays: Celebrating yesterday, were ex-Cubs Roberto Novoa (40), Ramón Morel (45), Jeff Huson (55), and posthumously, Seth Morehead (85), George "Barney" Schultz (93), Ted Pawe?ek (100), Cecil Garriott (103), Les Sweetland (118), and Elmer Foster (158).
THIS WEEK'S NL CENTRAL SCHEDULE:
(Wins in green, losses in red)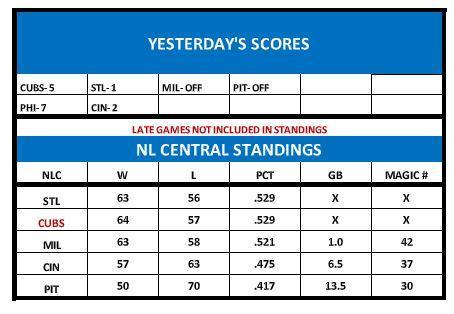 Tags: Cubs Baseball
,
Yu Darvish
,
Kyle Hendricks
,
Anthony Rizzo
,
Albert Almora Jr
,
,
David Bote
,
Kyle Schwarber
,
,
Willson Contreras
,
Kyle Ryan
,
Rowan Wick
,
Pedro Strop
,
,
,
James Norwood
,
Cole Hamels
,
Jason Heyward
,
Brandon Kintzler
,
Joe Maddon