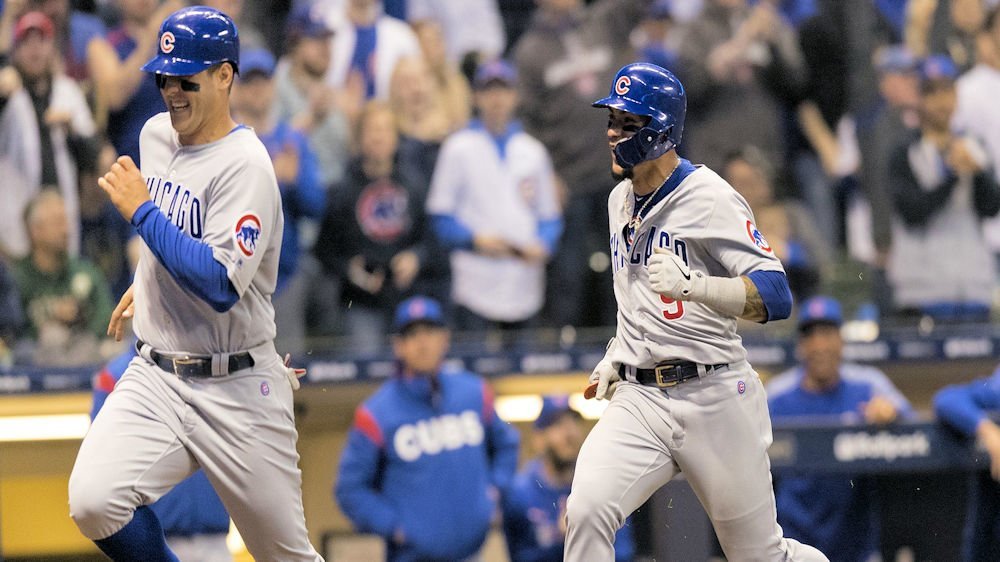 | | |
| --- | --- |
| Cubs Odds and Ends: 2020 Cubs Convention, Third Base Watch, Cubs Arbitration | |
---
Cubs Convention
Next week (January 17th through the 19th) marks the 35th Annual Cubs Convention – the unofficial kickoff to the Cubs' new season.
Friday will feature the Opening Ceremony, player introductions, "surprise" autograph signings and will end with Ryan Dempster's "Off the Mound" show. The list of players due to be there is staggering (credit to Jordan Bastian for tweeting the list).
You can see more info at https://t.co/KhO0vWYkYM. Here's a rundown of current/former players planning on attending: pic.twitter.com/BetZIKuroI

— Jordan Bastian (@MLBastian) January 9, 2020
Saturday's events include popular reoccurring sessions such as Baseball Operations Update and Business Operations Update. Next, David Ross and his coaching staff will be presented, and the annual Kids Press Conference will take place, among other festivities. The convention will end Sunday with additional autograph sessions and two additional panels.
Just received news release about #Cubs convention. No mention of a Ricketts family panel session. They did not do one last year.

— Bruce Miles (@BruceMiles2112) January 9, 2020
For a full list of the festivities, check out the Cubs' press release.
I had fully expected that this would be the occasion to launch the Cubs' new Marquee Network, but they're going to wait until the start of Spring Training to do so; no big deal, as I (along with a million others) still have no clue how we'll even get the new network.
I had hoped to be there this year, but as usual, life got in the way. Oh well, maybe next year (I seem to say that a lot about this team).
Third base watch
Four things seem to be affecting Theo's ability to trade Kris Bryant this winter: (1) A decision on his grievance; (2) Josh Donaldson remaining a free agent; (3) Theo's asking price and; (4) the uncertainty of what the Rockies intend to do with Nolan Arenado.
"Despite all that's been said, and despite all the offseason moves they haven't made, there is no indication that the Rockies will go back on their word, deal Arenado and commit to a rebuild. This is largely the same team that went to the postseason in 2017 and '18. The idea that they could somehow trade Arenado and emerge a better club makes less sense by the day. Arenado has seven Gold Gloves on his trophy case, along with five straight seasons with no fewer than 37 home runs or 110 RBIs. In the face of various reports and rumors, including 50-50 odds on Arenado being dealt, it says here that Arenado will begin 2020 in purple pinstripes. – Thomas Hardin, MLB.com
Nolan has no offseason. #NolanBeingNolan ??pic.twitter.com/xaIQjYBAOx

— Colorado Rockies (@Rockies) December 19, 2019
Is there any bad blood brewing between Arenado and his current team? After Arenado stated, "These guys have a great opportunity to show what they have and go into Spring Training with the upper hand. They should take every game seriously. And I need to lead by example. But it sucks that that's what it feels like. It feels like a rebuild," Rockies GM Jeff Bridich and team owner, Dick Monfort had comments of their own:
Monfort: "I haven't seen many rebuilds that start with signing the face of your franchise, your best player, to a $260 million contract."
Bridich: "If we were truly in a rebuild, Nolan Arenado probably wouldn't be here to make comments like that."
Still, the rumors continue about Arenado being dealt, and the Cubs and Cardinals continue to be the focus of those rumblings. The Cards have been very quiet this winter, and the Cubs? Let's not even go there, but this is precisely why I can't envision Arenado coming to Chicago. The Cubs are seemingly trying to get under the luxury tax, but taking on Arenado's contract would put them over again this year and probably next year as well.
All but four of Jim Bowden's top 35 free agents are signed, but the Hot Stove season isn't close to over. Not when four high-profile clubs (the Cubs, Cardinals, Red Sox, and Dodgers) remain largely inactive. Not when four superstars (Mookie Betts, Francisco Lindor, Nolan Arenado, and Kris Bryant) remain available in trade." -Ken Rosenthal
While I believe with 100% certainty that the Cubs want to deal KB, it is plausible to think that trading him (or other high-profile Cubs) could wait until July, to see if David Ross can invoke the sense of urgency that Joe Maddon failed to provide.
"While Bryant has expressed an interest to stay with the Cubs long term, the team knows it can be an uphill climb trying to reach a deal with agent Scott Boras." -Jordan Bastian
It's highly unlikely that Theo Epstein and Jed Hoyer will settle for what little they've gotten accomplished this winter – after all, that isn't their style – but until they can clear even more payroll, their backs appear to be up against a brick wall in Wrigley's outfield. Moving KB now would free up an estimated $18.5M, something that they'd need to make a serious run at Nicholas Castellanos and others.
.@Ken_Rosenthal touches on where the Cubs stand this offseason with Kris Bryant and more: https://t.co/ElwjoiZxfQ

— The Athletic Chicago (@TheAthleticCHI) January 9, 2020
Arbitration time
Today marks the day that both sides need to exchange arbitration figures if no deal has been reached. For teams/players unable to reach agreements, the arbitration hearings will take place from February 3rd until February 21st.
The Cubs have a total of seven players due for arbitration, including Kris Bryant (projected to earn $18.5M), Javier Baez ($9.3M), Kyle Schwarber ($8M), Willson Contreras ($4.5M), Albert Almora Jr. ($1.8M), Jharel Cotton ($800k) and Kyle Ryan ($1.1M). Expect today to be busy with announcements from the Cubs and other teams, as both sides work feverishly to avoid arbitration hearings.
"Under president of baseball operations Theo Epstein, who joined the Cubs' front office before the 2012 season, the North Siders have only gone to an arbitration hearing once. Epstein's team of negotiators has also established a strong reputation for reaching agreements by the deadline for exchanging salary figures" -Jordan Bastian.
Also meshed in with the arbitration salaries is the Cubs' desire to extend both Javier Baez and Willson Contreras. This is Willy's first arbitration, so the sense of urgency isn't as great with him. Baez becomes a free agent after the 2022 season, while Contreras reaches free agency after the 2021 season, and Contreras gains free agency after the 2022 season. Interestingly, Kris Bryant also gains free agency (assuming that he loses his grievance) after the 2021 season. Yet, the Cubs have not outwardly expressed any recent attempts or publicly stated any desire to extend KB.
Hang on, my friends, winter isn't over yet.

Upgrade Your Account
Unlock premium boards and exclusive features (e.g. ad-free) by upgrading your account today.
Upgrade Now