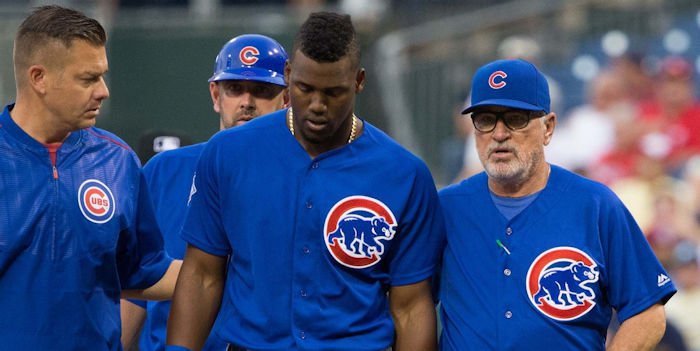 | | |
| --- | --- |
| Cubs beat Phillies but Soler injured | |
---
PHILADELPHIA -- Jon Lester retired 13 batters in a row and Jason Heyward hit his 100th career home run to defeat Philadephia 6-4 on Monday evening. The Cubs have won 11 of their last 13 games overall, 27 of their last 35 road games and 40th win of the season.
Lester (7-3, 2.06) tossed eight innings of shut out baseball giving up just four hits while striking out nine with no walks. In his last two starts, Lester has pitched 17 innings with eight hits, one run, 0 walks, and 19 strikeouts. The left-hander has walked two or fewer batters in 11 of his 12 starts. He has also allowed one or zero earned runs in nine of his 12 starts.
The Cubs got on the board in the first inning on an RBI double by Kris Bryant which could have been a home run. It was ruled by instant replay that a fan reached over the fence and interfered with the play, and Bryant was sent back to second even though he reached third. The fan, who was wearing Cubs gear, was escorted to another part of the stadium. Bryant had three hits and two doubles on the night.
Heyward added two more runs in the third inning on his third home run of the season and 100th of his career. Cubs tacked on two more runs in the seventh on an RBI single by Anthony Rizzo and then a prefectly executed squeeze play by Matt Szczur.
Cubs outfielder Jorge Soler was injured rounding first base after a single in the top of the third inning. He was removed from the game and was being evaluated for a left hamstring injury according to team officials. Szczur came into the game to replace him as a pinch-runner. The injury for Soler comes as his bat was just starting to heat up. He was batting .308 with three homers, 10 runs, 7 RBIs and 7 walks in his last 15 games.
Justin Grimm replaced Lester in the ninth and gave up a three-run homer to Freddy Galvis. Hector Rondon came in and gave up a solo homer by Tommy Joseph but got Ryan Howard to ground out to record his 11th save in 11 chances this season.
Chicago improved to 40-16 while the Phillies fell to 28-30. The Cubs are the fastest MLB team to 40 wins since the 2001 Mariners.
Chicago and Philadelphia will play game two of the series on Tuesday at 6:05 CT when RHP Kyle Hendricks (4-4, 2.84) faces RHP Jerad Eickhoff (2-8, 3.93).