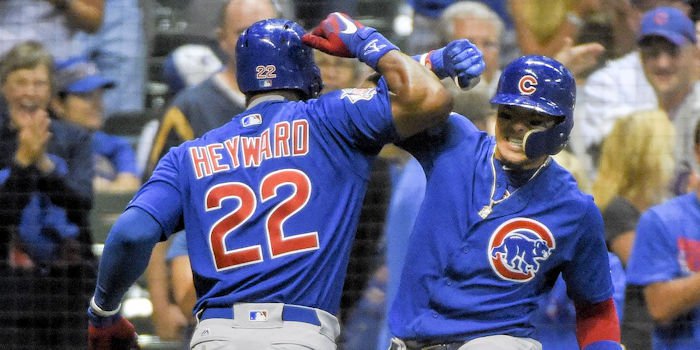 | | |
| --- | --- |
| Cubs lineup ranked outside Top 5 | |
---
| | | |
| --- | --- | --- |
| Thursday, March 22, 2018, 9:30 AM | | |
The Chicago Cubs scored the second most runs in the National League last season with several players having a down year with regards to Addison Russell, Kyle Schwarber, and Jason Heyward.
Can you imagine if this talented trio hits on all cylinders this season? Well, they have been raking this spring, and skinny Kyle Schwarber hasn't lost any of his power to the dismay of the National League pitchers.
Don't get me started on young outfielder Ian Happ as he is playing out of his mind and has solidified the leadoff position singlehandedly with his play in the last few weeks.
Here is the projected starting batting lineup as of today:
1. Ian Happ/Albert Almora Jr., CF
2. Kris Bryant, 3B
3. Anthony Rizzo, 1B
4. Willson Contreras, C
5. Kyle Schwarber, LF
6. Addison Russell, SS
7. Jason Heyward, RF
8. Javy Baez/Ben Zobrist, 2B
That is pretty loaded lineup from the top to bottom if you bring up a talented young player like Baez in the 8th hole with the potential to bring in a ton of RBIs if he can cut down on his massive strike zone. If everything goes as planned, the Cubs also have three potential MVP candidates in Kris Bryant, Anthony Rizzo, and the ever-improving Willson Contreras.
MLB.com released their rankings of the top lineups in baseball in 2018 and had the Cubs ranked No. 6 overall behind the Houston Astros, New York Yankees, Washington Nationals, Boston Red Sox, and Cleveland Indians.
"Dexter Fowler's departure proved to be a challenge for the Cubs in 2017, especially as Kyle Schwarber's struggles became pronounced," MLB.com said. "Still, it didn't stop them from scoring the fourth-most runs with the sixth-highest OPS in the game. The leadoff role is still in flux here, though Ian Happ's sensational spring makes him a candidate, Albert Almora Jr. might be ready to break out and Schwarber might rebound.
Bottom line: With Kris Bryant and Anthony Rizzo entrenched and Willson Contreras coming off a year in which he stepped forward with a .855 OPS, the Cubs have a sturdy enough middle of the order to generate runs, even if the leadoff questions continue. And if one of the kids asserts himself in the No. 1 spot, the Cubs are a threat to build off last year's 822 runs scored."
It appears that the writer doesn't have faith about several of the Cubs players to have excellent bounce-back seasons and hasn't followed them closely this spring. The fun thing about sports is that we will get to see if the Cubs can prove their doubters right or wrong in only seven glorious days.

Tags: Cubs Baseball
,
Addison Russell
,
Kyle Schwarber
,
Jason Heyward
,
Ian Happ
,
Albert Almora Jr
,
,
Anthony Rizzo
,
Willson Contreras
,
Ben Zobrist
,
Dexter Fowler