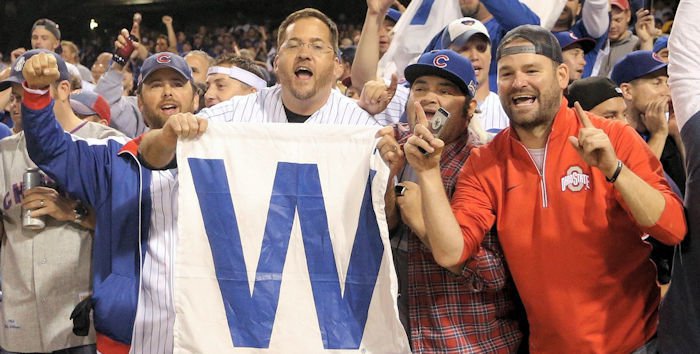 | | |
| --- | --- |
| Cubs rout Reds for best start since 1985 | |
---
In a game that was never in doubt after the first inning, the Cubs routed the Reds 9-2 on Wednesday evening for its best season start since 1985.
Even with a temperature of 46 degrees and the wind blowing in at ten mph, the Cubs bats were on fire. Chicago had RBIs by five different hitters (Miguel Montero, Javier Soler, Addison Russell, John Lackey and Jason Heyward) in the first three innings. The Cubs also eight hits in the first four innings.
Cincinnati (5-3) was the first to score in the opening inning when Jay Bruce hit a sacrifice fly to bring in Billy Hamilton, but the Cubs (7-1) responded in a big way in the bottom of the inning. After Dexter Fowler led off with a double, Reds pitcher, Alfredo Simon, walked Ben Zobrist, Anthony Rizzo, and Kris Bryant consecutively to score Fowler. Then 4 RBIs were hit by Montero, Soler, Russell, and Lackey back-to-back. That gave Chicago a lead of 5-1 which was more than enough for John Lackey.
Kris Bryant hit his first home run of the season in the bottom of the 4th inning. The home run was off a 94mph fastball by Keyvius Sampson that flew out just right of the left field pole.
It was not till the top of the 7th inning that the Reds managed to score again. Scott Schebler hit his first career triple, then scored on a groundout.
Lackey was taken out in the 7th inning and given a standing ovation in Cubs' home debut. Lackey's line for the night was 6.2 IP, 6H, 2 ER, 3 BB, and 7K.
The Cubs' hit-by-pitch game streak was upped to six with Dexter Fowler got hit in the 1st inning and all nine batters for the Cubs had either a walk or an HBP by the 6th inning.
With the Orioles loss on Wednesday, the Cubs are tied with the Orioles for the best record in baseball at 7-1.
Chicago will go for the three-game sweep of the Reds on Thursday night at 8:05 pm.