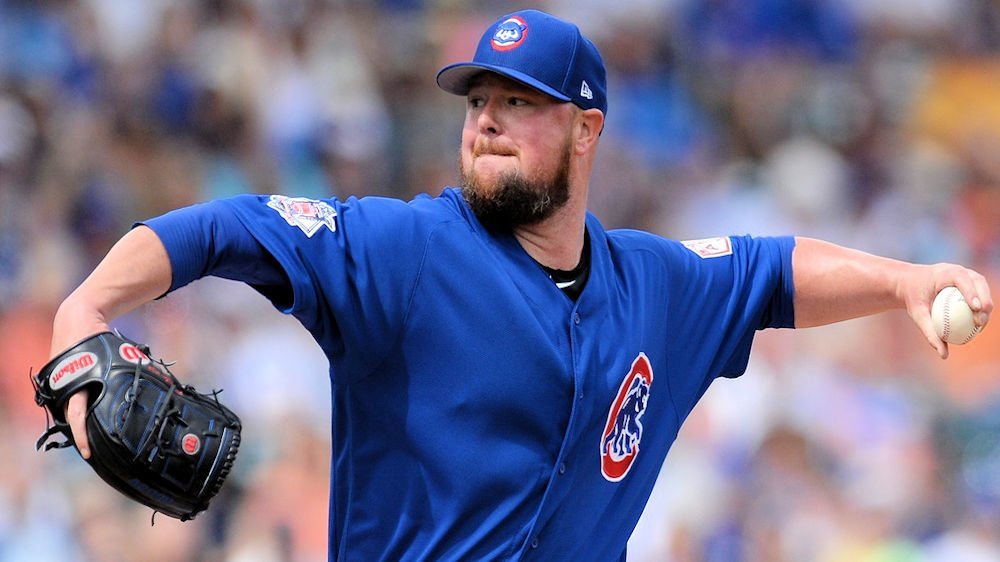 | | |
| --- | --- |
| Cubs vs. Astro Series Preview: TV times, Starting pitchers, Predictions, more | |
---
In yet another inter-league matchup (Chicago's fourth such series this year), the Cubs left the Friendly Confines and traveled to Houston to face the Astros for a three-game set. Batten down the hatches, as this will undoubtedly be the toughest opponent that the Cubs have faced all year.
The Pitching
To say the Cubs have had pitching issues as of late would be a gross understatement. The Cubs' starters have strung together nearly a month of bad outings (save for three excellent starts by Kyle Hendricks and a pair of decent ones by Yu Darvish), while the bullpen has fallen back into their routine of allowing walks, hits, and ultimately, runs. There's uncertainty in the late innings, and closer by committee hasn't worked for Joe Maddon.
Despite some rough times as of late, the Cubs pitching staff still ranks third in the NL in terms of wins and ERA (3.69), but their walk rate is horrific. There's little secret that the bullpen has been an area of concern for a long time, but this starting rotation should be tops among all 30 MLB teams. Jon Lester says he's having trouble repeating his mechanics, Cole Hamels is saying pretty much the same thing, and Kyle Hendricks hasn't had much of an answer for his recent two-game slump. The last few weeks' worth of starts have looked like the sort of outings turned in by a tired and injured staff, and neither of those should be the case.
The Cubs are sending Cole Hamels, Jon Lester and Kyle Hendricks to the mound this trip, and the three, despite some recent bad starts are still sharing a combined 11-7 record with a group ERA of 3.13- hardly the numbers of substandard pitching.
Meanwhile, Houston's pitching staff has been on an absolute tear. They rank first in wins and shutouts in the AL, and second in ERA (3.41), while their bullpen has racked up a total of 15 saves. Despite the Astros' "astro-nomical" numbers, the Cubs will not be facing Justin Verlander in this series, and the three pitchers that they will face (Cole, Martin, and Miley) have some of the worst ERAs among the Houston starters. Together they boast a win-loss record of 10-8, with a combined ERA of 4.13.
The Offense
Entering play on Sunday, the Cubs boasted a +62 run differential, which paled in comparison to Houston's +92, the most significant contributing factor in that difference being Houston's ability to strand fewer baserunners. The Astros have plated 274 runs this season (3rd in the AL), as compared to the Cubs' 265, and the Cubs 77 homers are also somewhat inferior to Houston's 91.
Missing from the Astros' lineup this week, are second-baseman, Jose Altuve (10-day IL, hamstring) and George Springer (who hit the IL on Saturday after suffering a hamstring injury). While I'll never be glad to see an injury to a player, those two names out of a lineup certainly won't hurt the Cubs' chances this week, although I'd love to see Javier Baez square off against Altuve. There is a chance Altuve could be activated before the series ends.
Excluding the averages of Altuve and Springer, Houston is still slashing .264/.336/.454, with several players slashing over .500, while the Cubs, excluding pitchers, are currently slashing .266/.359/.472, making the teams nearly identical in terms of BA/OBP/SLG.
Mound Matchups
Monday: LHP Cole Hamels (4-0, 3.38 ERA) vs RHP Gerrit Cole (4-5, 4.11 ERA). Game time 1:10 PM CDT; Televised WGN and MLB TV.
Cole Hamels has had quite a bit of success pitching at Minute Maid Park, posting a 5-2 record with a 3.65 ERA in nine career starts. After a handful of subpar outings for Cole, it's encouraging to know that with the exception of Derek Fisher, who is 1 for 1 against Hamels, only one player on Houston's roster has batted .250 or better against him (Alex Bregman, 16 at-bats, .250 average), while the remainder of the Astros' offense is batting .222 or below, in a combined 85 at-bats. Team average vs. Hamels: .224 for 102 at bats. NOTE: Brantley, Chirinos, and Stubbs have never faced Hamels.
Having pitched for Pittsburgh for five seasons, Gerrit Cole has seen plenty of the Cubs' offense and has had some mixed results. As a team, the Cubs bat only .164 against him, but Anthony Rizzo has managed a .296 average against Cole in 27 at-bats, while Addison Russell has hit .333 against him in 18 at-bats. Kris Bryant hasn't done bad (.238 in 21 at-bats), but Cole has completely baffled Jason Heyward (.120 in 25 at-bats) and Daniel Descalso (.111 in nine at-bats). David Bote has never faced him, while Willson Contreras and Albert Almora Jr. have each gone 0 for 2. Javier Baez (.214 in 14 at-bats), is the only Cub who's taken Cole out of the park.
Tuesday: LHP Jon Lester (3-3, 2.68 ERA) vs RHP Corbin Martin (1-1, 4.97 ERA). Game time 7:10 PM CDT; Televised on ABC-7 and MLB TV.
Unlike Cole Hamels, Jon Lester hasn't seen much of this Astros' roster, but the ones that he has faced have had some success. Michael Brantley has walloped Lester, posting a .385 average in 13 at-bats against him, and Aledmys Diaz has also enjoyed success against Big-Jon (.300 average in 10 at-bats). Lester has done reasonably well against the remainder that he's seen in the past, holding Josh Reddick, Robinson Chirinos and Jake Marisnick to a .000 average in a combined nine at-bats. Team average vs. Lester: .241 in 38 at bats. NOTE: Correa, Fisher, Tony Kemp, Stubbs, and White have never faced Lester.
While the Cubs certainly have intel on Corbin Martin, I don't have much to share with you, as not a single Cubs' player has ever faced him. This is Martin's rookie season, and he's only had a total of three starts. In those outings, Martin has posted a 4.97 ERA and a WHIP of 1.579 over 12.2 IP. Martin has allowed nine runs (7 ER and three homers) on 14 hits, six walks, and a dozen strikeouts for the 57 men that he's faced. Although he hasn't plunked anyone, Martin has served up one wild pitch.
Wednesday: RHP Kyle Hendricks (4-4, 3.34 ERA). LHP Wade Miley (4-2, 3.51 ERA). Game time 7:10 PM CDT; Televised on NBC Sports Chicago and MLB TV.
The Professor has allowed seven runs in his last two outings (11.2 IP) after whipping up a 0.36 ERA with 17 strikeouts and just one walk in his previous three outings (25 IP). It's ironic (or at the very least, misfortunate) that the Cubs' rotation started misfiring almost simultaneously, so early in the season, and Hendricks has been no exception. After a rough start to 2019, Kyle had turned it around 180 degrees, but he's seemed to reverse course again over the last two starts. Hendricks has never faced the Astros, but in the past, Chirinos is 0 for two against him, while Diaz has gone 2 for 4.
Having pitched for the Brewers, the Cubs are all too familiar with Wade Miley, and he's gotten the best of them, well, most of them anyway. Kris Bryant has stroked a .455 average in 11 at-bats against Miley, Almora has managed a .429 average in 7 at-bats, and Contreras has pinged him for a .333 average in 9 at-bats- unfortunately, it's mostly downhill from there.
Baez is 0 for eight against him, Heyward is 2 for 10, Russell is 1 for 8 and Schwarber is 0 for1. Rizzo has only managed a .083 average in 12 at-bats and Bote, a little better, has gone 1 for 3 (neither Victor Caratini nor Daniel Descalso has ever faced him). As a team (69 total at-bats), the Cubs have only been able to put together a .128 average against Miley, though they have never faced him in Houston. As a Brewer, Miley posted a 2-0 record against the Cubs (2 starts) and managed a 2.45 ERA.
Series Prediction:
For the first time since I started writing my series previews, I'm going to predict that the Cubs will lose a series. Houston has been a beast, and while I would have thought just three weeks ago that a series win for Chicago was imminent, I can't see it right now.
If the Cubs pitching can turn in quality performances, and the offense can belt out a surplus of hits and runs this series, the Cubs may squeak out a series win here, but I do think the odds of a series loss for Chicago are good. The Cubs best chances for the series win are going to be today and tomorrow, as I don't think they'll beat Miley if he gets any form of run support. These predictions are always the ones that I'm happy to be wrong about.
Next up: Cubs vs. Cards (in St. Louis).

Upgrade Your Account
Unlock premium boards and exclusive features (e.g. ad-free) by upgrading your account today.
Upgrade Now

Tags: Cubs Baseball
,
Kyle Hendricks
,
Yu Darvish
,
,
Cole Hamels
,
,
Anthony Rizzo
,
Addison Russell
,
,
Jason Heyward
,
Daniel Descalso
,
David Bote
,
Willson Contreras
,
Albert Almora Jr
,
Victor Caratini
,
Joe Maddon