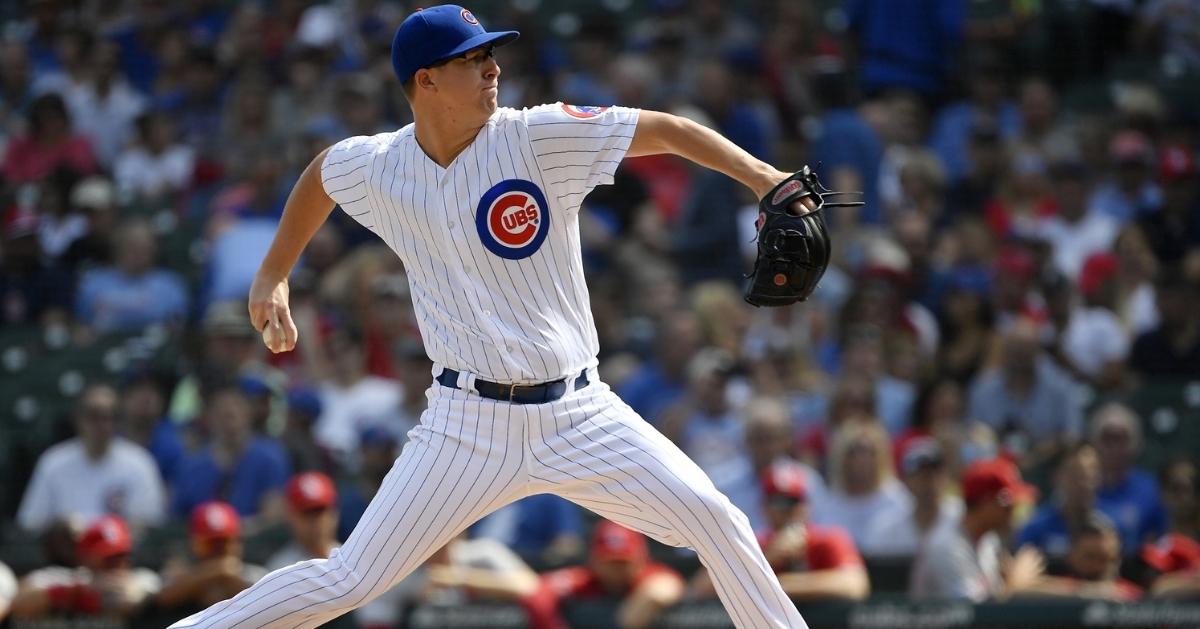 | | |
| --- | --- |
| CubsHQ Exclusive: Catching up with Alec Mills | |
---
As we continue to await MLB's decision regarding COVID 19 and what it means for the rest of the season, most of us are growing anxious, hoping for the smallest amount of baseball this year. Players are the same way as they not only have been isolated into quarantine themselves but have begun to brace themselves for what is not going to be a regular-season if a season at all.
While most players are continuing to look at the positives, some have already gone on record stating their caution of starting the season too late this year with fear it could impact next season also. Playing games in Arizona has also raised some red flags as has playing in front of no fans. With most athletes trying to keep to themselves during this time, I had the chance to catch up with Alec Mills earlier this week as we discussed baseball and just a lot about how the spring has gone thus far.
These are the questions and answers from our talk.
Q. Your entering your third season with the Cubs this year and first real season, knowing that you have a spot on the roster given the minor league option situation. Take the options out of it, how did you prepare differently this season as opposed to seasons in the past?
A: I've always been a firm believer in not counting your chickens before they hatch, so I wouldn't say any roster spot if a lock, but I came into this year trying to prepare just like the rest. Ready to go and contribute in any way that I can.
Q: You were part of a pitching quartet for the final spot in the rotation entering spring. After Alzolay and Rea were sent to Iowa, it was down to you and Chatwood. Most people feel it is Chatwood's job to lose, but you certainly made a case for your spot not only this year but next year too. Do you prefer to be a starter or reliever, and what has been your take on the competition for the fifth starter in camp?
A: I think that the way that I pitch can best suit me to go through a lineup more than once, so that ability has always given me the opportunity to be a starter, but I am ready and willing to do whatever skipper wants and needs. The competition has been great. I think that's what every guy in baseball strives for competition, whether be with the other team or within your own organization. Competition breeds success.
Q: Joe Maddon was your manager the past two seasons. Explain what it was like to play for him, some of the knowledge he taught you, and what it was like to find out he wouldn't be back this season?
A: Obviously, Joe brings a certain calm and wisdom wherever he is, and I think I took some of that and added it to my game. Change happens a lot in baseball, and it doesn't always mean that he wasn't Good enough sometimes, a change of scenery or change of face is all that was needed.
Q: Enter Grandpa Rossy. I know you didn't have the chance to play with him in 2016 when the Cubs made their title run, but from all accounts, he is loved by everyone. What is this spring like under Ross compared to Maddon, and what are some takeaways that you are getting from him entering the season and regarding your role?
A: I think my big takeaway from Ross becoming the manager is that he commands the huddle. When he enters a room, people listen. Always a good trait to have as a leader.
Q: Talk about the team comradery this season and just how different the atmosphere is with Ross compared to Maddon. Are the players closer together, are they more interactive with coaches? How are the daily routines for hitters and pitchers?
A: Spring training is always a time when everyone is trying to learn new guys and getting back with old teammates and getting into the groove of everyday baseball. I would say that the season got postponed before we were able to start really getting gameplays together and meshing with the coaching staff to start the year.
Q: Now comes the hard part, COVID 19. Unless you have been living under a rock, everyone knows what COVID 19 is by now and the seriousness of what this virus is becoming. When MLB announced that spring would be shut down and the season would be suspended indefinitely, how did you react, and what were some thoughts on that?
A: Obviously, disappointment is the first thing that came to my mind, but when I started the realize the severity of this whole situation, then I quickly shifted the focus to the safety of my family and friends first.
Q: With everything going on, your forced to live in isolation at this point. That means workouts at team facilities can no longer be a thing temporarily. How has your training changed now than say if you had continued to play a normal spring schedule? What are some workouts you're doing to make sure you stay in game shape and ready to start once again?
A: Yeah, I have been having to workout in my own home, and it's just a patchwork situation that isn't ideal, but everyone is going through the same thing, so I can't really complain too much about that. I'm just trying to stay throwing as consistently as possible to maintain the buildup that I had.
Q: Training for athletes becomes a mental repetition as they like to have a consistent workout routine in place. Knowing how much time you have off during the offseason before spring picks up to get ready, and now having another extended time off period without knowing when you will return to the field, how difficult is it to remain focused and continue to grind like it is the offseason, knowing it would be the regular season now?
A: I mean, you can drive yourself crazy thinking about what could be or should be, but you just have to take every day one day at a time and be as prepared as possible but come out of all this first and foremost safe and secure.
Q: Do you have any concerns about potentially playing again this season? Not just health wise with the COVID, but concerns about your body knowing that you spend a month getting in game shape, and now you had to shut everything down again. Obviously, Spring training 2.0 will not be as long as the first go around, so are you concerned about injuries or not being where you wanted to be at that point?
A: I think we will tackle that when that time comes. You can drive yourself into a dark hole, thinking about the future and speculating. Injuries are a part of the game, and I am doing everything that I can to try and prevent them from happening.
Q: What do you make of the new proposal MLB has put together about possible starting the season in June with all 30 teams playing in Arizona? No fans, testing readily available, etc…?
A: I think that is all just speculation as of now. Like I said before, we will tackle that scenario if and when that time comes.
Q: What do you hope can be salvaged from this season? Ideally, you would like to play the most games possible, but the health of the world comes first. At this point, what do you see as a realistic goal for games, and what do you hope can be decided about playing? Have you thought about the possibility of not playing at all this season?
A: I think a lot of people want baseball to be played this year, and I know everything in their power is being done to Bring back baseball as quickly and safely as possible.
Q: Last question. Should we play some sort of season this year, whether 81 games, 100, games or whatever? What is your outlook for the team this season? Do you think you have the team that can win the division or makes the postseason? What about making a world series run? I know a lot of things need to happen, and this season will be weird for everyone, but the Cubs still have a plethora of talent.
A: Like you said, the Cubs have a plethora of talent, and I can't wait to see what we can do this year. Whatever kind of schedule it may be.