| | |
| --- | --- |
| CubsHQ Mailbag: Slumping Jose Quintana, Contreras and Caratini, Dugout-bullpen issues | |
---
| | | |
| --- | --- | --- |
| Saturday, June 22, 2019, 8:01 PM | | |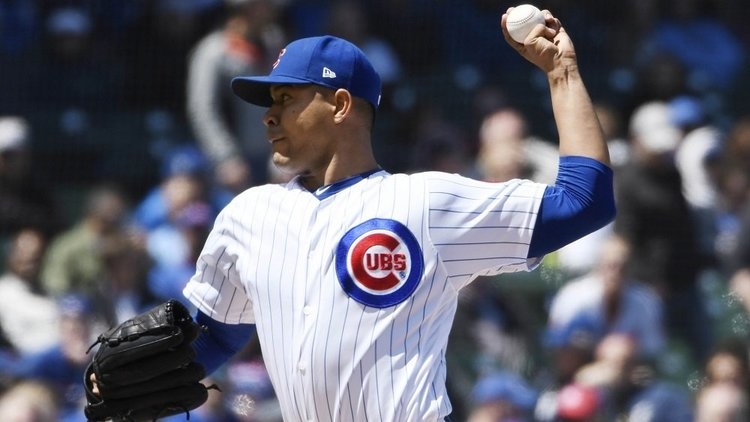 Plenty of good questions this time around in the CubsHQ mailbag.
Dixie Reyes asks: "Jose Quintana hasn't had a good game for almost a month. He has won 4 out of 10 games all year. Has he had a health problem?"
Not to add insult to injury, Dixie, but as of the time you sent me the question, Q had won only 4 out of 13 games, as he's had a few no-decisions. The short answer is that he's not injured, at least not that he's let on, and unfortunately is just dealing with what appears to be an intermittent slump.
Quintana did have a good outing against the Rockies on June 6th, and although he gave up three earned runs (six hits), he lasted 7.1 innings, striking out four and issued no walks. The problem that day was run support, as the Cubs only batted .156 (5 for 32) and went 1 for 6 (.167) with runners in scoring position.
His last outing (June 16 vs. the Dodgers) wasn't bad at all until he got into trouble in the sixth. Part of his problem was that he was trying to pitch over-cautiously in the first inning, which was causing him to miss the zone. Once he went out there and attacked the zone, his pitch count went down, and his efficiency and effectiveness went up. As I recall, he tossed something like 31 pitches n the first inning alone, then threw a total of only 68 pitches, throughout the next four complete, scoreless innings (the 2nd through 5th) and then into the sixth, before Bellinger tagged him for a home run. By the time he was pulled, he'd thrown a total of 99 pitches and may have been tiring, also contributing to the bad sixth inning.
Quintana's current ERA is 3.87, which isn't that far off from his career ERA of 3.61 and speaks volumes for how he's done overall this year, considering he's had a handful of bad outings which has bogged down his stats. Q's future with the Cubs is uncertain at this point, as this is his last year under contract unless the Cubs choose to exercise his $10.5M team option.
Update: Q got pounded badly against the Mets on Saturday afternoon. 4.1 IP, nine hits, nine runs (8 ER), two walks, two strikeouts, three homers. Quintana is now 0-6 in his last nine starts.
Teresa Franciscovich-Klein asks: "What do the ballplayers take about when they are by each other on base? I have always noticed Rizzo is a big talker to the opposing base runner. And when he does, he's usually always smiling."
I ask myself that question all the time, especially about Anthony Rizzo. Unfortunately, the one player that I do speak with regularly is a relief pitcher, so he doesn't ever get to stand on first base, or I'd have asked him that question long ago. Most of those guys are friends though, as they've played each other for years, so there's no telling what they may be talking about, especially now that everyone covers their mouths when they speak.
With the amount of traffic that Rizzo (unfortunately) sees at first base, he's seemed to have become the Cubs' social butterfly. I would dare venture to say that at least some of his time is spent acting as a cooler, especially in situations like the other night in Colorado, where tempers were flaring up, as guys were getting plunked by pitches, left and right. I do know that Rizzo spoke to Nolan Arenado (at first base) that night after Arenado was hit by a pitch, as Rizzo remarked after the game that the Rockies third-baseman was uninjured. I suppose anything could be the topic de jour though, as these guys, above all else, are people just like you and me.
Although it's an older book, if you want to get some insight from a player's perspective, read Doug Glanville's book, "The Game from Where I stand." A friend sent it to me as a gift some months back, and I enjoyed every bit of it. Glanville will put you in his place for the duration of his career, and if you'll feel like part of the team. Happy reading!
Davin Graves asks: "Any chance you might be able to give some insight into why Maddon is back and forth so much with Contreras and Caratini? I understand rest days, but it almost seems like they are getting equal playing time. I know Maddon has paired Caratini with Yu, but why all the additional? Is it just a 3-2 rotation or is there more to it?"
Theo Epstein and Joe Maddon have said that they want both catchers (and Taylor Davis, if and when he comes up) to be able to catch each pitcher. Yu Darvish struggled with Willson Contreras earlier this season (as I recall Contreras caught his first six games and the Cubs went 2-4). Darvish is a hard guy to catch because his breaking stuff REALLY breaks, but if you noticed, Contreras caught him a couple of starts ago. Contreras also likes a fast tempo, whereas Darvish likes to work much slower.
I'm reasonably sure that when Victor Caratini was out with the hand injury, Darvish was able to control Davis (being a rookie), getting him to call and work the game as Darvish wanted, and not how Contreras was doing it. As a result, Yu's performances did improve with Davis, which is probably why Caratini inherited Darvish when he returned from the IL.
The biggest reason for Caratini on Tuesday night (vs. the White Sox), is that Maddon wanted Contreras on two days rest for whatever reason, presumably to freshen him up for more battle. Contreras is a beast and would undoubtedly catch 162 games if they let him but being an iron-man is what caused him to fade so severely last year.
Lisa Engler asks: "I touched on this question with you before but was wondering if you could research and get a more detailed answer. I see bullpen guys warming up and Strode watching them. There have been several games where a pitcher comes out of the bullpen and immediately implodes. Is there communication between the bullpen and the dugout as to how well the guy is doing? If not, why not?
When Joe Maddon or Tommy Hottovy call the pen, Lester Strode gets the appropriate pitcher(s) up to start warming. If they have time, they may throw a couple of curveballs or sliders, but that warmup period is predominantly to get their arms loose, so they'll throw mostly fastballs, and they're generally not thrown like they would be from the mound if the guy is warming up in a hurry. Pitchers will generally only take anywhere from 12-15 pitches to get warmed up.
(I learned the following from talking to a player) When that phone rings in the pen again, the only thing Strode tells the player is that they're ready for him, and he alerts them to the situation; "Eighth inning, two-out, runners on the corners and your facing Bellinger." Believe it or not, that's the extent of the conversation between Maddon and Strode, barring some weird circumstance such as a pitcher getting hurt during his warmup. From what Strode sees, the guys don't look "good" or "bad" in the pen, as they're really just playing fast-catch, more than they are pitching.
Any pitcher can have a bad game at any time, but if they're listed as "available" for the game, it's expected that they'll be ready perform at an acceptable level, on a minute's notice. Throwing to a bullpen catcher is far different than facing a batter in a game situation, so there isn't much that Strode would see, to indicate an impending lousy performance.
Let's say Pedro Strop only pitched an inning last night, but for some reason, he doesn't feel his arm is right when he comes to the park; Maddon is notified that he'll be unavailable for the game, and Strop will be set aside for the night. The available pitchers are just that- "available," so there isn't much Strode needs to concern himself with, as far as communicating with Maddon.
I hope this helped a little.
Thanks for the questions. I look forward to being able to try and answer more of them in the future. If you have one you'd like me to answer, you can message me on Facebook (Ken Allison CubsHQ), Twitter (@KenAllison18) or by email (ken@cubshq.com).
I look forward to hearing from you.

Tags: Cubs Baseball
,
Jose Quintana
,
Anthony Rizzo
,
Taylor Davis
,
Yu Darvish
,
Willson Contreras
,
Victor Caratini
,
Pedro Strop
,
Joe Maddon
,
Lester Strode
,
Theo Epstein
,
Tommy Hottovy