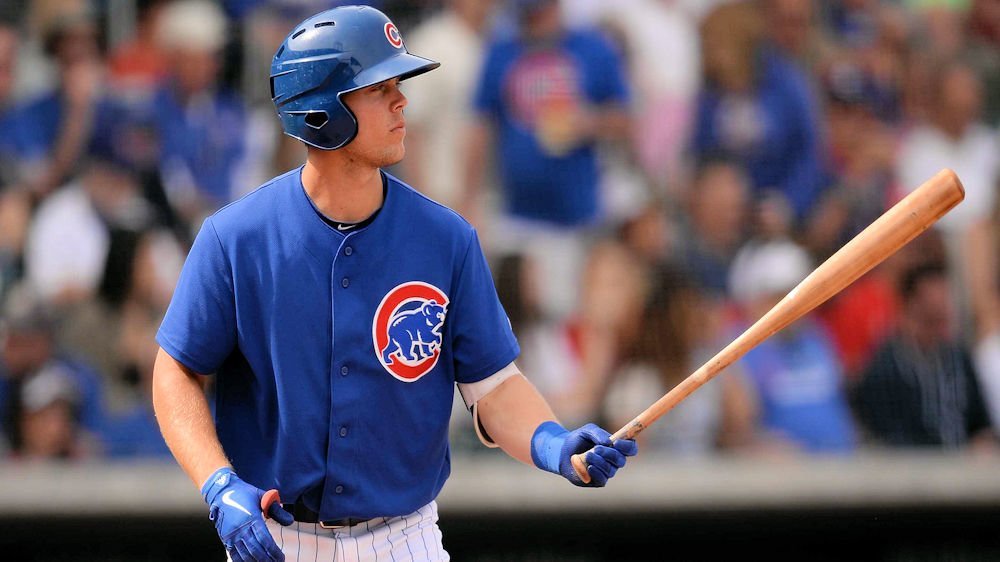 | | |
| --- | --- |
| Fly the T, Hoerner impressive, injury updates, Maddon on Ichiro, and MLB Notes | |
---
| | | |
| --- | --- | --- |
| Friday, March 22, 2019, 8:06 AM | | |
Upcoming Cubs games (CDT): Today: (Split-squad): GAME 1, 3:05 PM: Rangers @ Cubs (TBD vs Jose Quintana (1-1, 2.00 ERA). GAME 2, 8:05 PM: Cubs @ Indians (Duane Underwood Jr. 0-0, 6.00 ERA) vs Cleveland TBD). March 23, 8:40 PM: Cubs @ Rockies (Pitchers TBD)
Cubs' Opening Day: 6 days. March 28 @ Rangers; (Lester vs TBD). Game time: 3:05 PM Central. (WGN, MLB.TV).
Cubs' Home Opener: 17 Days. April 8 vs Pirates: Game time: 1:20 PM Central. (ABC-7, MLB.TV)
Wednesday's Game Recap: Kept in the game on homers from Albert Almora Jr. and Victor Caratini (early in the game), the Cubs would come from behind in the ninth and settle for a 5-5 tie.

Albert Almora Jr.: Almora's leadoff homer today in the first, off Jeff Samardzija, marks his third homer (and third leadoff homer) this spring.
Nico Hoerner: After the Cubs drafted Hoerner (Stanford) last year in the first round of the June draft, John Baker, who works in the Cubs Mental Skills Department, decided to make a call to his old coach at Stanford, David Esquer.
Esquer warned Baker, "Don't bring him around big league camp, because everyone's going to want him to stay." Hoerner is killing it at camp this spring-season, whether offensively, defensively, or with his speed. I guarantee it won't be long before you see him at Wrigley. My opinion? Later this season if there's an injury, maybe when the rosters expand, and I'd bet that he'll be on a full-time MLB roster (somewhere) by the year 2021.
Goldschmidt vs Cubs: It's no secret… Goldschmidt has been a Cubs-killer, and he loves playing at Wrigley. In 22 career games at Wrigley, Goldschmidt has slashed .337/.433/.578, with an OPS of 1.011. Believe it or not, Tyler Chatwood has been the only Cubs pitcher to corral him, holding him to only three hits In 20 at-bats (BA of .150, and SLG of .250).
Brandon Morrow: Yesterday, Brandon Morrow threw a 25-pitch bullpen session and says it went well.
Bullpen Sessions: Joe Maddon says that both Yu Darvish and Pedro Strop will throw bullpen sessions today. For Darvish, this will be the deciding factor as to whether or not he can start, as scheduled, on Sunday. Maddon says he still expects Strop to be ready for Opening Day.
Joe Maddon on Ichiro: "We were up on the Hill in an Italian restaurant, and he came in with his group," Maddon told the media on Thursday. "So, he's sitting at a table across [from us], and I noticed he was drinking some wine. So, I sent over a bottle of wine with the request that he would hit a home run on the first pitch of the game the next night And he accepted. The first pitch came and– play it back, man- he smoked it down the right-field line, and it hooked foul. I mean, had that ball stayed fair, he might've been able to do exactly that. My point is, he could really do whatever he wants to do on a baseball field with the bat."
Ichiro Suzuki officially announces his retirement after 19 seasons in MLB and 9 seasons in Japan.

3,000-hit club
4,367 combined hits
2001 MLB AL MVP & ROY
10x MLB All-Star
10x MLB Gold Glove

Legend ?? pic.twitter.com/bNW2Soptzl

— Bleacher Report (@BleacherReport) March 21, 2019
Cub Birthdays: Celebrating yesterday were ex-Cubs Shawon Dunston (56), Bill Plummer (72), Tommy Davis (80), and posthumously, Len Church (77), Owen Friend (92), Jim Hughes (96), John Sullivan (129), and Oscar Bielski (172).
Thursday's Scoreboard: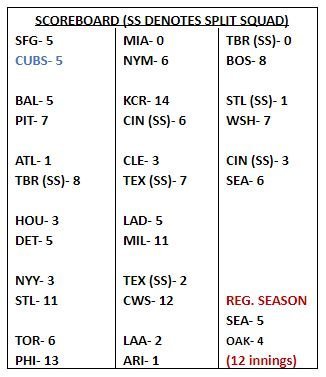 SPRING STANDINGS: Please note- I have eliminated this section, as for some reason, neither MLB, nor ESPN, have been able to post timely or accurate win/loss stats and standings If you compare the two sites, they are showing completely different win/loss records for the same team in at least a few instances.
This has been an ongoing problem with MLB this spring, as they've not even been able to keep up with accurate stats on the players. At least one player this spring has had to go to the MLB Player's Association and ask them to intervene, to get his stats corrected.
Once the regular season begins next week, I will have the standings and W/L records posted daily for the NL Central only, as that's what most of you focus on. The daily game schedule listed for all times will also be trimmed to just NL Central teams. I apologize for any inconvenience that eliminating this feature may have caused you.
News from around MLB:
Goodbye, Ichiro: After a long and distinguished 18-year career, Ichiro Suzuki announced his retirement in Japan, shortly after the Mariners' game with Oakland ended on Thursday. A standing ovation at the Tokyo Dome lasted several minutes, while players said goodbye with tears in their eyes. In his MLB career, Ichiro played in 2,651 MLB games, had 10,728 plate appearances, 9,929 at-bats, 3,089 hits (career .311 BA), and 117 home runs. It's hard enough to be a legend in one country; Ichiro is legendary in two.
There has never been anyone like Ichiro. There will never be anyone like Ichiro. A truly singular figure who conquered two leagues, two countries and the hardest game in the world.

— Jeff Passan (@JeffPassan) March 21, 2019
Athletics: Oakland has shut down left-hander Jesus Luzardo for 4-6 weeks to be evaluated for a strained rotator cuff.
Braves: After opting out of his minor league deal with Milwaukee, righty, Josh Tomlin has signed on with Atlanta, hoping to make the MLB squad.
Brewers: Corey Knebel had an elbow examination yesterday. Craig Counsell says, "There are reasons for concern."
Cardinals: Although the Cards just got Paul Goldschmidt over the winter, they are already working to finalize a 5-year extension worth $130M.
Marlins: Miami has selected the contract of Curtis Granderson and has optioned OF Austin Dean to Triple-A New Orleans.