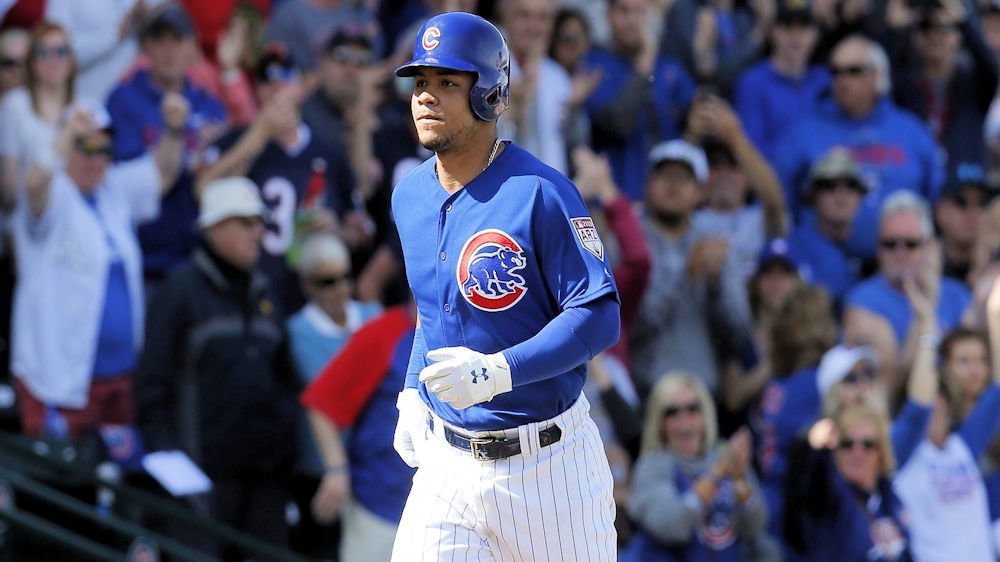 | | |
| --- | --- |
| Fly the W, Cubs injuries, Contreras' mindset, Lester loves hunting, and MLB notes | |
---
Upcoming games (Central): Today, 3:05 PM): Cubs ( Cole Hamels- 2-0, 0.00 ERA) at White Sox (Giolito 0-1, 6.75 ERA). March 16, 3:10 PM: Cubs at Diamondbacks (Cubs TBD vs Koch- 1-0, 0.00 ERA).
Cubs' Opening Day: 13 days. March 28 @ Rangers; (Lester vs TBD). Game time: 3:05 PM Central. (WGN, MLB.TV).
Cubs' Home Opener: 24 Days. April 8 vs. Pirates: Game time: 1:20 PM Central. (ABC-7, MLB.TV)
Thursday's Game Recap: The Cubs returned home to host the Rangers with Yu Darvish on the mound. Despite a 29 pitch first inning, Darvish would settle down and last long enough to face one batter in the fifth, tallying five strikeouts along the way. Final score: Tex-1; Cubs-2.

Cubs Injuries: Strop (Hamstring), Descalso (shoulder), Morrow (Elbow). Commenting on Descalso, Theo says, "It's too early to say that. We'll have to see how he bounces back the next couple days, but it's certainly an injury that he could be fully recovered from, and ready to go Opening Day."
Yu Darvish: There's no way around it: Darvish had a rough first inning. Total of 29 pitches (15 strikes), a walk, two singles and an earned run. The second started rough as well, with a single and a hit batsman, throwing only one strike in the first seven pitches to open the frame. He'd recover, finishing the inning on seven straight strikes, retiring the last three batters on a flyout and a pair of groundouts. By the third inning, he'd throw only 11 pitches (9 strikes) striking out two and taking the third on a swinging bunt. I like the "new and improved" version of Darvish.
Over four innings of work on Thursday, Yu Darvish appeared to be returning to top form for the #Cubs pic.twitter.com/rklaXQdT08

— Cubs Talk (@NBCSCubs) March 15, 2019
Willson Contreras: The Cubs' backstop is looking to be a lot better in 2019, both behind the plate and beside it. Contreras admits that he "didn't deserve" to have a good year last year, as he slacked off from his normal workout rituals and became complacent and "comfortable." To remind you, here are some quotes from Cubs Convention this winter: "I used to watch a lot of those guys, but now I'm watching myself because I know that I'm going to be better than them. That's my plan. That's my mindset. I know that I have a lot of talent and I thank God every day for giving me this kind of talent that I have. In my mind, I want to be the best catcher in the game for a long time — like it was with Yadier Molina, like it is with Buster Posey."
"I've learned from it, and I took it as inspiration."@Kelly_Crull's EXCLUSIVE #SpringBreak interview with @WContreras40 pic.twitter.com/pgiEWNbqhi

— Cubs Talk (@NBCSCubs) March 14, 2019
Joe Maddon: Speaking about the three-batter minimum, Maddon says, "Strategy should not be impacted by rules." For the record, this rule was unilaterally imposed by Rob Manfred and not approved or supported by the Player's Association.
Theo Epstein on rule-changes: "I don't feel like this is the end, but it's a good-faith attempt by all the parties involved to try to improve the nature of the play on the field, sort of nudge it in the direction of more action and a better brand of baseball for the fans."
Clarification: Theo Epstein said that reports on recent meetings behind the scenes "got a little bit misconstrued" in terms of talking about external bullpen options. He went on to say that the team was talking about roster elements, but not bullpen help specifically. Adding, "I don't foresee anything significant at all at this time."
New YouTube Video: The Chicago Cubs' YouTube channel released a new video with veteran pitcher, Jon Lester, going back home, hunting and fishing in the second episode of 'The Offseason.'
Javier Baez: With the season getting ready to start, Javy has announced his 2019 Youth ProCamps. Baez's camps help kids, grades 1-8, learn the fundamentals of baseball as part of a ProCamp that partnered with the McCormick Boys & Girls Club to provide camp scholarships to disadvantaged kids.
With the start of baseball season coming up, I'm excited to announce my 2019 Youth ?? @ProCamps! Make sure to reserve your spot and learn how the magic happens?. Go to https://t.co/RXbJ45HOPh for details and registration! #ElMago pic.twitter.com/yndLLY8hIs

— Javier Báez (@javy23baez) March 14, 2019
Cubs' birthdays: Happy birthday to ex-Cubs Steve Lake (62), Ty Waller (62), and Bob Raudman (77), who each celebrated yesterday.
Tuesday's Scoreboard: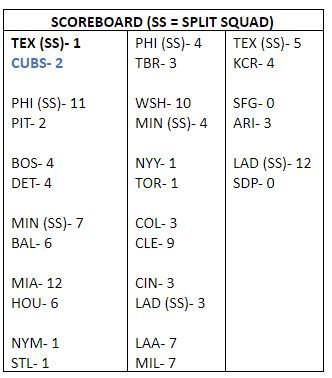 FRIDAY (EST)- 1:05 PM: TOR @ PHI, DET @ RAYS, MIA @ ATL, BAL @ MIN, BOS @ NYY. 1:10 PM: WSH @ SFG. 4:05 PM: CUBS @ CWS, CLE @ TEX, SDP @ MIL. 4:10 PM: KCR @ COL, ARI @ LAA. 6:05 PM: HOU (SS) @ STL (SS), STL (SS) @ HOU (SS). TBR @ PIT 9:05 PM: LAD @ CIN.
SATURDAY (EST) 1:05 PM: ATL @ BOS, MIN @ TBR, STL @ WSH, NYM @ MIA, PIT @ DET, TOR (SS) @ NYY, HOU @ PHI, BAL @ TOR (SS). 4:05 PM: TEX @ CIN, MIL @ KCR (SS), SDP (SS) @ SFG, LAD @ CHW, COL @ MIL. 4:10 PM: CUBS @ ARI, CLE @ LAA, KCR (SS) @ SDP (SS).
LATE GAME (11:05 PM Eastern): The Mariners will visit the Tokyo Dome to play the first of two exhibition games against the Yomiuri Giants of the Nippon Professional Baseball League. This is the final preparation for their opening series against the A's, which will also be played in Japan.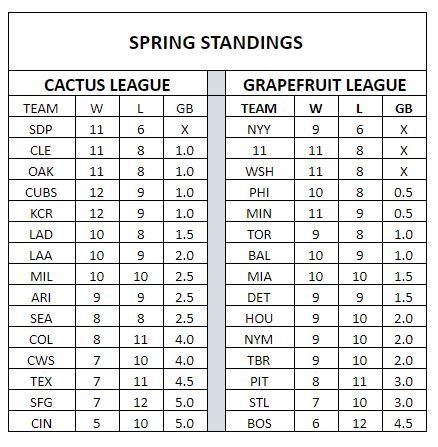 News from around MLB:
MLB/MLBPA: A deal has been reached between MLB and the Player's Association which includes several changes for 2019 and 2020. See my commentary for details.
Twins: Righty, Jose Berrios, has reportedly declined an extension offer from Minnesota.
Tigers: Detroit has shut down right-hander Michael Fulmer indefinitely due to issues with his lower-body mechanics.
White Sox: The Sox have shut down top pitching prospect, Dane Dunning, due to constant arm soreness when he throws. The Sox say Tommy John surgery is a possibility.